The 17th annual Pangos All-American Camp presented by Eastbay was held recently (May 31-June 2, 2019) @ Cerritos College (Norwalk CA). 110 high school players from throughout the USA and Canada participated. Earl Watson (former long time NBA guard & Phoenix Suns head coach) led the camp skills sessions and agility & explosiveness expert Sid Sharma (Explosive Athletes Institute) led campers through physical conditioning drills.
BallerTV.com live-streamed (with play-by-play) every camp game in its entirety (all are still available for re-play). Former Texas Tech head coach and long-time D1 assistant Chris Walker provided "color commentary" on the BallerTV live-stream of the 2 all-star games.

In our Part I report we covered the players selected to the Top 30 Cream of Crop Game: https://nbnmagazine.com/2019-pangosaacamp-recap-1/

In our Part II report we covered the players selected to the Top 60 Cream of Crop Game:
https://nbnmagazine.com/2019-pangos-all-american-camp-recap-part-ii/

Unfortunately, with all the high-major talent on-hand, there were several top-notch players that were not able to be included in the all-star games.   Notable players that have attended past Pangos All-American Camps but were not selected for either of the event's two all-star games include Russell Westbrook (UCLA/OKC Thunder), Antonio Blakely (LSU/Chicago Bulls) and London Perrantes (Virginia/Cleveland Cavaliers).

In this report (Part III) we will highlight those additional players that impressed me.
2019 Pangos All-American Camp Honorable Mention (in alphabetical order):
Chibuzo Agbo 6'6" 2020 St. Augustine (San Diego CA)
Athletic WF with improved perimeter accuracy has been offered by Grand Canyon, Nevada, Fresno State, UC-Irvine, San Diego and UC-Davis.  Top 150 caliber national prospect.
Paxton Anderson 6'5" 2020 Highland (Dallas TX)
Hard-working wing forward is an important "glue guy" for Nike EYBL's #1 team Texas Titans.  Very good student too (3.5 GPA).
Eduardo Andre 6'10" 2020 Wilson (Dallas TX)
Long and athletic Southwest sleeper impressed us with his motor and productivity.  High-major potential as a very effective rim-runner. We were not the only ones to take notice as Rivals.com's Eric Bossi included him in his new 2020 Rivals 150 that was released recently.

Randy Brady 6'5" 2021 Brentwood Academy (Brentwood TN)
Athletic combo-guard with nice scoring skills is also a very good defender.  247Sports.com's #39 prospect in 2021 averaged 10.5 ppg here and has been offered by Florida State, Tennessee, Vanderbilt and LSU.  Excellent student (3.7 GPA) is interested in being an engineering major in college.
Wilhelm Breidenbach 6'9" 2021 Mater Dei (Santa Ana CA)
Don't let the goggles and awkward trot fool you!  This kid can play! Skilled forward has the ability to space the floor with his perimeter shooting and has a nice jump hook that he employs while in the paint.  Active rebounder plays hard and physical. Terrific student (3.8 GPA) also participated in the recent NBPA Top 100 Camp in Virginia.
Demetrius Calip II 6'4" 2020 Taft (Woodland Hills CA)
Very slender but high-octane lefty WG will get plenty of West Coast D1 interest this July.  Good student (3.1 GPA/1040 SAT) was also a NBPA Top 100 Camp invitee (averaged 9.3 ppg there with a high game of 23 points).  His father Demetrius Sr. was a member of the 1989 Michigan NCAA title squad and played in the NBA.

Enoch Cheeks 6'3" 2020 Kimball Union Academy (Meriden NH)                             Cheeks is a quick and shifty lead guard with offers from Arizona State, Rhode Island, George Washington and St. Bonaventure.
Skyy Clark 6'2" 2022 Heritage Christian (Northridge CA)
Smooth as a shot of Louie XIII, this "A" student always plays under control and with impressive poise. More than athletic enough to finish above the rim, Skyy also has an accurate perimeter shot as well.  Along with Rickie Issacs and Dior Johnson, Clark is one of the top 3 lead guards in the West in 2022. Nike Elite 100 Camp invitee and Top 25 national caliber prospect was just offered by Arizona.

Dallan Coleman 6'4" 2021 West Nassau (Callahan FL)
Talented young wing has legit penetrating ability and can score through contact at the cup. Very good student (3.6 GPA) has been offered by Florida, Florida State, Georgetown, Georgia Tech, Oklahoma State and Iowa State.
Nick Davidson 6'9" 2021 Mater Dei (Santa Ana CA)
Hardnosed PF with range on his jump shot is a West Coast rising junior for Pac12 and Mountain West schools to track this year.  Off-the-charts student (4.3 GPA) has been offered by Georgia Tech, Cincinnati, Hawaii and UC-Riverside.

DJ Davis 6'0" 2020 Centennial (Corona CA)
Hot shooting combo-guard has NBA range on his jump shot.  Followed up a solid camp performance with an impressive 42 point outburst in a win over Mater Dei/Santa Ana CA at the  Mater Dei summer tourney on June 9th.  Colorado State (offer) is among the growing number of schools that are showing interest.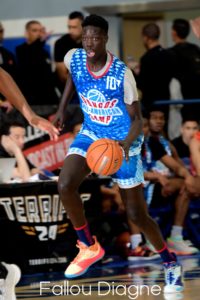 Fallou Diagne 6'11" 2020 Tri-Cities Christian (Tempe AZ)
Long and athletic Senegal import has improved immensely since last year but still just scratching the service of his vast potential.  Formidable shot-blocker has been offered by Arizona State, Texas Tech and Ole Miss.
Dyondre Dominguez 6'8" 2020 Woodstock Academy (Woodstock CT)              Active and agile forward is a very good finisher in transition and a regular visitor on the glass.  Good student (3.2 GPA) averaged 9.8 ppg with a high game of 23 points on (8/12 FG; 5/7 3FG) which displayed his underrated 3-point shooting skills.   UMass, Rhode Island, George Washington, Evansville, Old Dominion and George Mason are among schools that have offered.
Yassine Gharram 6'2" 2020 Foothills Christian (El Cajon CA)
Cerebral and crafty PG with the propensity to always get teammates involved is one of the better rising senior point guards on the West Coast.   Excellent student (3.7 GPA/1170 SAT) was a very late invitee to the camp but made the most of his opportunity and proved that he belonged with the nation's best.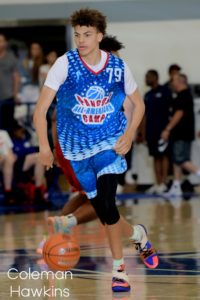 Coleman Hawkins 6'9" 2020 Prolific Prep (Napa CA)
Hawkins is a skilled WF with length and shooting touch. Just officially visited Rutgers and has other offers from Illinois, Arizona, USC, Marquette, Washington State and Detroit.
Bensley Joseph 6'1" 2020 Cushing Academy (Ashburnham MA)  
Pass-first PG with nice ability to run a team is an important component of a loaded Expressions Elite squad in the Nike EYBL this year.  Joseph's recent offer from UMass joins others from Iowa, Rhode Island, Evansville and Bryant.
Sekou Kalle 6'10" 2021 Holy Cross (Louisville KY)
Kalle is a long and rangy forward that is active on the glass. Terrific upside!  Excellent student (3.7 GPA) is a Mali native with offers from Rutgers, Western Kentucky, Cincinnati and Oklahoma.
Caleb Lohner 6'7" 2020 Wasatch Academy (Mt. Pleasant UT)
Strong and deceptively bouncy WF has offers from Baylor, Michigan State, Texas, BYU (father played there), TCU, Oklahoma State and Kansas State. Just transferred to Wasatch Academy from the Dallas TX area. Currently ranked #89 nationally in 2020 by Rivals.com.
Jhaylon Martinez 6'10" 2020 Coronado (Henderson NV)
Strong and physical wide-body uses his strength to score in the paint and averaged 8.3 points and 5.0 rebounds here. Active rebounder too.  Good student (3.3 GPA) just officially visited UNLV (offer) and has other offers from Washington State, Colorado State, San Jose State, St. Mary's, UC-Santa Barbara, Grand Canyon, UC-Irvine and Montana.
Will McClendon 6'4" 2021 Bishop Gorman (Las Vegas NV)
Outstanding shooter currently sits in the Rivals.com's #30 spot in 2021.  Will has been offered by Washington, UNLV, TCU, Texas Tech, New Mexico, Ole Miss, Fresno State, Grand Canyon and Pepperdine.

Mason Miller 6'8" 2021 Germantown (Houston TX)                                               Son of NBA champ Mike Miller (now an assistant at Memphis) is a terrific outstanding shooter like Pops and an underrated athlete.  247Sports.com's #65 in 2021 has grown like a weed since last Fall and has early offers from Memphis, TCU and Creighton.
Quincy McGriff 6'5" 2020 Santa Monica (Santa Monica CA)
Strong and sturdy wingman can knock down shots and is an underrated passer.  Nick-named the "Crime Dog," Quincy has been offered by Kansas State, Long Beach State, Cal State Fullerton, UC-Riverside, Montana, San Francisco, Seattle and Texas-San Antonio.


Sadraque Nganga 6'9" 2022 AZ Compass Prep (Chandler AZ)
Young Big Man from Angola is oozing with elite HM potential.  Extremely agile in transition, Sadraque also has impressive half-court scoring skills.  Arizona State and Oklahoma have offered this elite rising sophomore.
Marcus Niblack 6'2" 2020 Wildwood Middle (Wildwood FL)
Sturdy lead guard with real scoring ability averaged 11.0 points per game here.  South Florida is among the schools that have offered.

Jorge Ochoa 6'7" 2022 Orange Lutheran (Orange CA)
Skilled young forward with innate scoring skills fared well here.  One of the best rising sophomores on the West Coast plays with confidence and is tough competitor. Averaged a very respectable 8.5 ppg (on 66% FG; 50% 3FG) here.

Michael Ofoegbu 6'7" 2020 Golden State Prep (Napa CA)
Wiry and athletic swingman is a real California sleeper with excellent upside.  New Mexico is among the latest D1 schools to express interest.

Sam Ayomide Onu 7'0" 2021 Texas Christian (Houston TX)  
Very long center is an excellent shot-blocker and rim-protector as well as an assertive rebounder.  Terrific high-major long-term potential. Houston, Texas Tech, Baylor, Western Kentucky and North Texas among the schools that have offered.

Luke Turner 6'7" 2021 Rancho Christian (Temecula CA)
Sharpshooting WF is a real floor spacer, competitor and excellent student (3.6 GPA).
***Photos by Scott Kurtz (Kurtz Photo)