By Dinos Trigonis, Nothing But Net Magazine Editor-in-Chief
The 17th annual Pangos All-American Camp presented by Eastbay was held last weekend (May 31-June 2, 2019) @ Cerritos College (Norwalk CA). 110 high school players from throughout the USA and Canada participated.
Earl Watson (former NBA guard & Phoenix Suns head coach) led the camp skills sessions and agility & explosiveness expert Sid Sharma (Explosive Athletes Institute) led campers through physical conditioning drills.  As has been the case in past years, a large contingent of national/regional media and scouts (as well college team web sites) from across the country attended including national outlets like 247Sports.com/CBS Sports (Jerry Meyer, Josh Gershon & Andrew Slater), Rivals/Yahoo Sports (Eric Bossi, Krysten Peek and Corey Evans), ESPN (Fran Fraschilla & John Stovall) and Fox Sports (Aaron Torres) as well as veteran scouts/media like Van Coleman (Global Sports TV & Nothing But Net Magazine/McDonald's All-American Game voter), Brick Oettinger (ACC Journal/McDonald's All-American Game voter), Clark Francis (Hoop Scoop/McDonald's All-American Game voter), Frank Burlison (BurlisonOnBasketball.com/McDonald's All-American Game voter), Dinos Trigonis (Fullcourt Press and Nothing But Net Magazine), Ronnie Flores (GrassrootsHoops.net & Ball is Life), Chris Lawlor (Blue Star Media & McDonald's All-American Game voter), Grant Rice (McDonald's All-American Game voter), Dain Ervin (BIL Reports), Mike Schmitz (DraftExpress.com), Aran Smith (NBADraft.net), Thom Jones (TJ Hoops Scouting), Peter Walsh (Bleacher Report), Dave Keefer (California Preps), Etop Udo-Ema (Fullcourt Press & The Dunk News), Matt Rodriguez & Arek Kissoyan (BallisLife.com), Alan Branch (Texas Boys Basketball), Chris Poopola & Jerina Madayag (Premier Ball), Devin Ugland (HoopsbyUgland.com), Joel Francisco (PrepHoopsSoCal), Littel Vaughn (Check Ball Magazine), Jason O'Neill (Hoops Factory TV), Gregg Rosenberg (PrepHoopsArizona), David Yapkowitz (PrepHoops) and many, many others.  Photographers present included Nick Koza (SportsAmp.com), Scott Kurtz (Kurtz Photo), Cassy Athena (cassyathena.com), Jelissa Holder (JHolder Photography), John Fox and Brian Rothmuller (ICON Sports Media/Getty Images). BallisLife.com, Bleacher Report, Overtime, Slam Magazine, BeachCityHoops, HoopMixTape, Elite Mixtapes, The Hoop Spy, Clutch Clips Hoop, Simply Basketball and Mars Reel were also present shooting tons of video highlights.  

Baller.tv live-streamed (with play-by-play) every camp game in its entirety (all are still available for re-play). Former Texas Tech head coach and long-time D1 assistant Chris Walker provided "color commentary" on the BallerTV live-stream of the 2 all-star games. E-Play provided camp stats at PangosStats.com.

BallerTV Top 30 Game live-stream link: https://www.ballertv.com/streams/top-20-home-vs-top-20-away

BallerTV Top 60 Game live-stream link: https://www.ballertv.com/streams/top-50-home-vs-top-50-away

Additionally, approximately 25 NBA teams sent scouts to evaluate future pro prospects and NCAA Division I officials Bruce Hicks and Frank Harvey held their annual Hicks/Harvey Officials Clinic in conjunction with the camp which resulted in a first-class effort by the three-person crews that worked the games.

Elite 2020 prospects Cade Cunningham and Evan Mobley were deemed by the media/scouts in attendance as the most impressive players at this year's camp and were name camp co-MOPs, joining current NBA players James Harden, DeMar DeRozan, John Wall, Harrison Barnes, DeAndre Ayton, Michael Porter and Tyler Dorsey as past camp MOPs.

In the Top 30 Cream of the Crop Game it was the Blue team knocking off the Red squad 124-117 as Top 30 Game co-MVP Paolo Banchero led the way with 19 points while Tari Eason (17), Moses Moody (16), Josh Christopher (13), Zion Harmon (12), Dalen Terry (12), Mousa Diabate (12) and Day'Ron Sharpe (10) also added double-digit scoring contributions.  The Red squad was led by Top 30 Game co-MVP Terrence Clarke with 18 points while Micah Peavy (12), Cade Cunnigham (11), Mady Sissoko (10), Brandon Huntley-Hartfield (10) and Moussa Cisse (10) also hit double-figures in the scoring column.

In the Top 60 Cream of the Crop Game it was the Blue over the Red 116-107 as 6-1 2021 Rahsool Diggins (Archbishop Wood/Philadelphia PA) had a game-high 20 points (8/11 FG; 3/5 3FG) and earned co-MVP honors.  6-5 2020 Chris Moore (West Memphis/AR) added 15 points of his own and 6-7+ 2021 Arthur Kaluma (Universal Academy/Irving TX) chipped in with 12 points. The Red squad was led by Top 60 game co-MVP MarJon Beaucamp (Rainier Beach/Seattle WA) with 19 points (9/12 FG) while 6-7 2021 Obinna Anyanwu (Cathedral/San Diego CA/12 points), 6-2 2021 TJ Wainwright (Santa Monica/CA/11 points), 6-7+ 2020 Matthew Alexander-Moncreiffe (Orangeville Prep/CAN/10 points) and Boubacar Coulibaly (San Gabriel Academy/San Gabriel CA/10 points) also reached double figures.

In this report (Part 1) we will highlight the players that were chosen to the Top 30 "Cream of the Crop" Game.
2019 Pangos Cream of the Crop Top 30 Game selections (in alphabetical order):
Paolo Banchero 6'10" 2021 O'Dea (Seattle WA)
Big center with strength and size as well as legit shooting skills makes him a bona-fide Top 5 national rising junior.  Equally comfortable scoring with his back to the basket as well as facing it Banchero has a soft touch on his jump shot and is reliable force on the glass (averaged 13.5 ppg during camp and was the #1 rebounder in the Nike EYBL this year – 11.2 rpg). Banchero was a force to be reckoned with in the Top 30 Game – scoring a game-high 19 points (on 8/9 FG) and earning Top 30 Game co-MVP honors. Paolo is a must-get recruit for in-state Washington but they already have plenty of company for his services as Kansas, USC, Oklahoma and Alabama are making strong efforts to land his signature on a future NLI.
Scottie Barnes 6'7" 2020 NSU University School (Davie FL)
Natural born leader is one of those unique, special players that can greatly impact the game without being a top scorer.  Swiss-army knife forward competes on every play and hates to lose whatever the competitive situation is: camp, AAU or HS team setting.  Barnes led his Arizona camp squad to a perfect 4-0 record, steamrolling all opponents in their path. His outstanding all-around numbers made him a strong candidate for this year's camp overall MOP: 12.0 ppg, 6.5 rpg (#3 in camp) and 5.5 apg (#1 in camp).  Barnes' final 8 college choices includes Duke, Kentucky, Oregon, Cal, Kansas, Miami FL, Florida State and Ohio State.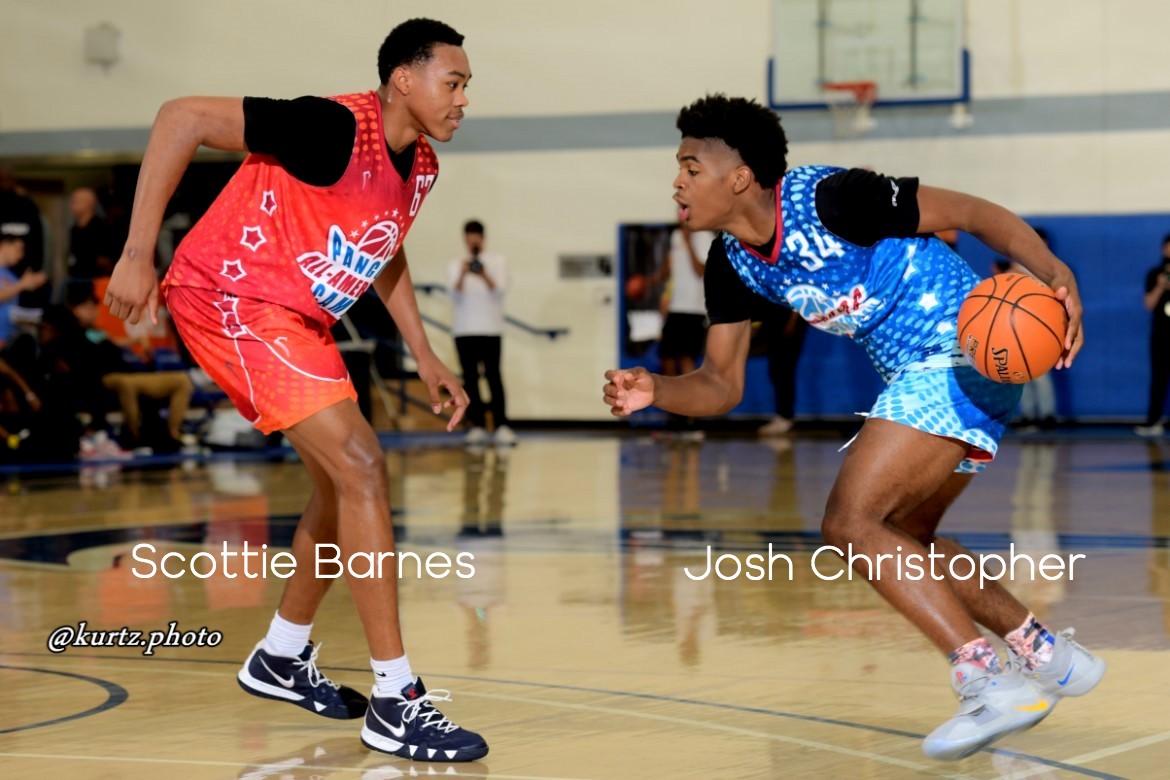 Josh Christopher 6'4" 2020 Mayfair (Los Angeles CA)
Bouncy power wing with extraordinary scoring skills makes him not only a sought-after wing coast to coast but a Top 10 national player in 2020. Josh averaged 17 ppg and shot 63.6% FG and 50% from 3FG.  Josh's signature game was an impressive 28 point (11/18 FG; 5/9 3FG) effort. Very underrated passer too (averaged 5.8 apg in the Nike EYBL). Schools involved with "JayGup" include Kansas, Oregon, Arizona, UCLA, USC, Arizona State (Brother Caleb plays for Sun Devils), Cal (older brother Patrick played there), Washington, Missouri, Georgetown, Florida, Florida State, Michigan and Vanderbilt.
Moussa Cisse 6'9" 2021 Christ the King (Middle Village NY)
Strong and rugged post player is an excellent rebounder (was #2 in Nike EYBL this year – 11.0 rpg) and shot-blocker who can also score well on the block.  Cisse had 12 points and 5 rebounds in the Top 30 Game. UConn and Georgia are among the high-majors that have already offered 247Sports.com's #7 prospect in 2021.
Jaylen Clark 6'5" 2020 Centennial (Corona CA)
One of the break-out performers at this camp, Clark showed he is a Top 50 caliber national recruit by averaging 25.0 ppg (tied for #2 in the entire camp with Terrence Clark) on a camp squad that did not lose a game.  Excellent downhill scorer, Jaylen also showed his 3-point range here. Clark's inspired and hot play (shot a whopping 75.9% from the field) should earn him a sizeable bump in the national rankings. Jaylen's signature game at the camp was a 31 point (12/14 FG; 3/5 3FG) explosion.  Colleges that have already offered Rivals.com's #56 2020 prospect include USC, UCLA, Ohio State, Cal, Colorado, UNLV, New Mexico and Boise State.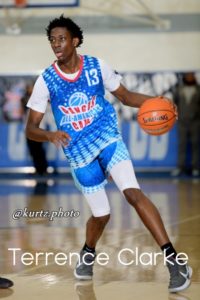 Terrence Clarke 6'6" 2021 Brewster Academy (Wolfeboro NH)
Ultra-athletic swingman is dangerous both attacking the hoop as well as spotting up for perimeter jump shots.  Clarke was on fire here, putting up 25.0 ppg (tied for #2 in camp). Terrence pumped in 18 points (7/9 FG; 3/5 3FG) in the Top 30 Game, earning game co-MVP honors with Paolo Banchero).  Clarke, currently sitting in the #2 spot at both Rivals.com and 247Sports.com and #3 spot at ESPN.com, made it clear that he is coming for that #1 spot in 2021. Terrence is shaping up as a blood-blood priority for a plethora of HM programs including Kentucky, Kansas, Indiana, Georgetown and UConn.
Cade Cunningham 6'7" 2020 Montverde Academy (Montverde FL)  
Big lead guard with the scoring skills, court vision and passing ability to be a dominant factor every time he steps foot on the court.  Arlington TX native has been terrific all spring long for the Texas Titans in the Nike EYBL and his outstanding play here earned him camp co-MOP honors along with Evan Mobley. Cunningham averaged 16 ppg (shooting an amazing 74% from field).  Finished off camp with 12 points on 5/7 shooting in the Top 30 Game. Cade's off-the-charts play this spring has catapulted him into 2020 #1 player discussion among national media and scouts. Cunningham just recently released his Top 10 school list which included Duke, North Carolina, Kentucky, Kansas, Virginia, Memphis, Florida, Texas, Washington and Oklahoma State.
RJ Davis 6'0" 2020 Archbishop Stepinac (White Plains NY)
Quick and crafty PG can put points on the board.  Davis averaged 18 ppg here with a high game of 28 points (11/14 FG; 4/6 3FG).  Davis (the floor leader for the Nike EYBL's NY Rens) is a bona-fide Top 100 caliber prospect that has been offered by Florida, Indiana, Pitt, Maryland, Illinois, St. John's, Cincinnati and Northwestern.
Mousa Diabate 6'10" 2021 DME Academy (Daytona Beach FL)
Active and agile young PF always seems constantly in motion.  Scored at a high clip at this event, averaging 15.8 ppg and had one of the biggest shots at the event – a half-court game winning bomb.  Loves to get on the glass too, averaging 7.0 rpg (tied for #1 in the camp). Produced 12 points and six rebounds in the Top 30 game. Played for France in 2018 FIBA U16 European Championship.  Diabate's early offers include Auburn, Florida, Memphis, Pitt, Georgia Tech, Illinois, Miami FL, Oklahoma State, UNLV and Virginia Tech.
Tari Eason 6'8" 2020 Federal Way (Federal Way WA)
Blue-collar athletic power forward was a reliable contributor on the boards (his 7.0 rpg was tied for #1 in camp) as well as the scoreboard (17 ppg). Tari also played well in the Top 30 Game where he produced 17 points/10 rebounds.  Washington State has offered and several other Pac12 schools are taking a close look. Rivals.com's #80 in the nation in 2020 has the look of a Pac12 priority recruit.
Jaden Hardy 6'5" 2021 Coronado (Henderson NV)
High-scoring rising junior combo-guard showed very nice ability to be a facilitator as well here (was Top 10 in camp assists with 3.3 apg).  Signature camp game was a very efficient 22 points (8/12 FG; 5/6 3FG) to go along with 11 boards. Top schools already lining up for ESPN.com's #2 in 2021 include UCLA, Arizona, USC, Washington, Memphis, LSU, Florida State, Georgetown, Illinois, Missouri, Oklahoma, Arizona State and UNLV (his older brother Amauri plays for the Runnin' Rebels).

Zion Harmon 5'10" 2021 Marshall County (Benton KY) Harmon was sensational here! Nearly impossible to contain off the dribble, Zion scored both from deep as well as at the rim.  Harmon averaged 14.8 ppg and 5.0 apg and finished with 12 points and three assists in the Top 30 all-star game. Boo Williams AAU standout is currently ranked #19 in 247Sports.com's composite 2021 rankings and has been offered by Tennessee, Auburn, Vanderbilt, SMU and Creighton.  After this past weekend, I expect that list to get exponentially longer.
AJ Hoggard 6'4" 2020 Huntington Prep (Huntington WV)  
Crafty lead guard can score in a variety of ways. Hoggard has an uncanny knack of scoring through contact and has deceptive quickness and athleticism.  AJ has played very well so far this spring for the PSA Cardinals in the Nike EYBL (16.2 ppg). Louisville, Marquette, St. John's, Michigan State and Maryland are among the schools that have recently offered this Top 100 caliber prospect.

Brandon Huntley-Hatfield 6'10" 2022 IMG Academy (Bradenton FL)
Young skilled scoring forward is long, nimble and oozing with great long-term potential.  Was perfect from field (5/5 FG) in Top 30 Game for 10 points. Signature camp game was an efficient 17 points (7/8 FG; 3/3 3FG).  BMaze Elite standout on the UA circuit has early offers from Auburn and Mississippi.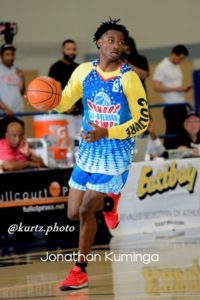 Jonathan Kuminga 6'9" 2021 Our Savior New American (Centerreach NY)  
Although Kuminga has played great this spring at the Nike EYBL, averaging 20.8 ppg for a NY Rens squad that has qualified for the Peach Jam, he did not play up to the same level here. However, there is no denying his elite high-major talent and his bona-fide potential to be a future NBA 1st round draft pick.  Physical specimen is very athletic with terrific scoring skills.  Kuminga (whose older brother Joel Ntambwe played at UNLV last season) currently sits in the #3 spot in 2021 at both Rivals.com and 247Sports.com and #4 at ESPN.com.  Early offers include Kentucky, Auburn, Alabama, Memphis, St. John's, LSU, Georgia, UConn, Maryland, Marquette, Pitt, Texas Tech, Arizona State, Seton Hall, Illinois, TCU and Baylor.

Ian Martinez 6'3" 2020 JSerra (San Juan Capistrano CA) Very athletic combo-guard is an excellent scorer off the dribble and his improving consistency on his jump shot bodes well for his long-term fortunes. Martinez (one of the most fastest rising players in America averaged 14.8 ppg here. After receiving offers from the likes of Arizona, Oregon, USC and San Diego State, Ian just recently committed to Utah where he looks to be an impact freshman for the Utes in 2020-21.

Evan Mobley 7'0" 2020 Rancho Christian (Temecula CA) Ultra-long and skilled forward can do it all at both ends.  Claimed the #1 spot in his 2020 class at last year's Pangos AA Camp and hasn't looked back since.  Great touch and range on his face-up jump shot make him a lethal scorer and extreme quickness off his feet makes him a formidable shot-blocker and follow-up finisher. Named camp co-MOP (along with Cade Cunningham) by the media in attendance for his fine play before a back injury sidelined him for the Top 30 Game.  Is a favorite to make the USA U19 team scheduled to compete in FIBA World Championship in Crete, Greece later this month. USC is the presumed leader as both his older brother Isaiah (a freshman forward) and father Eric (an assistant coach) are currently Trojans.

Aminu Mohammed 6'5" 2021 Greenwood Laboratory (Springfield MO)
Aminu started the camp Friday night red hot, pouring in a camp game high 33 points (13/15 FG; 3/4 3FG; 4/4 FT) and he would not let up averaging 26.3 ppg with multiple 30 point games. Washington DC area native is an athletic and assertive WG that is both dangerous slashing to the hoop as well as spotting up for 3s.  Earned All-Washington Catholic Athletic Conference honors as a freshman at Archbishop Carroll in Washington DC in 2018. 247Sports.com has pegged him as the #9 2021 prospect in USA and for good reason.  Schools like Louisville, Florida, Seton Hall are among the growing list of schools that will lobby for his future services.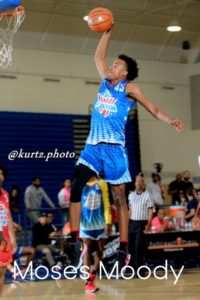 Moses Moody 6'6" 2020 Montverde Academy (Montverde FL)
Super smooth SG showed pro potential here averaging a very impressive 18.5 ppg.  Moses has a great looking jump shot and has the quickness and bounce to finish at the rim. Very underrated defender too. Moody topped off a great camp by putting up 16 points/10 rebs in the Top 30 Game. ESPN.com's #22 in 2020 looks every bit the part of a future McDonald's All-American and he is the object of serious interest from the likes of Arkansas, Ohio State, Baylor, Florida, Oklahoma State, Stanford, Texas Tech, Oklahoma, Texas, SMU, Texas A&M, Missouri, Florida State and Illinois.
Daishen Nix 6'5" 2020 Trinity (Las Vegas NV)
Smooth operator at the PG position, Nix has a tremendous feel for the game and court vision that is second to none.  Daishen seems like he never forces the issue and has the ability to make sagging defenses pay with timely 3-point daggers. Daishen's impressive play has not gone unnoticed as 247Sports.com recently pegged him at #10 in the nation in 2020.  Kansas, Arizona, Washington, UCLA, USC, Kentucky, Alabama, Marquette, Maryland, Gonzaga, Memphis, Oklahoma, Minnesota, West Virginia, UNLV and TCU are among a long list of schools that would love to have him running their offense.

Micah Peavy 6'6" 2020 Duncanville (Duncanville TX)
Talented 2020 wing prospect is a smooth jump shooter with impressive agility in transition. Peavy averaged 12.0 ppg and matched that number with 12 points (5/7 FG) in the Top 30 Game.  Outstanding rebounder for a wing as his 10.1 rpg stat line in the Nike EYBL (good for #4 in the league) displays. Top 50 caliber 2020 prospect (and rising) has college suitors like LSU, Arkansas, Michigan, Oklahoma, Tennessee, Texas, Texas Tech, Oklahoma State, Florida, SMU and Houston in pursuit.

Chanse Robinson 6'1" 2020 Lincoln Prep (Grambling LA)
Quick and assertive lead guard is quick off the bounce to the cup and is a terrific on-ball defender.  Still somewhat underrated nationally in my opinion, Chanse (a member of the Rivals.com 150 that currently checks in at #129) has offers from the likes of Georgia Tech, Ole Miss, Iowa, TCU, Baylor, Missouri, Tulane and Wichita State.
Day'Ron Sharpe 6'10" 2020 South Central (Winterville NC)
Strong and physical North Carolina-bound PF is an active scorer and rebounder.  Excellent footwork in the post makes him a legit scorer in the paint too. Chipped in with 10 points for winning Blue Squad in the Top 30 Game. Garner Roads AAU (NC) star just recently moved to 5-star status in the just recently released 247Sports.com 2020 rankings (now sitting in the #18 spot).

Isa Silva 6'3" 2021 Jesuit (Carmichael CA)
Silva was one of the camp's top major surprises as he dazzled onlookers with his great feel, pin-point passing, playmaking ability and sharp-shooting from beyond the 3-point arc.  Silva averaged 13.8 ppg and 5.5 apg (good for #2 in entire camp). Isa's phenomenal 15 assists in a game on Saturday was a camp high for all players. Stanford, Utah and UC-Santa Barbara among the schools recognizing his talent early.  Got a feeling after last weekend, they will have plenty of company.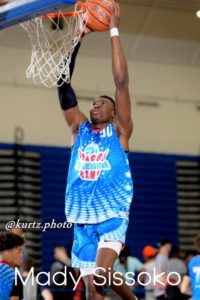 Mady Sissoko 6'9" 2020 Wasatch Academy (Mt. Pleasant UT) Very physical and athletic power-forward plays with a motor matched by few. Mady has become a ferocious finisher inside (averaged 13.5 ppg here) and his rebounding prowess is matched by few in his class (averaged 9.2 rpg in Nike EYBL).   ESPN.com's #48 in 2020 has current offers from UCLA, Utah, Oregon State, Colorado, Minnesota Utah State and BYU.

Dalen Terry 6'7" 2020 Hillcrest (Phoenix AZ)
Multi-dimensional guard with nice length has a very versatile skill set that allows him to play position-less basketball. Dalen has excellent ability to play on the ball where his fine passing skills and size to see over defenders allows him to impact the game. Terry averaged 12 ppg and finished with 12 points, five rebounds and four assists in the Top 30 Game.  Terry (#25 in 247Sports.com's 2020 rankings) has offers from USC, Marquette, Cal, Utah, Arizona State, Arkansas, Colorado, Nevada and UNLV.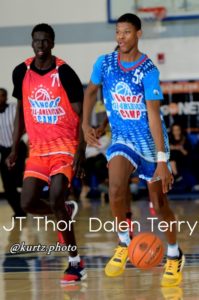 JT Thor 6'9" 2021 Huntington Prep (Huntington WV)  
Long and athletic Alaskan native is oozing with elite HM potential.  Swift in transition, JT has great explosion to the basket and shoots it better than most realize.  Shot a very impressive 73% from the field at this camp (19/26) and did not miss a 3-pointer he took (2/2).  Currently ranked #8 nationally in 2021 by Rivals.com, Thor has early offers from Kansas, Maryland, UConn, Florida, LSU, NC State, Oregon, Arizona State and Cal.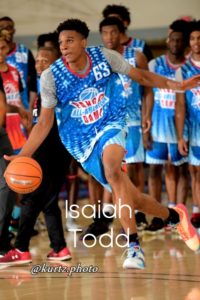 Isaiah Todd 6'10" 2020 Trinity (Raleigh NC)   Long, versatile and athletic forward has considerable long-term pro upside. Isaiah is a force in transition and has nice range on his face-up jump shot.  Todd had a monster game on Saturday: 27 points (10/17 FG; 5/11 3FG) with 10 rebounds. Kentucky, North Carolina, Kansas, UCLA, Villanova, Virginia, Oklahoma State, Maryland and Baylor among the major schools lining up for ESPN.com's #7 prospect in 2020.

Kyree Walker 6'5" 2020 Hillcrest (Phoenix AZ)
Strong wing loves to attack the cup where he is adept at finishing through contact.  Walker can also knock down long-range shots (shot 10/17 from the 3-point arc in 4 camp games here) and is an underrated passer. Walker's signature camp game was a 23 point (7/13 FG; 5/8 3FG) performance and was efficient in the Top 30 Game, connecting on 4/5 shots en route to 8 points. Rivals.com's #17 in 2020 has schools in the mix like Arkansas, Arizona State, Arizona, Memphis, Kansas, Illinois, USC, UCLA, Texas, Oregon, Cal and LSU.
Lance Ware 6'9" 2020 Big Picture Learning Academy (Camden NJ)
Bouncy and long PF is an impressive rim-runner that finishes with authority above the rim. Ware averaged 12.8 ppg here and came out of the gates strong with an opening night effort of 18 points/7 boards.  Ware (#43 in ESPN.com's 2020 rankings) has offers from the likes of Maryland, Ohio State, Providence, Temple and Seton Hall.

In our next report (Part 2) we will highlight the Top 60 Game participants which included several high-major players of its own.
***Photos by Scott Kurtz (Kurtz Photo)