The 25th annual NBPA Top 100 Camp was held this week at the University of Virginia (Charlottesville VA).  The camp's playoff games were conducted on Saturday and it was the Spurs beating the Knicks 100-83 in the title game, sparked by Playoff MVP 7-1 2021 Chet Holmgren, 6-1 2020 RJ Davis and 6-4 2021 Devin Askew.  Due to his strong play from start to finish, 6-9 2021 Paolo Banchero was named Camp MVP.  Other members of the Spurs camp championship squad include 6-5 2020 Kyree Walker (Hillcrest/Phoenix AZ), 6-8 2020 Tari Eason (Federal Way/WA), 5-11 2020 Jalen Terry (Beecher/Flint MI), 6-10 2020 Elijah Hutchins-Everett (Immaculate Conception/Montclair NJ), 6-8 2020 Corey Walker (Hargrave Academy/Chatham VA), 6-7 2020 Donovan Johnson (Moon Area/Coraopolis PA), 6-5 2021 Trevor Keels (Paul VI/Fairfax VA), 6-5 2022 MJ Rice (Durham Academy/NC) and 6-3 2020 Zaire Wade (Sierra Canyon/Chatsworth CA).

The 2019 NBPA Top 100 Camp team is:

Paolo Banchero 6-9 2021 O'Dea (Seattle WA)   camp MVP
Chet Holmgren 7-1 2021 Minnehaha (Minneapolis MN)  playoff MVP
Jabri Abdur-Rahim 6-6 2020 Blair Academy (Blairstown NJ)
Devin Askew 6-4 2021 Mater Dei (Santa Ana CA)
Joe Bamisile 6-4 2020 Monacan (North Chesterfield VA)
BJ Boston 6-6 2020 Norcross (GA)
RJ Davis 6-1 2020 Archbishop Stepinac (White Plains NY)
Zion Harmon 5-11 2021 Marshall County (Benton KY)
Ian Martinez 6-3 2020 JSerra (San Juan Capistrano CA)
Dwon Odom 6-1 2020 St. Francis (Alpharetta GA)
Mady Sissoko 6-9 2020 Wasatch Academy (Mt. Pleasant UT)
Bryce Thompson 6-4 2020 Washington (Tulsa OK)

Banchero (who earned co-MVP honors of the Top 30 Game at the recent Pangos All-American Camp) was an offensive force all camp long, averaging 17.2 ppg (good for #2 in that camp category) while Holmgren had a huge impact (15 points/11 boards) in the Spurs' 103-90 semi-final win over the 76'ers and followed that up with 11 points, 3 rebounds and 3 key blocks in the title game.

Abdur-Rahim was the camp's #1 points per game scorer (17.3) and shot a camp best 50% from the 3-point arc.  Extremely talented and assertive on the offensive end, I would also like to see him become a better defender as well as do a better job getting teammates involved to round out his game.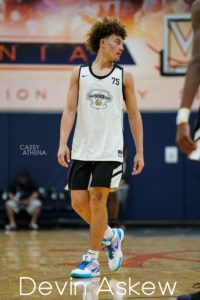 Not only was Askew fantastic in the Spurs' championship win (19 points on 7/12 FG; 5/6 3FG and 8 assists), he also was tied for #2 in camp assists per game (4.6) and #4 in total 3FGs made (12).  Bamisile (committed to Northwestern) shot the ball extremely well at this camp as his 15.3 ppg (good for #4 in the camp) displays, Boston came on strong during the latter part of the camp (averaged 13.6 ppg), reminding us why he is a Top 10-15 caliber 2020 prospect and RJ Davis (who earned offers from the likes of UCLA while at the camp) had 19 points in the title game and continues to show us that he is a high-major scoring point guard (13.0 ppg here) with recruiting value coast to coast.  Harmon is a dazzling playmaker that averaged 11.0 points and 3.4 assists per game, Martinez (committed to Utah) is an elite athlete and very improved 3-point shooter (made 7 total 3s) and Odom (committed to Xavier) is a strong and physical guard that was #3 in scoring per game (16.8). Sissoko ran on all cylinders all camp long and was a ferocious rebounder (6.3 rpg) and rim-protector while Thompson continues a stellar 2019 grassroots season by his fine play here (13.3 ppg).

Other players, in my opinion, that also deserved all-camp status includes 6-9 2020 Day'Ron Sharpe (South Central/Winterville NC), 6-5 2020 Daishen Nix (Trinity/Las Vegas NV), 6-6 2020 Moses Moody (Montverde Academy/FL), 6-7 2020 Henry Coleman (Trinity/Richmond VA), 6-4 2020 Tramon Mark (Dickinson/TX) and 6-7 Cameron Fletcher (Vashon/St. Louis MO).

How Sharpe got left off the all-camp team is mind boggling to say the least. All Day'Ron did here was lead the camp in rebounding (10.3 rpg) and was fifth in scoring (15.0 ppg).  The UNC-bound PF is not a flashy player but rather a blue-collar big man that produces game in and game out. Nix was not only as good a passer as was at the camp, but he also exhibited excellent accuracy from beyond the 3-point line too (12 threes made on 45.5% – good enough for 3rd in the entire camp).  Moody is a silky-smooth wing guard that was a Top 10 scorer here (13.6 ppg) and Coleman is a strong and physical PF that averaged 13.0 points and 5.3 boards per game and carried his weight in the title game by scoring 18 points (6/10 FG) and grabbing 7 boards.  Mark was #1 in the camp in assists per game (5.0) and added 11.6 points per contest while Fletcher is a good looking athletic swingman that was #8 in camp scoring per game (13.8).

Other players that played well on Saturday were 6-5 2020 Kyree Walker (Hillcrest/Phoenix AZ) who had 19 big points in the Spurs' semi-final win over the 76'ers, West Virginia-bound 6-9 2020 Isaiah Cottrell (Gorman/Las Vegas NV) who had 16 points/6 boards for the runner-up Knicks in the title game and 15 points in the semi-finals, 6-10 2021 Franck Kepnang (Westtown/West Chester PA) plays with passion, has a massive physique and is an excellent student and 6-6 2020 Andre Jackson (Albany Academy/NY) scored 14 points (on 6/8 FG) and always seemed to be actively involved in every play when I paid attention to his lone game on Saturday. Jackson's high offensive efficiency wasn't just a one game fluke, he shot a blistering 73.9% from field (17/23) during the camp.

6-9 Patrick Baldwin (Hamilton/Sussex WI) only played in 3 camp games here due to injury but his outing at this event did nothing to diminish his outstanding reputation as a top contender for #1 in 2021 and as a very skilled forward with length and impressive basketball IQ.

Although he is currently not in anybody's Top 100 2020 list, 6-4 Demetrius Calip (Taft/Woodland Hills CA) had a very nice camp, averaging a very respectable 9.6 points per game with a personal camp high of 23 points on 8/12 FG versus the Lakers. The very slender but high-octane WG will get plenty of MM to MM+ interest this July.

This year marked the 25th edition of the NBPA Top 100 Camp and its been an excellent run. The NBPA Parents Program and its future coaches mentoring project are excellent things and highly beneficial to all involved.  However, change is always inevitable to some degree for any organization and improvement should be a goal for any camp to strive for. For starters, it's time for the NBPA to realize that although having a week-long camp might be a tradition of the past, the modern congested hoops calendar for these top players is not conducive for long, grinding camps and events that wears them out and leaves them with no energy or time to prepare or recover for the next team or individual event on their docket.  Its time to take a long look at the viability of the current camp location as well. John Paul Jones Arena at the University of Virginia in Charlottesville is an excellent facility but the truth is that it is not easy to get to for players, media and college coaches. A more centrally located venue with easy major airport access would not only help players and their families as well as media/scouts with more flight options to and from the camp, it would also likely be more affordable for all involved. The last topic of potential improvement is the need to become more "media friendly."  The NBPA Camp media relations staff does a professional job but its time to start treating media more like welcomed guests that pets with leashes on our necks. I am not sure why the John Paul Jones Arena security staff has to treat media with unreasonable paranoia. Restricting our access to one section (113) of a 14,000 seat arena seems a little over the top and not rational. Do reasonable media policies and restrictions need to be in place? Of course they do. But things like restricting media access to arena restrooms that have just 1 stall seems a little unreasonable to say the least.  I hope that the NBPA Camp takes a long look at these issues that I have raised and views them as an opportunity for positive reflection.

***Photos courtesy of Cassy Athena