The 17th annual Pangos All-American Camp presented by Eastbay was held last weekend (May 31-June 2, 2019) @ Cerritos College (Norwalk CA). 110 high school players from throughout the USA and Canada participated. Earl Watson (former NBA guard & Phoenix Suns head coach) led the camp skills sessions and agility & explosiveness expert Sid Sharma (Explosive Athletes Institute) led campers through physical conditioning drills.
BallerTV.com live-streamed (with play-by-play) every camp game in its entirety (all are still available for re-play). Former Texas Tech head coach and long-time D1 assistant Chris Walker provided "color commentary" on the BallerTV live-stream of the 2 all-star games.
BallerTV Top 30 Game live-stream link: https://www.ballertv.com/streams/top-20-home-vs-top-20-away
BallerTV Top 60 Game live-stream link: https://www.ballertv.com/streams/top-50-home-vs-top-50-away
In our Part I report we covered the players selected to the Top 30 Cream of Crop Game: https://nbnmagazine.com/2019-pangosaacamp-recap-1/

In the Top 60 Cream of the Crop Game it was the Blue over the Red 116-107 as 6-1 2021 Rahsool Diggins (Archbishop Wood/Philadelphia PA) had a game-high 20 points (8/11 FG; 3/5 3FG) and earned co-MVP honors.  6-5 2020 Chris Moore (West Memphis/AR) added 15 points of his own and 6-7+ 2021 Arthur Kaluma (Universal Academy/Irving TX) chipped in with 12 points. The Red squad was led by Top 60 game co-MVP MarJon Beaucamp (Rainier Beach/Seattle WA) with 19 points (9/12 FG) while 6-7 2021 Obinna Anyanwu (Cathedral/San Diego CA/12 points), 6-2 2021 TJ Wainwright (Santa Monica/CA/11 points), 6-7+ 2020 Matthew Alexander-Moncreiffe (Orangeville Prep/CAN/10 points) and Boubacar Coulibaly (San Gabriel Academy/San Gabriel CA/10 points) also reached double figures.

In this report (Part II) we will highlight the players that were chosen to the Top 60 "Cream of the Crop" Game.  There was plenty of elite HM talent in the Top 30 Game and the Top 60 was not far off as there were high-majors galore competing in that game.

2019 Pangos Cream of the Crop Top 60 Game selections (in alphabetical order):
Posh Alexander 5'11" 2020 Our Saviour Lutheran (Bronx NY)                          Strong PG can explode to the hoop. Underrated 3-point shooter and tough on-ball defender.  Alexander averaged 11.0 ppg here and his signature camp game was a 16 point effort on a crisp 7/10 from the field. ESPN.com's #55 prospect in 2020 has offers from St. John's, Seton Hall, Illinois, Penn State and Dayton.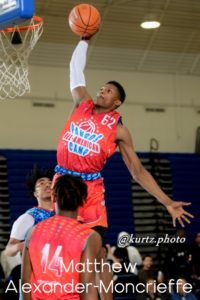 Matthew Alexander-Moncrieffe 6'7" 2020 Orangeville Prep (CAN)
Muscular and bouncy PF competes on every play.  Had one of the most electrifying dunks of the camp when he smashed one down in transition during the Top 60 Game where he was perfect from the field (5/5 FG) en route to 10 points.  MVP of the Terrific 24 in Marietta GA this past April averaged 10.0 ppg here and has attracted offers from Seton Hall, Arizona State, Georgetown, Florida, Oregon and Tulane.
Richard Amaefule 6'8" 2020 Wilson (Dallas TX)  
Sleek combi-forward is an excellent slashing scorer.  LSU and TCU are among the schools that have offered 247Sports.com's #87 player in 2020.
Obinna Anyanwu 6'7" 2021 Cathedral Catholic (San Diego CA)
Active and productive forward had 12 points in the Top 60 Game.  Excellent rebounder and defender. Obinna (ranked #56 in 2021 by 247Sports.com) has garnered offers from Oklahoma, Texas, Georgia Tech and Tulane.
MarJon Beauchamp 6'6" 2020 Rainier Beach (Seattle WA)                        247Sports.com's #20 player in 2020 was co-MVP of the Top 60 Game, scoring 19 points on 9/12 shooting.  His output in the Top 60 Game matched his 19.0 ppg during the camp. Washington, UCLA, USC, Arizona, Arizona State and Alabama are among the schools that have offered.  Announced shortly after this camp that he was headed to Bella Vista Prep (Scottsdale AZ) next Fall for his senior year of high school.
Judah Brown 6'6" 2020 Pacifica Christian (Newport Beach CA)
Very athletic swingman was selected to the Top 60 Game but did not play due to injury.  Camp signature game was an 18 point (8/12 FG) effort. Brown averaged 10.3 ppg here and has committed to WCC power St. Mary's.
JaKobe Coles 6'8" 2020 Guyer (Denton TX)
Rugged PF is a reliable rebounder and solid interior defender.  Coles (a member of the Rivals 150) has offers from Colorado, SMU, TCU and Tulsa. Part of a loaded Texas Titans squad on the Nike EYBL circuit.
Frankie Collins 6'0" 2021 AZ Compass Prep (Tempe AZ)
Shifty and crafty playmaker has great elevation at the hoop as well as dangerous 3-point range. Kansas (offer), Oklahoma (offer), TCU (offer), New Mexico (offer) and North Carolina are among the growing number of major schools noticing his talents. Former Clark/Las Vegas NV standout is a legit Top 75-100 national 2021 prospect.
Zaon Collins 6'0" 2021 Bishop Gorman (Las Vegas NV)
Table-setting PG plays with a high basketball IQ and is a terrific passer that has omnipresent court vision.  Co-MVP of the 2018 Tarkanian Classic is ranked #35 by Rivals.com and has offers from Washington, Arizona State, UNLV, TCU, Colorado, Oklahoma and Southern Miss.
Boubacar Coulibaly 6'10" 2020 San Gabriel Academy (San Gabriel CA)
Boubacar is one of the most underrated post players in 2020.  Great length and long arms make him an excellent shot-blocker and rim protector.  Offensive game is starting to come around too (10.0 ppg here). Has offers from Cal, Colorado, UC-Santa Barbara, Pepperdine and Loyola Marymount.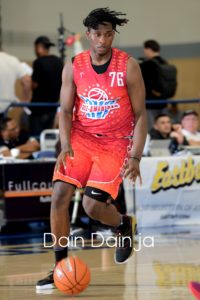 Dain Dainja 6'8" 2020 Parker Center (Minneapolis MN) Beefy PF is a problem physically in the paint.  Dain is currently ranked #40 in 2020 by 247Sports.com and has offers from the likes of Ohio State, Minnesota, Iowa, Louisville, Marquette, Tennessee, Arizona State, Georgetown, Pitt, Illinois, Northwestern, Iowa State, Kansas State, NC State, DePaul and Baylor.

Hassan Diarra 6'2" 2020 Putnam Science (Putnam CT)
Strong and aggressive lead guard plays with confidence and makes wise decisions.  Top 100 caliber 2020 recruit averaged 12.0 ppg here and has offers from Florida, Texas Tech, Georgia, VCU and Rhode Island.
Rahsool Diggins 6'1" 2021 Archbishop Wood (Philadelphia PA)                        Baby-faced sharpshooter was hot in Top 60 game, connecting for a game-high 20 points (8/11 FG; 3/5 3FG) and was named co-MVP for the winning Blue squad.  Diggins is excellent from long distance and is quickly emerging as a top national sleeper lead guard in 2021.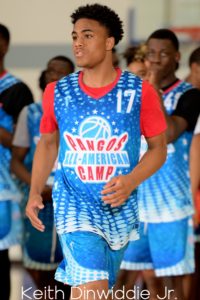 Keith Dinwiddie 6'2" 2020 Fairfax (Los Angeles CA)
West Coast national 2020 sleeper has natural scoring instincts including a very on-point mid-range game.  Very good athlete is a Kyle Lowry-type scoring lead guard.  Colorado, Texas, Marquette, Arizona State, San Diego State, UC-Santa Barbara (offer) and Montana (offer) are among the schools expressing interest.  Dinwiddie has been invited to this week's NBPA Top 100 Camp in Charlottesville VA.
Micawber Etienne 6'10" 2021 Suffield Academy (Suffield CT)
Skilled young big has impressive footwork on the block and doesn't mind getting physical in the paint.  One for high-majors to track in 2021. Highly undervalued by most national scouts at the moment, Etienne was co-MVP of last Fall's Pangos All-East Frosh/Soph Camp.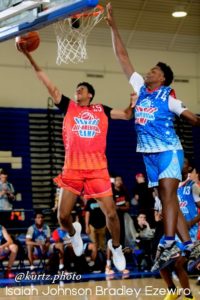 Bradley Ezewiro 6'8" 2020 Bishop Montgomery (Torrance CA)
Burly and extremely bouncy PF can rattle the rim with ferocious dunks as well as spot-up for jump shots beyond the 3-point arc.  Big Bradley averaged 10.3 ppg here. Current list of offers includes Washington State, New Mexico, Long Beach State, Cal State Northridge, Cal State Fullerton, San Francisco, Cal Poly, Southern Utah and Montana.  Bradley's Bishop Montgomery squad will be on display for D1 coaches later this month (June 21-23) at the Section 7 Team Camp (NCAA certified) in Phoenix AZ.
Michael Foster 6'9" 2021 Hillcrest (Phoenix AZ)
Strong, athletic and assertive post scorer is a Milwaukee WI native that is already a well-known hoop commodity (currently ranked #5 in 2021 by ESPN.com).  Major offers include LSU, Arizona State (was once committed to the Sun Devils), Kansas, UCLA, Florida State, Marquette, UNLV, Texas A&M and San Diego State.
Xavier Foster 6'10" 2020 Oskaloosa Community (Oskaloosa IA)
Skilled big with nice size is ranked #29 in the 2020 247Sports.com composite.  Excellent rebounder and face-up shooter.  In demand by the likes of Iowa, Kansas, Missouri, UCLA, USC, Illinois, Iowa State, Baylor, Creighton and Texas A&M (all of whom have offered).
Terren Frank 6'8" 2020 Sierra Canyon (Chatsworth CA)                                     Frank is a high-scoring wing forward that is a Pac12 priority recruiting target. Versatility, scoring touch and rebounding prowess equate into HM value and he's got plenty of it.  Match-up problem for both bigger PFs as well as smaller wing players. Terren (#33 by ESPN.com in 2020) has attracted offers from Arizona, USC, Arizona State, Oregon State, Colorado, Cal, San Diego State, Western Kentucky (dad Tellis starred there prior to going to NBA) and TCU.
Josh Hall 6'9" 2020 Moravian Prep (Hickory NC)
Long and skilled forward with excellent shooting touch.  Currently ranked #85 nationally by 247Sports.com but after his impressive play here, look for his status to rise among all national outlets.  Hall has many in pursuit including offers from Florida, Kansas, Georgia, Georgetown, Maryland, Texas, Rutgers, Maryland, Pitt, Providence, Georgia Tech and Oklahoma State.
Dominick Harris 6'4" 2020 Rancho Christian (Temecula CA)                        Confident scorer has knack for tingling the cords (averaged 12.0 ppg here).  Gonzaga-bound WG will team with #1 2020 Evan Mobley to form a dangerous combination for Ray Barefield's Rancho Christian Eagles next season.

Harrison Ingram 6'7" 2021 St. Mark's (Dallas TX)
Well-built WF with very nice scoring instincts as well as excellent marks in the classroom.
Ranked #24 by Rivals.com and #25 by 247Sports.com, Ingram has received offers from a long list of schools that includes Stanford, Kansas, Georgetown, Tennessee, Baylor, Texas A&M, TCU and Ole Miss.
Isaiah Johnson 6'7" 2020 Bishop Montgomery (Torrance CA)
Athletic and hardworking hybrid-forward can defend with tenacity both in the paint and out on the perimeter.  Crafty scorer around the cup and improved 3-point shooter was efficient in Top 60 Game with 8 points on 4/5 FG (including an impressive tip-jam).  Isaiah has reported offers from UC-Irvine and Rutgers and is now hearing from UC-Santa Barbara (scheduled to visit there later this month), Oregon State, Marquette, Washington State and New Mexico.  Isaiah's Bishop Montgomery squad will be on display for D1 coaches later this month (June 21-23) at the Section 7 Team Camp (NCAA certified) in Phoenix AZ.
Arthur Kaluma 6'7" 2021 Universal Academy (Irving TX)
Co-MVP of last Fall's Pangos All-South Frosh/Soph Camp is a bona-fide big time scorer that averaged 12.5 ppg here.  Arthur (ranked #34 in 2021 by Rivals.com) was impressive in the Top 60 Game, scoring 12 points. Shaping up as a Big 12 target, Kaluma reminds me of former scorer-deluxe WF Jordan Hamilton (Texas/NBA).  
Alex Karaban 6'7" 2022 Algonquin Regional (Northborough MA)
Skilled and crafty young wing forward is deceptively athletic.  Karaban (only a rising soph) is definitely a national name for the future for his Expressions Elite Nike program.
Franck Kepnang 6'11" 2021 Westtown (West Chester PA)                         Mammoth-sized center is a load to deal with in the paint.  Physical rebounder and finisher in traffic is also a top-notch student.  Ranked #17 by 247Sports.com, Franck has already been offered by UConn, Pitt, Syracuse, Vanderbilt and St. Louis.

Jahmai Mashack 6'4" 2021 Etiwanda (Etiwanda CA)  Mashack got a very late invite to this camp and made the most of his opportunity by playing his way into the Top 60 Game.  Excellent defender and aggressive scorer off the slash (averaged 12.0 ppg here). Tremendous work ethic and kid! Only a matter of time before he enters the national rankings.

Jamal Mashburn Jr. 6'2" 2020 Brewster Academy (Wolfeboro NH)                      Son of former Kentucky/NBA forward Jamal Mashburn Sr., is a Top 100 caliber talent with offers from UConn, Minnesota, Florida, Illinois, Miami FL, Louisville, Florida State, Notre Dame, Ohio State, Penn and Yale.

Bayron Matos 6'8" 2020 Hamilton Heights Christian (Chattanooga TN) Big and physical rebounder has committed to Mississippi State.  Dominican Republic native and 2020 Rivals 150 member has the potential to be a factor in SEC.
Mike Miles 6'2" 2020 Lancaster (Lancaster TX)Athletic and assertive PG is an excellent penetrator and pesky defender.  A current member of the 2020 Rivals 150 (and rising), Mike has offers from Oklahoma, Oklahoma State, SMU, TCU, LSU, Houston and Butler.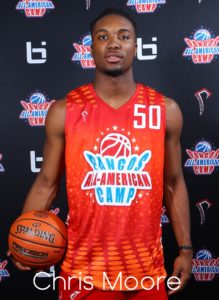 Chris Moore 6'6" 2020 West Memphis (West Memphis AR)
Strong as an ox swingman with great bounce is difficult to stop to the hoop.  Moore was impressive in the Top 60 Game, producing 15 points (on 7/9 FG). Chris is currently ranked #80 in 2020 by Rivals.com but based on his fine play this Spring in the Nike EYBL and here (15.0 ppg), I expect him to make a sizeable jump in the national rankings.  Shaping up as a priority recruit for Arkansas, Auburn, Florida, Memphis, Oklahoma State, SMU, Miami FL and Ole Miss.
Clifford Omoruyi 6'11" 2020 Roselle Catholic (Roselle NJ)
Very improved center/forward is a formidable rim-protector and legitimate post scoring option. #46 in nation in 2020 by 247Sports.com, Cliff has offers from Kentucky, Auburn, UConn, Florida, Illinois, Syracuse, Seton Hall, West Virginia, South Carolina, Rutgers and NC State.
Kevin (KJ) Pruitt 6'4" 2020 Lewisville (Lewisville TX)
Quick and athletic combo-guard can really score off the bounce and has the tools to be an excellent defender.  Has high-major offers from Baylor, LSU, Ohio State, Texas Tech, Oklahoma State, Tulsa and TCU
Alexis Reyes 6'5" 2021 Cushing Academy (Ashburnham MA)
Sharp-shooting WG played well here.  Has early offers from St. John's, Illinois and Rhode Island.
Adama Sanogo 6'9" 2021 Our Savior New American (Centerreach NY)  
Outstanding rebounder (#4 in camp with 5.8 rpg) and improving interior scorer.  Has early offers from Oregon, Rutgers, Creighton and TCU. Adama has played very well for the NY Rens this Spring in the Nike EYBL (averaging 9.7 rpg).
Deivon Smith 6'0" 2020 Grayson (Loganville GA)                                          Extremely bouncy lead guard is exciting in transition.  Smith scored at a high-clip here (13.3 ppg) and is hard to contain off the bounce.  Atlanta Celtics AAU star is ranked #42 in 2020 by 247Sports.com and has offers from Georgia, Georgia Tech, Alabama, Clemson, LSU, Florida, Louisville, Mississippi State and Xavier.
Julian Strawther 6'7" 2020 Liberty (Las Vegas NV)
Gonzaga-bound WF can really score at a high-clip and is ESPN.com's #35 prospect in 2020. Strawther averaged 10.8 ppg here.  One of the main focal points for a talented Vegas Elite squad on the Nike EYBL circuit.
Noah Taitz 6'4" 2020 Bishop Gorman (Las Vegas NV)
Clutch-shooting WG has accurate shooting touch from beyond the 3-point arc.  Excellent student and bouncy athlete is hearing from the likes of Stanford, St. Mary's, USC and Washington. Co-MVP of the 2018 Tarkanian Classic.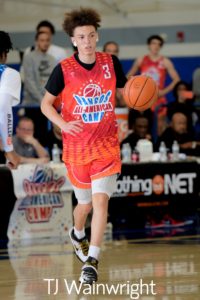 Tsalta (TJ) Wainwright 6'2" 2021 Santa Monica (Santa Monica CA) 6-2 2021 lefty flamethrower averaged 15.3 ppg and helped lead his camp squad to a 4-0 record. Shifty playmaker has very confident 3-point stroke.  Was 50% from the field (4/8) and from the 3-point arc (2/4) en route to 11 points in Top 60 Game.  Has heard so far from the likes of Arizona, LSU (has unofficially visited), USC (has unofficially visited), Vanderbilt, San Diego State, Tulane and Santa Clara.
Malachi Wideman 6'5" 2020 Riverview (Sarasota FL)  Florida State-bound 2-sport star is ultra-athletic and a terror in transition.
Mwani Wilkinson 6'6" 2020 Bishop Gorman (Las Vegas NV)
Pogo-stick swingman with improving perimeter stroke is one of the biggest sleepers in the nation.  Recently offered by TCU, UNLV, New Mexico, UC-Santa Barbara and Cal State Northridge.
Michael Williams 6'3" 2023 San Ysidro (San Ysidro CA)                                     Young phenom with a tremendous social media following more than held his own here (10.3 ppg).  Power WG can finish above the rim and has nice perimeter range on jump shot. Considered by many as the top freshman entering the high school ranks next Fall.

In our next report (Part III) we will highlight several participants who did not get selected to any of the two all-stars game but deserved to be mentioned due to their fine play.
***Photos by Scott Kurtz (Kurtz Photo) and Nick Koza