A number of the West Coasts' top prospects in the rising sophomore and freshman class were on display this recently in Lynwood, CA at the Pangos All-Frosh/Soph Camp at Lynwood High School. Camp Directors Dinos Trigonis & Etop UdoEma hosted over 260 players from twelve states total, including ten different states across the western parts part of the USA.

One transport from Kansas, 6'7 2022 Aidan Shaw had his national coming out party to be named a camp Co-MVP along with 6-8 2022 Kijani Wright to lead a solid group of young forwards and guards that tend to dominate our Pangos All-West Frosh/Soph Camp Top Twenty!

The camp featured a deep group of front court talent headed by Shaw and Wright who were joined by Jalen Lewis, Jackson Kohler, Jalen Thompson, Asa White, Osiris Grady, Papa Lamine Niang, and Henri Adrissa. The backcourt featured high scoring talents like Dylan Andrews, Mikey Williams, Joseph Hunter, Christian Moore, Milos Uzan, Dusty Stromer, Jordan Pope, Varrick Lewis, and Justin Daniels, along with standout western floor leaders Benny Gealer and Kylan Boswell.

In addition to the above-mentioned standouts there was an intriguing group of talents in process that will draw lots of college interest to the west coast over the next couple of years, so stay tuned. With that in mind here's a quick look at the top talent that emerged at the Pangos All-Frosh/Soph West Camp in Lynwood, CA:
VAN'S PANGOS ALL-WEST FR/SO CAMP TOP TWENTY:
1.  Aidan Shaw 6'7" 2022 Blue Valley (Overland Park KS) – This talented wing has tools to take it end to end, knock down jumper from the arc or off the dribble off the dribble drive. He is an excellent passer who sees court and looks to involve teammates in half court. He scored 18 points and grabbed 5 boards in the Top 30 game to cap off a Co-MVP performance at the Pangos West Frosh/Soph Camp!

2.  Kijani Wright 6'8″ 2022 Windward (Los Angeles CA) – Athletic rebounder who can dominate around the hoop scoring going either way or pop out to 17-feet and attack bigs off the dribble and finish at the rim versus contact. He can board and start break with dribble or pass too! He is working on moving his game to the perimeter, so stay tuned as he continues to extend his game and range on his jumper. He is among the best in his class and will see lots of major come calling in the future! Camp Co-MVP along with Shaw!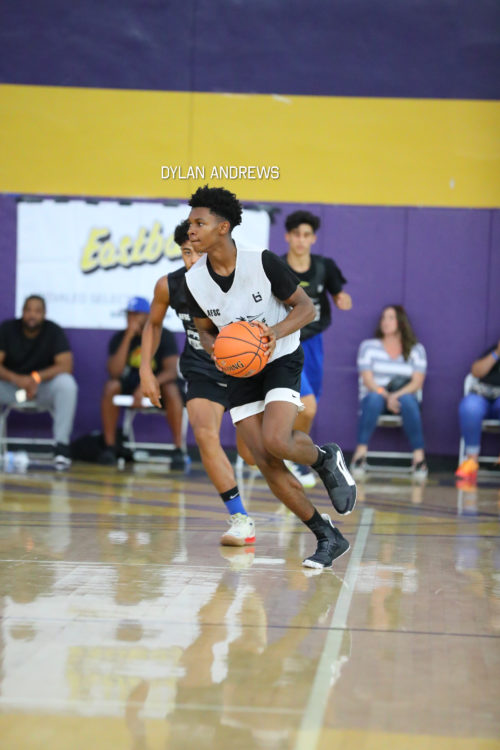 3.  Dylan Andrews 6'3″ 2022 Windward (Los Angeles CA) – This skilled combo guard has ability to score from beyond the arc or at the rim in traffic with regularity! He showed he has really improved his handle and can attack hoop and when defense reacts he hits open man with accuracy on the move. He capped an excellent weekend in Lynwood with 14 points in the Top 30 game!

4.  Benny Gealer 6'0" 2022 Rolling Hills (Palos Verdes CA) – Quick on quick lead guard who can flat out push it in transition and deliver the rock off the dribble! He creates space in half-court with a solid step back three that keeps "D" off balance and on its heels. He finishes drive with floater or kiss and has all the pieces to be one of the top lead guards in his glass.

5.  Jaxson Kohler 6'7" 2022 Coronado (Henderson NV) – This smooth and skilled combo forward has range to arc, can create drive with either hand in the face up, and is a load to handle on the blocks. He has excellent hands, finished versus contact and is an excellent passer out of blocks or off the drive.  He is efficient on offense and doesn't back down from anyone on the glass or on the defensive end where he is a surprising shot blocker off the ball.

6.  Jalen Lewis 6'8" 2023 Bishop O'Dowd (Oakland CA) – Athletic young big with length and bounce who can face and attack the rim and finish with dunk or kiss. He is a solid rebounder both in and out of his zone and turns and starts break with quick outlet pass. He had 8 points in Top 30 game to cap a strong weekend in Lynwood.

7.  Mikey Williams 6'2" 2023 San Ysidro (San Diego CA) – Skilled combo can flat out score from three, off the dribble or at the rim with highlight. He has ball skills to play either guard, but at this point is more focused on scoring first, but has the skills to become a lead guard. He is young and sometimes doesn't always make best decisions, but he does have time on his side and all the tools to be in the hunt for top spot in his class!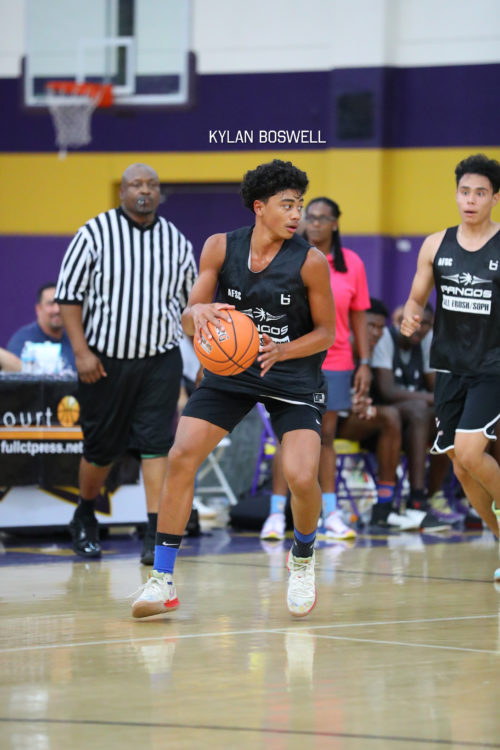 8.  Kylan Boswell 6'0" 2023 Colony (Ontario CA) – This smooth lead guard really impressed at the All-West event and moved himself into the discussion of top point in the west!  He is an excellent passer especially off the draw and kick move, he reads defense and sees open man, then delivers the rock. He sets up drive with solid jumper and has range to three.  One for Majors to start monitoring this coming spring!

9.  Joseph Hunter 6'5″ 2022 San Joaquin Memorial (Fresno CA) – This combo has good quicks with ball in transition and with first step in half-court to create pass or drive. He is a good finisher in traffic, but stock will rise as jump shot extends! He controlled temp for his team in Top 30 game, scoring 7 points and handing out 8 assists in route to a game Co-MVP awards If he continues to work on range and ability to run show look for for mids-up to come calling.

10. Jaylen Thompson 6'6" 2022 St. Joseph Notre Dame (Alameda CA) – this athletic combo forward is a man on the glass who has a real nose for the ball off the glass. He can start break off the glass but is at his best attacking hoop and finishing with aggression thru contact. He finished the weekend going for 12 points and 6 boards in the Top 30 game.

11. Christian Moore 6'4" 2022 Brentwood (Los Angeles CA) – Athletic scoring guard knocked down jumper from three but was at his best pulling up from 12-15 feet off the dribble. He can finish in traffic at the rim too! He had 15 points and 7 rebounds in Top 30 game and was named the game Co-MVP! He helped on the glass and did post up smaller guards when mismatched. He will be on mid-up D-1 radar next spring!

12. Milos Uzan 6'3" 2022 Desert Pines (Las Vegas NV) – Skilled wing guard with range to arc, solid handle and stroke to three. He has good quicks and can get to rim and finish in traffic. He surprised me with his improved ability to pass the rock off the drive and as he gets stronger will see lots of mid-up D-1 interest!

13. Asa White 6'8" 2022 Garner Magnet (Garner NC) – Physical big who can finish with either hand on the blocks or in the paint. He runs floor well and finishes through contact! He had 18 points in the Top 30 game and with time and extended range will get lots of mid to high major looks!

14. Henri Adrissa 6'10" 2022 Crossroads (Santa Monica CA) – Athletic and long big man who attacks ball on defense end and blocked shots with regularity. He runs the floor well and beat other bigs in transition on occasion. He has ok hands and solid foot work but needs to work on using them to create separation on the blocks until his body fills out. Lots of upside here as he matures and gets stronger. One for high majors to watch!

15. Dusty Stromer 6'4" 2023 Notre Dame (Sherman Oaks CA) – Solid wing scorer who can knock down jumper from arc or off dribble to set up drive and finish. He has solid ball skills and ia willing to get on glass and start break too! Solid mid-up wing to watch!
16. Pape Lamine Niang 6'9" 2022 Fairmont Prep (Anaheim CA) – This long and athletic wing really grew on me as the weekend progressed. He has good timing on his shot blocking and a knack for getting to ball off the glass, can really run floor and finish with bounce in transition. He needs to add strength, but that should come in time. Mid-Ups should be monitoring his development!

17. Jordan Pope 6'2" 2022 Prolific Prep (Napa CA) – Athletic and quick back court talent with combo skills who showed he can score with jumper off the dribble or finish at the rim with strength. He is a good passer both off the draw and kick as well as in transition. He has range on jumper and will see lotys of D-1 interest this coming spring!

18. Osiris Grady 6'6" 2023 Silverado (Las Vegas NV) – Active and aggressive combo forward gets on the glass, can start the break or take it end to end and finish with flush! He hit pull-up jumper on the elbow and can finish drive too versus contact but needs to extend range to make move to wing.

19. Justin Daniels 6'4" 2023 Mater Dei (Santa Ana CA) – Solid wing with combo guard skills has excellent size and could be a future lead guard. He sees the court and has a good basketball I.Q. He has range to three and the quicks to create drive or transition break with dribble or pass. He gets to hoop and makes play with ability to kick it to open man.

20. Varick Lewis 6'3" 2023 Monterey Trail (Elk Grove CA) – This athletic and quick scoring guard has excellent handle to create drive or pull-up jumper.  He hit perimeter shot and knocked down pull-up jumper when challenged off the dribble. He can drive and kick, so he becomes a multi-threat player off the drive. He has quicks to defend and sowed he can get on glass too! He has D-1 future!
Six Who Just Missed the Top Twenty: (Listed by Height)
Randy Ovalle 6'7″ 2022 Saint John Bosco (Bellflower CA)
Lewis Duarte 6'5" 2023 Veritas Prep (Santa Fe Springs CA)
Garrison Phelps 6'4" 2022 St. Mary's (Phoenix AZ)
D.J. Dudley 6'3" 2022 Fairfax (Los Angeles CA)
Jason Hart 6'1" 2022 Taft (Woodland Hills CA)
Jordan Ross 6'0" 2023 Pleasant Grove (UT)
As we said earlier there was a deep group of talent in Lynwood with at least thirty to forty additional talents that will get mid-division one looks in the future from college coaches from coast to coast. Next up we head to Dallas and the Duncanville Fieldhouse for the Pangos All South Frosh/Soph Camp on October 5-6th!
ALL PHOTOS BY NICK KOZA