The 19th annual Pangos All-West Frosh/Soph Camp presented by Eastbay that was held at Lynwood High School (CA) on September 21-22 featured approximately 260-plus top 2022 and 2023 players (along with a few talented 2024 ballers) from California, Arizona, Nevada, Utah, Colorado, Washington, New Mexico, Idaho, Alaska, Kansas and North Carolina. The depth of the talent present had media/scouts optimistic about the future of West Coast high school hoops and this platform gave talented young prospects in those classes a real opportunity to display their skills and future potential.
Former long-time (20+ years) NCAA Division I college assistant Jason Levy opened the camp with an excellent fundamental skills session. BallerTV live-streamed all games at the event (they are now also available for replay).
Media and scouts on hand included camp co-director Dinos Trigonis (Fullcourt Press, Pangos & Nothing But Net Magazine), camp co-director Etop Udo-Ema (Fullcourt Press & Dunk News), Frank Burlison (BurlisononBasketball.com/McDonald's All-American Game voter/NBPA Camp Selection Committee), Van Coleman (Nothing But Net Magazine National Recruiting Analyst/McDonald's All-American Game voter/NBPA Camp Selection Committee), Eric Bossi (Rivals.com/Yahoo Sports/McDonald's All-American Game voter), Ronnie Flores (GrassrootsHoops.net & BallisLife.com/Fab 50 National HS Team Rankings), John Stovall (ESPN.com), Joel Francisco (PrepHoopsSoCal), Devin Ugland (Hoops by Ugland & Ball is Life), Josh Gershon (247Sports.com), Chris Popoola, Gregg Rosenberg (PrepHoops Arizona), Jerina Madayag, Paul Hernandez (661 Hoops), Corey Cooper (The Players Circle), Ian Powers (Fill the Lane), Ed Sandoval (HoopFlix) and Chris Young (Nike Grassroots Basketball). Video-outlets present included Ball is Life, Beach City Hoops, Bleacher Report, Simply Basketball, OverTime, Slam Magazine, Qwik11hoops, Clutch Clips Hoop, The Unguarded, Prodigy Media, FookieFlicks as well as Nick Koza (SportsAmp.com). 
 The camp's top 70 players were selected by the media/scouts in attendance and were showcased in the three "cream of the crop" games held at the conclusion of the event.  
In the Top 30 Game, overall camp Co-Most Outstanding Player 6-7 2022 Aidan Shaw came out of the gates red-hot, scoring 16 of his 18 points in the 1st half but his Black team could not hold on to their half-time lead as 6-3 2022 Dylan Andrews nailed a two-for-one free throw with 5.4 seconds remaining to propel the White squad to a narrow and very competitive 118-115 win. Top 30 Game co-MVP 6-4 2022 Christian Moore had 15 points/7 rebounds, 6-8 2022 Asa White added a team-high 18 points and Andrews had 14 points to pace the victors.  Shaw had a team-high 18 points, 2022 Jason Hart Jr. added 14 points and Top 30 Game co-MVP 6-5 2022 Joseph Hunter produced the game's best all-around stat line with 7 points, 6 rebounds and 8 assists for the Black unit.
For a full-length Baller.tv re-play of the Top 30 Game, click here: https://www.ballertv.com/streams/top-30-white-vs-top-30-black-36e574d6-42eb-401c-95ce-784a4ffe4239
In the "Next 20" Game, the White squad outlasted their Black counterparts 59-53.  2023 guards AJ Johnson and Jared McCain had 9 points each to lead the winning White bunch while 2023 Angelo Kambala had a game-high 14 points for the Black crew.
For a full-length BallerTV re-play of the "Next 20" Game, click here: https://www.ballertv.com/streams/final-20-white-vs-final-20-black-2f367a8a-1932-4b6e-b453-cd325354f581
In the "Final 20" Game, the White team beat the Black unit 66-59. 2022 Jermaine Rogers II led the winners with 11 points (3 "threes) while 2023 Giovanni Goree had a game-high 12 points for the Black squad.
For a full-length BallerTV re-play of the "Final 20" Game, click here: https://www.ballertv.com/streams/final-20-white-vs-final-20-black
While this is a recap of the event, please keep in mind that this is a very early look at underclass prospects that have much room for future growth and are all "unfinished" products.
Listed below are the Top 30 Game selections (in alphabetical order):
Top 30 Cream of the Crop Selections

Henri Adrissa 6'10" 2022 Crossroads (Santa Monica CA)
Physical and active rebounder and rim-protector has excellent upside. The Cameroon native has long-term high-major potential.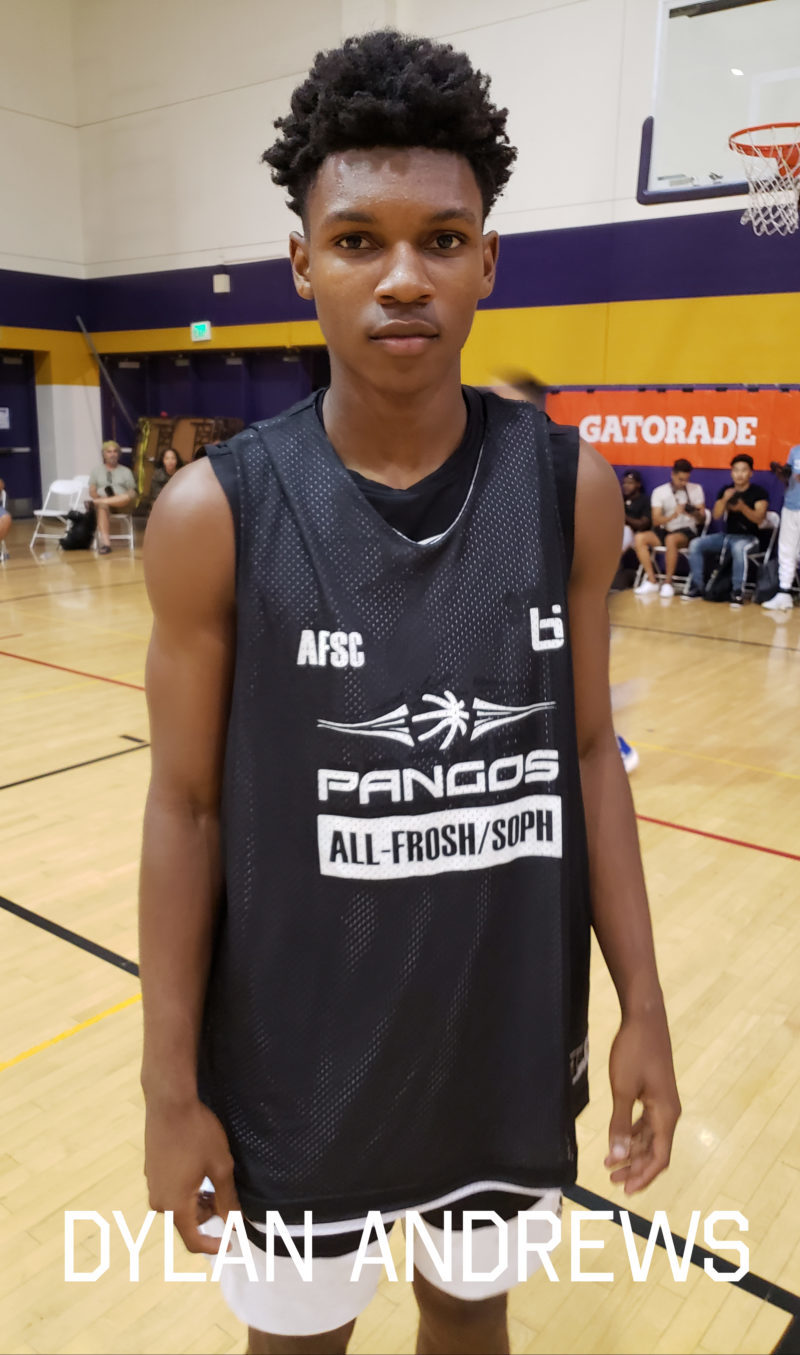 Dylan Andrews 6'3″ 2022 Windward (Los Angeles CA)
Savvy and very versatile lead guard had 14 points, including the game's final points to seal his White crew's 118-115 win in the Top 30 Game.  Andrews has made great strides in his development and is now a bona-fide Top 50 caliber national sophomore prospect that currently checks in at #45 by Rivals.com and #54 by 247Sports.com.  Andrews' talents have not gone unnoticed as UCLA, USC, Arizona, Utah, San Diego State, UC-Irvine and Northern Arizona have already offered.
Kylan Boswell 6'0″ 2023 Colony (Ontario CA)
Champaign IL native just moved to Southern California this past summer and wasted little time serving notice that he is a prime contender for the area's top PG spot.  Smooth playmaker with terrific feel and IQ has excellent range and touch on his perimeter jump shot.
De'Vontes Cobbs 6'3″ 2022 Mayfair (Lakewood CA)
Very athletic and slashing scoring WG competes with an edge.  Wisconsin native spent his freshman year at Shadow Mountain (Phoenix AZ) before settling down at Mayfair for his sophomore season. Currently on the national radar by 247Sports.com (#66 in 2022). As his jump shot continues to evolve and improve, so will his HM value.


Justin Daniels 6'4″ 2023 Mater Dei (Santa Ana CA)
Highly skilled wing scorer has a variety of scoring tools in his bag.  Although it looks likely that he will not play major minutes on a deep Mater Dei squad this upcoming season, make no mistake about it, Daniels has all the ingredients and pedigree to be an elite HM recruit.  Younger brother of former UConn star DeAndre Daniels (2014 NCAA champ and Toronto Raptors NBA Draft pick).

Lewis Duarte 6'5″ 2022 Veritas Prep (Santa Fe Springs CA)
Skilled WG with 3-point range had 12 points (2 "threes") in the Top 30 Game. Dominican Republic native is getting HM attention with early offers from Mississippi State, Illinois, New Mexico, Grand Canyon, Pacific and Southern Utah.

DJ Dudley 6'3″ 2022 Fairfax (Los Angeles CA)
Athletic SG has nice ability to get to the cup off the bounce as well as knock down perimeter shots.  Just transferred to Fairfax from San Ysidro (CA). Currently sitting in the national #24 spot by 247Sports.com with offers from San Diego State and San Diego.

Benny Gealer 6'0″ 2022 Rolling Hills Prep (Palos Verdes CA)
Terrific spot-up shooter with deep range also has impressive basketball instincts.  Ball is Life's Ronnie Flores called him the best shooter in the camp.  Benny had 6 points (2 "threes) in Top 30 Game.
Barrington Hargress 6'1″ 2022 Ribet Academy (Los Angeles CA)
Strong and aggressive point guard plays through contact and is extremely speedy with the rock.  Tenacious defender and underrated vertical athlete. 

Jason Hart Jr. 6'1″ 2022 Taft (Woodland Hills CA)
Rapidly improving lefty floor general had 14 points (2 "threes) in Top 30 Game.  Hart plays with excellent poise, can set the table for teammates and has developed a very effective pull-up jump shot.  Dad is former Syracuse star and NBA PG Jason Hart (now an assistant coach and ace recruiter at USC).  High-major prospect.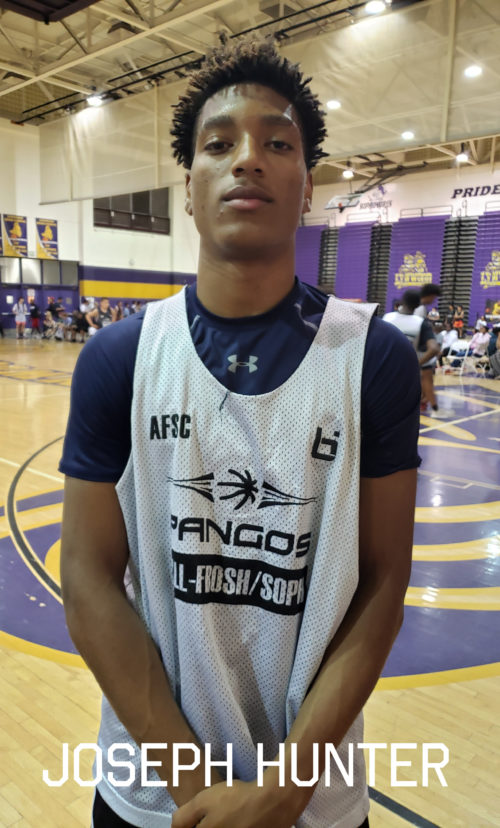 Joseph Hunter 6'5″ 2022 San Joaquin Memorial (Fresno CA)
Hunter's stat line in the Top 30 Game (7 points, 6 boards and 8 assists) vindicated his status as a Top 50 national-caliber recruit.  Very versatile and multi-dimensional player has the skills and hoop IQ to play all three perimeter positions at the high-major level.  Hunter currently checks in at the #48 spot by 247Sports.com and has offers from the likes of Fresno State and UTEP.  You can expect that offer list to quickly expand as high-major programs become aware of his talents.

Jaxson Kohler 6'7″ 2022 Coronado (Henderson NV)
Kohler is a young post with nifty footwork on the block and plenty of scoring ability. Jaxson has dual ability to score, with his back to the basket as well as facing up.  Wasatch Academy (UT) transfer had 7 points in Top 30 Game.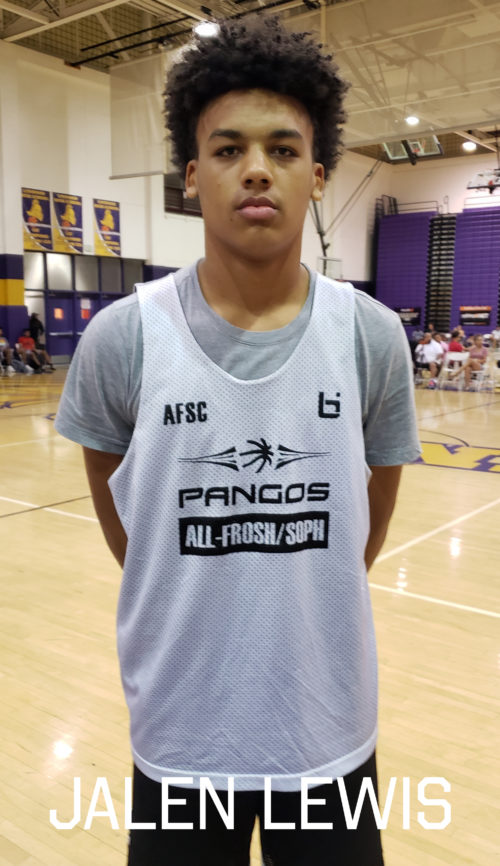 Jalen Lewis 6'8″ 2023 Bishop O'Dowd (Oakland CA)
Strong and sturdy PF projects to be Coach Lou Richie's next star player at Bishop O'Dowd. Consistent finisher at the cup and reliable rebounder.  Lewis (NorCal's top 2023 post prospect) had 8 points in Top 30 Game.

Varick Lewis 6'3″ 2023 Monterey Trail (Elk Grove CA)
Big-time lead guard prospect can score in a wide variety of ways. Lewis has legit "slash and score" ability as well as deep range beyond the 3-point range. Varick had 8 points (2 "threes) in Top 30 Game.
Tajavis Miller 6'3″ 2022 Servite (Anaheim CA) 
One of the nation's sophomore sleepers is a strong and assertive combo-guard with excellent shooting touch and great reactive hoop instincts. Miller was named 1st team All-Trinity League as a freshman (a rarity).  Very good student had 11 points (3 "threes") in the Top 30 Game. Athletics run deep in the Miller household as his father was an all-state football player at Wilcox County HS (GA) and is currently the defensive line coach at Cerritos College and mom was a University of Iowa softball standout that is currently an assistant softball coach at Loyola Marymount.

Christian Moore 6'4″ 2022 Brentwood (Los Angeles CA)
Co-MVP of the Top 30 Game (15 points/7 rebs) is a strong WG that can finish through contact at the rim and has nice perimeter range on jump shot.  Moore is a tough defender, excellent rebounder and has underrated ball skills.  Top 100 national potential.

Pape Lamine Niang 6'9″ 2022 Fairmont Prep (Anaheim CA)
Tough and physical PF competes on every play and is a rugged rebounder.  Offensive skills are improving.

Jeremiah Christian Nyarko 6'8″ 2022 St. John Bosco (Bellflower CA)
Athletic and active forward with terrific long-term potential had 10 points in the Top 30 Game. Excellent rim-runner and shot-blocker is a worthy prospect that mid-to high majors should track.

Jorge Ochoa 6'7″ 2022 La Mirada (La Mirada CA) 
High-scoring forward has extreme confidence in his scoring skills.  Ochoa can knock down shots with regularity and has real ability to create his own shot. Orange Lutheran (CA) transfer will play his sophomore season at La Mirada. Ochoa had 8 points in the Top 30 Game.

Randi Ovalle 6'7″ 2022 St John Bosco (Bellflower CA)
Big wing with high-major potential just transferred to Bosco from San Gabriel Academy (CA). Very good slashing scorer and underrated rebounder has early offers from Mississippi State, Illinois, Washington State, Grand Canyon, Fresno State, Pacific and Cal State Fullerton.

Isaac Peralta 6'1″ 2022 JSerra Catholic (San Juan Capistrano CA)
Tough as nails point guard can knock down long-range shots and finish in traffic. Played during freshman year at Mater Dei (Santa Ana CA).

Brandon Perez 6'2″ 2022 Notre Dame (Sherman Oaks CA)
Strong and assertive SG with accurate and confident perimeter stroke.  Tough competitor plays hard from tip-off to final buzzer.  Perez (a very good student) scored 8 points in Top 30 Game.

Jordan Pope 6'2″ 2022 Prolific Prep (Napa CA)
Creative playmaker with scoring punch has an early offer from San Francisco.

Mikey Price 6'1″ 2023 Crespi (Encino CA)
Very talented combo-guard is future D-1 player worth tracking.

Jordan Ross 6'0″ 2023 Pleasant Grove (Pleasant Grove UT)
Smooth PG has very nice basketball IQ, 3-point range and pin-point passing ability.

Aidan Shaw 6'7″ 2022 Blue Valley (Overland Park KS)
Overall camp co-MOP was impressive all camp long, including in the Top 30 Game – 18 points (16 in 1st half) and 8 boards. Very smooth and athletic swingman has the ball skills to beat defenders off the bounce as well as the bounce to finish over them at the rim. Arguably the biggest break-out performer at the event, Shaw (a very good student) has current offers from Vanderbilt, Missouri, Oklahoma State and TCU. What a difference a year and hard work makes as Shaw attended the Pangos All-Midwest Fr/So Camp in La Grange IL in October 2018 but was not selected to either all-star game at that time. Motivated by last year's All-Midwest all-star game slight, Shaw bounced back in a major way here in Los Angeles at All-West and returned back to Kansas with top camp honors.  Rivals.com's Eric Bossi has compared him to a young  Terrance Ferguson (OKC Thunder).

Dusty Stromer 6'4″ 2023 Notre Dame (Sherman Oaks CA)
Young guard with great feel for the game has nice scoring ability as well as very underrated passing skills.  SoCal name for the future.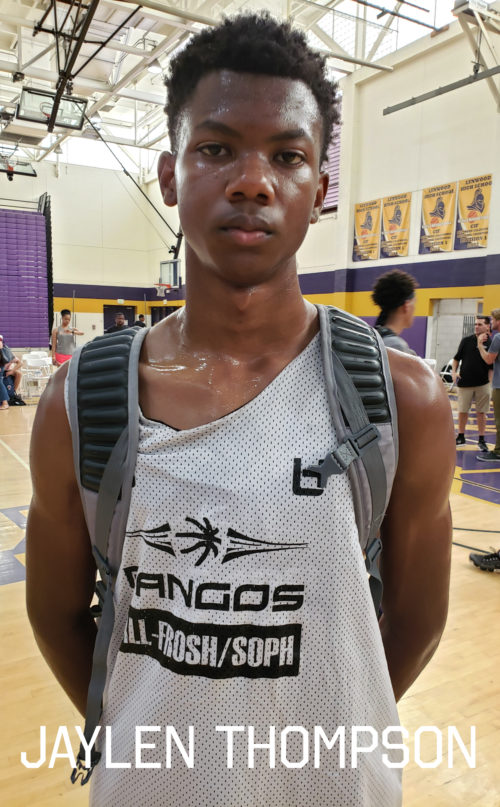 Jaylen Thompson 6'6″ 2022 St. Joseph's Notre Dame (Alameda CA)
Athletic and active forward makes plays on both ends.  Thompson had 12 points and 6 boards in the Top 30 Game. Rivals.com's Eric Bossi called him "the find of the camp" and his fine play here resulted in a USC offer immediately after the event ended.

Milos Uzan 6'3″ 2022 Desert Pines (Las Vegas NV)
Crafty scoring PG can put up big numbers and plays with great confidence.  Milos had an excellent freshman year last year (13.4 ppg and 4.8 apg) playing for his dad Mike Uzan (head coach at Desert Pines).

Quinton Webb 6'5″ 2022 Loma Linda Academy (Loma Linda CA)
Athletic wing forward is a very nice slashing scorer.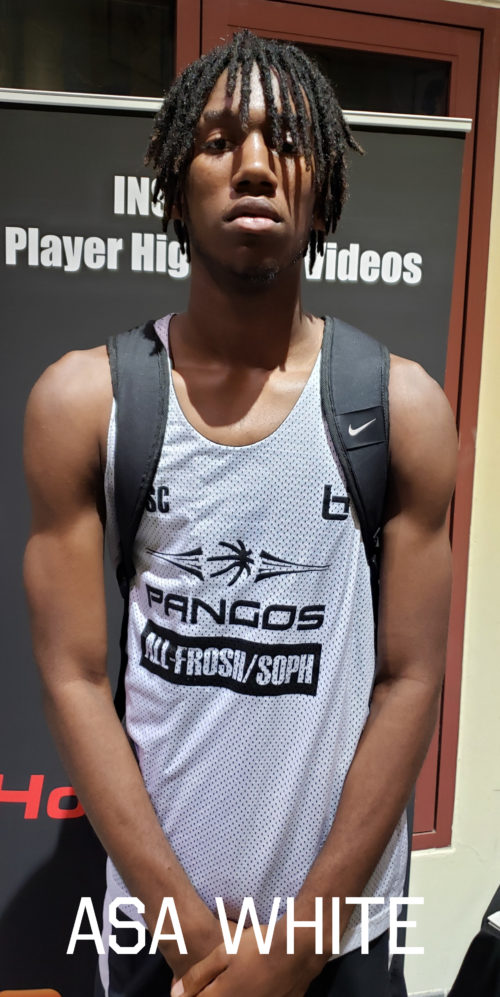 Asa White 6'8″ 2022 Garner Magnet (Garner NC)
Rugged and agile PF runs floor well and is a definite defensive presence around the cup.  White (an underrated outside shooter) had a team-high 18 points (including 2 "threes") for the winning White team in the Top 30 Game.  Top 100 caliber national prospect.

Mikey Williams 6'3″ 2023 San Ysidro (San Ysidro CA)
Social media sensation is not just bouncy but has developed into a dangerous 3-point shooter as well.  At the very top of the nation's freshman (2023) class.
Kijani Wright 6'8″ 2022 Windward (Los Angeles CA)
Strong and productive forward was a key player on the USA U16 squad that won a FIBA World Championship in Belem, Brazil this past summer. Wright is a real problem for defenders as he is hard to stop on drives to the rim and he has the ability to knock down opportunity jump shots from the perimeter. Wright's camp start to camp finish impressive play garnered him overall co-MOP honors (with Aiden Shaw). Kijani (ranked #8 by 247Sports.com and #10 by Rivals,com) has garnered early offers from Arizona, UCLA, USC, Cal, Stanford and Vanderbilt.
Rivals.com's Eric Bossi has compared him to a young Julius Randle.

Listed below are the camp's "Next 20" Game selections (listed in alphabetical order):
Cameron Brown 6'3″ 2022 Independence (Bakersfield CA)
Jurian Dixon 6'3″ 2023 San Ysidro (CA)
Xavier Edmonds 6'7″ 2023 Bishop Montgomery (Torrance CA)
Amir "Duke" Gibson 6'7″ 2022 Taft (Woodland Hills CA)
Osiris Grady 6'6″ 2023 Silverado (Las Vegas NV)
Ashton Hardaway 6'5″ 2023 Bishop Montgomery (Torrance CA)
Akoye Hudson 6'2″ 2022 Leuzinger (Lawndale CA)
Joshua Jefferson 6'8″ 2022 Liberty (Las Vegas NV)
AJ Johnson 5'11" 2023 San Joaquin Memorial (Fresno CA)
Angelo Kambala 6'0″ 2023 Coronado (Henderson NV)
Keyon Kensie 6'6″ 2023 Lynwood (CA)
Sebastian Mack 6'0″ 2023 Durango (Las Vegas NV)
Melian Martinez 6'8″ 2022 Valley Christian (Cerritos CA)
Jared McCain 6'0″ 2023 Centennial (Corona CA)
Mier Panoam 6'2″ 2023 Bartlett (Anchorage AK)
Garrison Phelps 6'4″ 2022 St. Mary's (Phoenix AZ)
Aaron Price 6'5″ 2022 Liberty (Las Vegas NV)
Gabriel Quiette 6'5″ 2022 Mater Dei (Santa Ana CA)
Langston Reynolds 6'4″ 2022 East (Denver CO)
Landon Schumaker 6'6″ 2023 Basha (Gilbert AZ)
Orion Tomlinson 6'0″ 2022 Fresno Christian (Fresno CA)
Camden Thompson 6'0″ 2022 Clovis East (Clovis CA)

Listed below are the camp's "Final 20" Game selections (listed in alphabetical order):
Ryan Abelman 6'3″ 2022 Bishop Gorman (Las Vegas NV)
Joaquin Battle 5'8″ 2023 Salesian Prep (Richmond CA)
Keenan Bey 6'4″ 2023 Bishop Gorman (Las Vegas NV)
Miles Byrd 6'4″ 2022 Lincoln (Stockton CA)
Luca Davis 6'4″ 2022 Sacramento HS (CA)
Andreas Engholm 6'6″ 2023 Capital (Olympia WA)
Darnell Marcus Fizer Jr. 6'4″ 2023 Silverado (Las Vegas NV)
Giovanni Goree 5'9″ 2023 Viewpoint (Malibu CA)
Trey Knight 5'11" 2022 Moreau Catholic (Hayward CA)
Kalib LaCount 5'8″ 2022 King Drew (Los Angeles CA)
DaJon Lott 6'6″ 2022 Elk Grove (CA)
David Manea 6'5″ 2022 Beckman (Irvine CA)
Alexis Marmolejos 6'2″ 2022 Army-Navy Academy (Carlsbad CA)
Kaylon Mason 6'6″ 2022 Central (Fresno CA)
Mekh Mason 6'0″ 2022 Chandler (AZ)
Yaqub Mir 6'0″ 2023 Granite Bay (CA)
Khamani Nelson 6'6″ 2022 Serra (Gardena CA)
Blake Rice 6'1″ 2023 Bishop Gorman (Las Vegas NV)
Jermaine Rogers II 6'2″ 2022 Ayala (Chino Hills CA)
Malachi Scott 6'6″ 2022 Jordan (Long Beach CA)
Leo Wagner 6'4″ 2022 West Campus (Sacramento CA)
Christian Watson 6'1″ 2022 Poly (Long Beach CA)
Jeremiah Whitmore 6'5″ 2023 Centennial (Corona CA)
Darrion Williams 6'6″ 2022 Capital Christian (Sacramento CA)
The players below were not selected to the all-star games but impressed scouts in attendance enough to be deserving as camp "honorable mention" (in alphabetical order):
Brandon Bethel 5'11" 2022 Mountain Home (ID)
Justus Brown 5'10" 2022 King (Riverside CA)
Carter Bryant 6'3″ 2024 Riverside CA
Darius Carr 6'1″ 2023 St. Bernard (Playa del Rey CA)
Gabriel Cummings 6'2″ 2022 Poly (Long Beach CA)
Zachary Davidson 6'7″ 2023 Mater Dei (Santa Ana CA)
Jonathan Dillon 6'4″ 2022 Sanger (Sanger CA)
Gabriel Espinoza 5'11" 2023 Crespi (Encino CA)
Marcellus Franklin 6'5″ 2022 Sacramento (CA)
LeBrie Goudy-Lee 6'2″ 2023 Moreau Catholic (Hayward CA)
Christopher Hammond 6'5″ 2022 Campbell Hall (North Hollywood CA)
Tyler Harris 6'5″ 2023 Newark Memorial (Newark CA)
DJ Henry 6'0″ 2022 St. John Bosco (Bellflower CA)
Amir Hughes 6'2″ 2023 Murrieta Valley (Murrieta CA)
Jordan Lee 5'11" 2023 Bishop O'Dowd (Oakland CA)
Devin Lewis 5'9″ 2023 Inderkum (Sacramento CA)
Henry Madden III 6'3″ 2022 Central (Fresno CA)
Pablo Magallanes 6'5″ 2022 Orangewood Academy (Garden Grove CA)
CJ McMillan 6'5″ 2022 Capitol Christian (Sacramento CA)
Jordan Morency 6'2″ 2023 Silverado (Las Vegas NV)
Julian Naibose 6'2″ 2022 Inderkum (Sacramento CA)
Alex Nokes 6'7″ 2022 Santa Monica (Santa Monica CA)
Austin Persek 6'7″ 2022 Mater Dei (Santa Ana CA)
Tyler Rolison 6'0″ 2023 St. Bernard (Playa del Rey CA)
Derek Sangster 6'4″ 2023 Archbishop Mitty (San Jose CA)
Jamir Stephens 6'0″ 2022 Desert Pines (Las Vegas NV)
Juaquin Strong 6'6″ 2022 Orange Lutheran (Orange CA)
Dylan Swillis 6'3″ 2023 Central (Fresno CA)
BJ Taylor 5'9″ 2023 Centennial (Corona CA)
Cole Thomas 6'3″ 2022 Blaine (Blaine WA)
TJ Tittelfitz 6'6″ 2022 Orange Lutheran (Orange CA)
Kamaury Washington 6'2″ 2022 Lynwood (Lynwood CA)
Jaylon Walton 5'9″ 2022 Central (Fresno CA)
TJ Waters 5'9″ 2023 Valley Christian (Cerritos CA)
Cole Webster 6'5″ 2022 Jesse Bethel (Vallejo CA)
Mac West III 6'3″ 2022 Lawndale (Lawndale CA)
Payden White 6'5″ 2022 Centennial (Corona CA)
Curtis Williams 6'3″ 2023 Etiwanda (Etiwanda CA)
Devin Williams 6'8″ 2023 Corona (Corona CA)
Maurice Wright 6'1″ 2023 Paraclete (Lancaster CA)
Evan Young 5'9″ 2022 American Fork (American Fork UT)