The 2019 USA Basketball Junior National Team Mini-Camp was held earlier this month (October 11-13) in Colorado Springs CO. 84 top American prospects were invited from the national classes of 2020, 2021, 2022 and 2022. I caught the last two days of the event.
Listed below are 15 of the event's USA standouts that caught my eye.
Evan Mobley 6'11" 2020 Rancho Christian (Temecula CA)
Nation's #1 2020 player continues to work, develop and impress. Had his usual strong performance on 1st day I was there (Saturday) and was even more fantastic on the 2nd day (Sunday). Mobley is a unique talent. Not just a very long and skilled athlete but also possesses terrific character! Extremely coachable, focused and well-mannered, the sky is indeed the limit for this excellent student. USC-bound Big Man (father Eric Mobley is an USC assistant and brother Isaiah is a Trojan freshman) will be a major college impact player the moment he is eligible to play a college game at the Galen Center in the Fall of 2020. Along with Cade Cunningham, the very early favorite IMO for the #1 pick of the 2021 NBA Draft.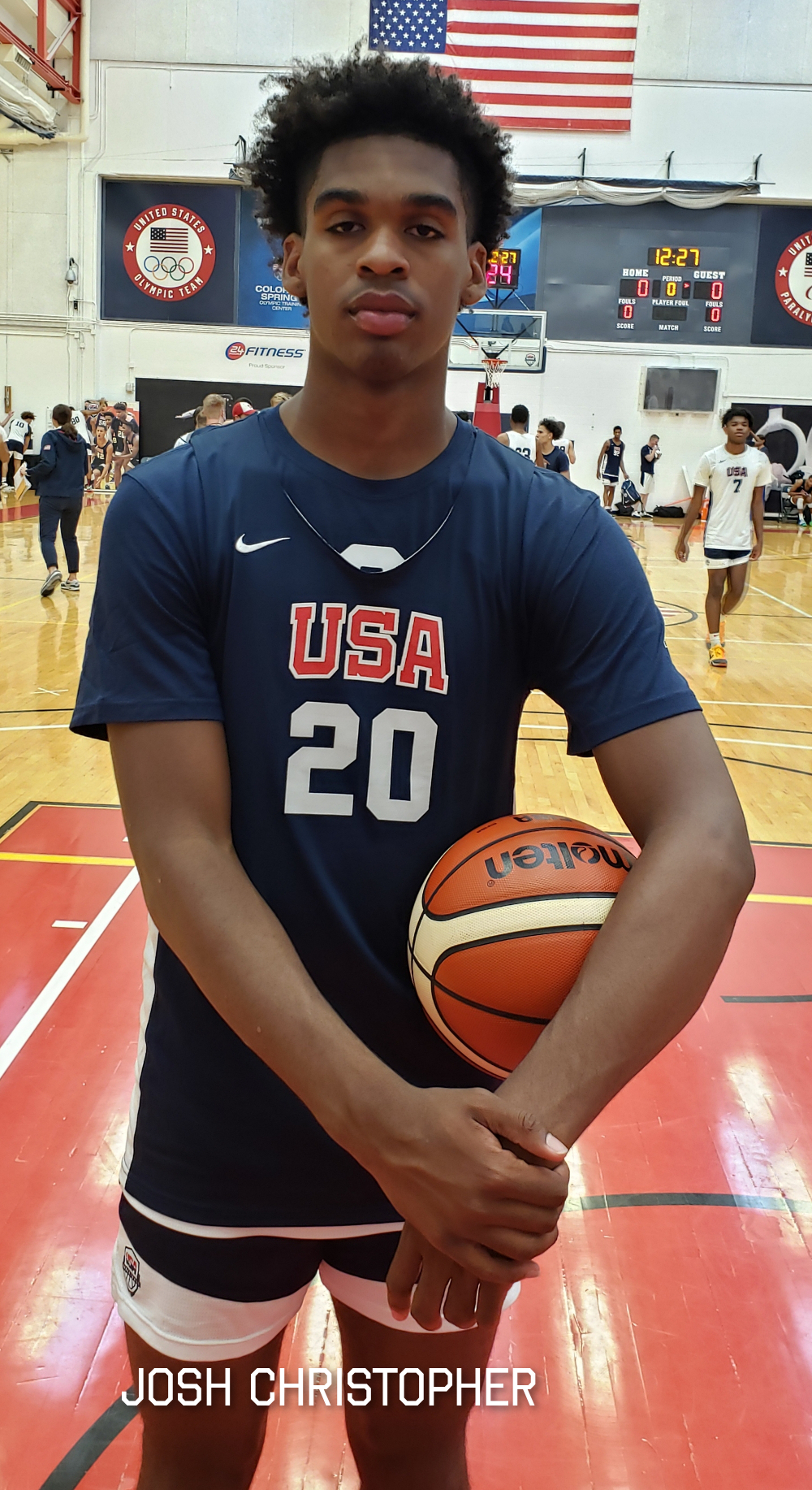 Josh Christopher 6'4" 2020 Mayfair (Lakewood CA)
Well-built wing is not just a strong and amazing athlete that can score with anybody in this loaded 2020 class. He is also a very underrated and underappreciated passer and defender. "Jaygup's" incredible block and recovery of a Jalen Green dunk and the resulting coast-to-coast push that resulted in him throwing a perfect alley-oop to Greg Brown was as good a transition sequence that I saw all weekend. Former NBA guard and head coach Earl Watson has compared to him to a young Dwayne Wade. I do see lots of similarities to the former Miami Heat guard as well as current Utah Jazz star Donavan Mitchell. Legitimate "one & done" NBA 1st round potential. Arizona State, Michigan, UCLA, Missouri and Howard appear to be among the survivors for Christopher.
Chet Holmgren 7'0" 2021 Minnehaha Academy (Minneapolis MN)
Fast-rising junior turned lots of heads this past spring and summer and has rapidly ascended into a legit contender for 2021's #1 spot. Long like a skyscraper and skilled beyond his years, Chet has the ballhandling skills to create his own shot in the open floor as well as the scoring touch to be a high-level offensive threat. His length allows him to finish with authority and consistency at the rim and he is a lot stronger than his frame would indicate. As he gets physically bigger, Holmgren will become even more of a problem for opponents. Chet already has a long list of blue-bloods lining up for his future services but keep an eye on Gonzaga who figures to be in the mix here to the end.
Greg Brown 6'8" 2020 Vandegrift (Austin TX)
Ultra-athletic pogo stick has really improved his overall offensive skills and projects as a legitimate NBA 1st round pick when he is draft eligible come June 2021. There is not a more explosive "run & jump" forward in the senior class. Rivals.com #7 2020 player will choose between Auburn, Kentucky, Memphis, Texas, Kansas, North Carolina and a host of others.
Scottie Barnes 6'8" 2020 Montverde Academy (Montverde FL)
Jack-of-all-trades forward is a tremendous competitor and leader and plays "winning basketball" in whatever hoop setting he is in at the moment. Recent Florida State commit (verballed to Leonard Hamilton's Seminoles just after this camp concluded).
Jalen Green 6'5" 2020 Prolific Prep (Napa CA)
Extremely bouncy WG has really worked on improving the accuracy of his outside shot and it showed here. Elite athlete had a very impressive summer and currently sits in Rivals.com's #3 slot in 2020. Down to Memphis, USC, Auburn, Oregon and Florida State.
Patrick Baldwin 6'9" 2021 Hamilton (Sussex WI)
Smooth and versatile forward played injured last July but never complained one bit and never offered excuses. Baldwin has a great feel for the game, terrific basketball IQ, tremendous attitude and work ethic and outstanding character. With Patrick now fully healthy, I expect him to again contend for the nation's top spot in 2021 along with current #1 Jonathan Kuminga, Chet Holmgren and Paolo Banchero. As most already know, father Patrick Sr. is the head coach of Wisconsin-Milwaukee. Versatile style of play makes this terrific student an impact player whether he is scoring at a high clip or not. Kentucky, North Carolina, Duke and Kansas among the many elite programs that would love to have Baldwin join their program.
Adam Miller 6'4" 2020 Morgan Park (Chicago IL)
With all due respect to 247Sports.com (who has pegged Miller as #46 In 2020), Miller is a bona-fide 2020 McDonald's All-American caliber candidate. Lefty Chi-town sharp-shooter is not bashful about getting buckets and when he is on, look out! Miler's 53 point barrage for Mac Irvin Fire versus Seattle Rotary at last August's Fantastic 40 tourney in Las Vegas was one of the most impressive scoring explosions I saw this past year. Top 5 in contention for Adam include Louisville, Arizona, Illinois, Kansas, Arizona State.
Day'Ron Sharpe 6'9" 2020 Montverde Academy (Montverde FL)
Blue-collar PF brings his lunch pail every time he steps on the floor. Sharpe is the kind of no-nonsense post player future UNC college coach Roy Williams has had great success with. Sharpe is strong, physical and imposing in the paint and is an assertive rebounder and rim-protector. 2019 Pangos All-American Camp Top 30 Game selection sits at the Rivals.com #13 spot in 2021.
Nimari Burnett 6'4" 2020 Prolific Prep (Napa CA)
Burnett is a Chi-town native who made his way West early during his high school career to Prolific Prep and has quickly risen up the charts. Outstanding scorer with the strength to finish through contact in traffic. Burnett's Final 4 schools include Texas Tech, Michigan, Alabama and Oregon.
Devin Askew 6'4" 2021 Mater Dei (Santa Ana CA)
Strong and confident point guard with size and 3-point shooting ability has just committed to Kentucky, picking the Wildcats over Louisville, Memphis and Arizona. Rivals.com's #1 PG and #9 overall in 2021. While there has been lots of chatter that Askew will re-class up to 2020 and that he and his family have not ruled that out, I believe that his best potential NBA path is to stay in 2021 and let the loaded 2020 class pass through.
Jabari Smith 6'9" 2022 Sandy Creek (Tyrone GA)
Big and athletic PF has all the tools to be a major factor at HM level. Active around cup, Smith has come on as of late with his perimeter shooting as well. Love his long-term upside. Smith's recruitment is shaping up as a "who's who" of ACC/SEC elite programs.
Rickie Isaacs 6'1" 2022 Wasatch Academy (Mt. Pleasant UT)
Polished young point guard with great feel and tremendous ability to "stop and pop" as well as connect from long-distance. Isaacs (born in Los Angeles, raised in Las Vegas) has made a strong case as his class' top floor general. Starting PG on USA U16 world championship team has been offered by the likes of Arizona, Kansas, Arkansas, LSU, Florida State, Texas Tech and Oklahoma. Comes in presently at #16 in 247Sports.com's national 2022 composite rankings.
Scoota Henderson 6'2" 2022 Kell (Marietta GA)
Scoota is quickly growing on me as an elite soph lead guard that is as quick as a cat, explosive to the rim and competitive on each and every play. His energy and playmaking on both sides of the ball stood out to me. Rivals.com currently has Henderson as its #15 best 2022 prospect. Alabama, Auburn, Georgia and Tennessee are among the early schools prioritizing him.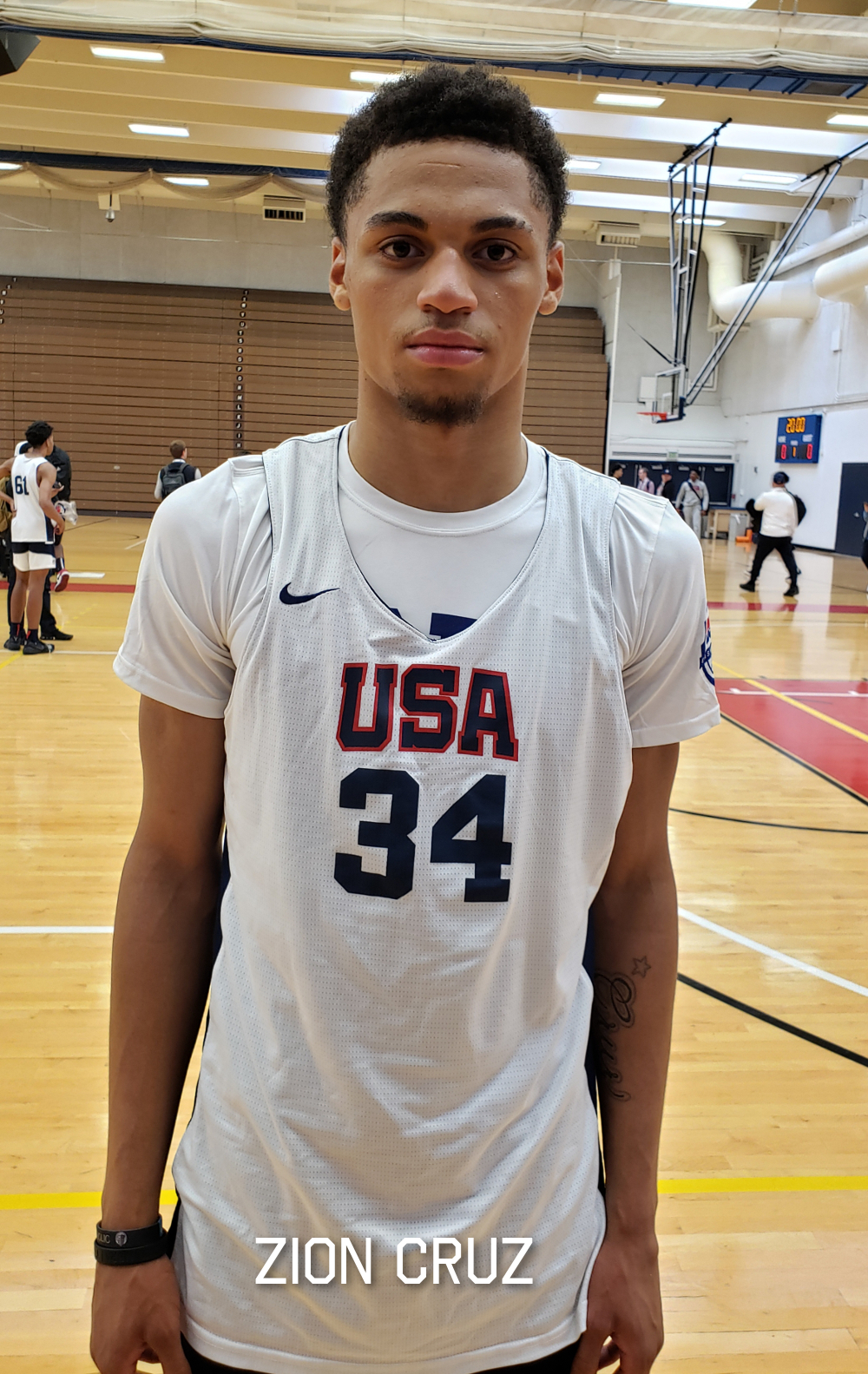 Zion Cruz 6'3" 2022 Hudson Catholic (Jersey City NJ)
Zion is a very assertive and confident lead guard that can elevate to the the rim as well as spot up for jump shots that extend to the 3-point arc. Tough defender is currently ranked #19 in 2022 by Rivals.com. Cruz's great individual battles with fellow 5-star playmaker Rickie Isaacs were some of the best highlights from the mini-camp.
DaJuan Wagner Jr. 6'2" 2023 Camden (NJ)
They say an apple doesn't fall far from the tree and in the case of young DaJuan Wagner Jr. that is very evident. Pops had a great reputation as an amazing on-ball scorer and all signs point to a Wagner sequel with young DaJuan. Was hands-down the most impressive freshman here and it didn't take long to appreciate his vast scoring skills.