The 14th annual Pangos All-South Frosh/Soph Camp presented by Eastbay was held recently (October 5-6) at Duncanville (Dallas TX). This event featured approximately 220+ top 2022 and 2023 prospects (along with a few talented 2024 players as well as an exceptional 7th grader/2025) from Texas, Oklahoma, Arkansas, Louisiana, Tennessee, New Mexico, Mississippi, California, Missouri, Georgia, Florida and Colorado.  The depth of the talent present had media/scouts optimistic about the future of Southwest high school hoops and this platform gave talented young prospects in those classes a real opportunity to display their skills and future potential.  BallerTV.com live-streamed all games at the event (they are also now available for replay – see below for links).  
Media/scouts on hand this year included Dinos Trigonis (Fullcourt Press, Pangos & Nothing But Net Magazine), Frank Burlison (BurlisonOnBasketball.com, McDonald's All-American Game voter & NBPA Camp selection committee), Van Coleman (Nothing But Net Magazine National Recruiting Analyst, McDonald's All-American Game voter & NBPA Camp Selection Committee), Ronnie Flores (GrassrootsHoops.net, Mr. Basketball USA Tracker, Fab50 National HS team rankings & BallisLife.com), John Stovall (ESPN.com), Dain Ervin (Basketball Illustrated Reports), Brad Hensley (BallisLife.com), Alan Branch (Texas Boys Basketball), Glenn Smith (MetroPlex Hoops), Ani Umana (5 State Hoop Report & Texas Boys Basketball), Chad Groth (AreaCodesBasketball.com), Thom Jones (TJ Hoops Scouting), Kellen Buffington (TheTB5Reports), Stacey Houston (InsideThePlex), Michael Timmins (Texas Hoops/Rivals), Andre Powe, Andrew Loughmiller & Allen Pettigrew Jr. (Prep Hoops Texas), Quinton Perkins (Qpphotos), Bobby Benjamin (ExtraEyesMedia), Theo Udome (TheoVisuals), Andre Daniels (VisualsbyDre), Chris Harmon (Grassroots Media Creations TX), Donald Hedge (Elite 14 Showcase), Marcus Carr (The Drive), Tony Swindle (Swin City Mag) and Jabari Johnson (HeadsUP! Media and Scouting).
The camp was loaded with skilled forwards/wings with athleticism as well as big men with length and excellent long-term potential. The top 70 players were selected by the national media/scouts present and were showcased in the three "cream of the crop" games held at the conclusion of the event.  Unfortunately, there was not enough room for all of the worthy kids deserving to be in the three all-star games so I have listed those not honored as all-star game selections but nonetheless impressive, as camp "honorable mention" at the end of this report.

Former Texas Tech head coach and long-time NCAA D-I assistant Chris Walker started the camp off with an outstanding fundamental skills session.  In the Top 30 Game, it was game co-MVP & Kansas commit 6-5 2022 Tre White scoring 20 points and dishing out 3 assists to lead his White unit over the Black squad 78-56.  Top 30 Game co-MVP 6-5 2022 Ryan Agarwal led his Black crew with 18 points (4 "threes").

Ball is Life Camp Video-Highlights: http://ballislife.com/them-boys-in-texas-were-hoopin-pangos-top-30-all-star-game/

For a full-length Baller.tv re-play of the Top 30 Game: https://www.ballertv.com/all-south-frosh-soph-camp/streams/white-vs-black-94168499-88cf-4969-8991-7980a5c12ddc?sport=basketball

For a full-length Baller.tv re-play of the "Next 20" Game:  https://www.ballertv.com/all-south-frosh-soph-camp/streams/white-vs-black-0c435bf4-2b2a-4045-bc85-f3b9ff358b72?sport=basketball
For a full-length Baller.tv re-play of the "Final 20" Game:  https://www.ballertv.com/all-south-frosh-soph-camp/streams/white-vs-black-34d2e373-0a52-4d71-9a6e-158c57ca5278?sport=basketball

Long-time national scout Van Coleman (McDonald's All-American Game & NBPA Selection Committee member) has an excellent report from the camp. The online link to that article can be found here: https://nbnmagazine.com/van-coleman-2019-pangos-all-south-frosh-soph-top-20-plus-prospects/

Basketball Writers Hall of Famer Frank Burlison (McDonald's All-American Game & NBPA Selection Committee member) has a terrific recap from the camp. The online link to that article can be found here:  http://www.burlisononbasketball.com/2019/10/faith-family-academy-trio-shines-at-texas-pangos-frosh-soph-camp/
While this is a recap of the camp, please keep in mind that this is a very early look at underclass prospects that have much room for future growth and are all "unfinished" products.
Below, we will highlight the players that were selected to the Top 30 game as well as list "Next 20" and "Final 20" Game selections and "honorable mention" camp players.
Top 30 Cream of the Crop Game Selections
(in alphabetical order)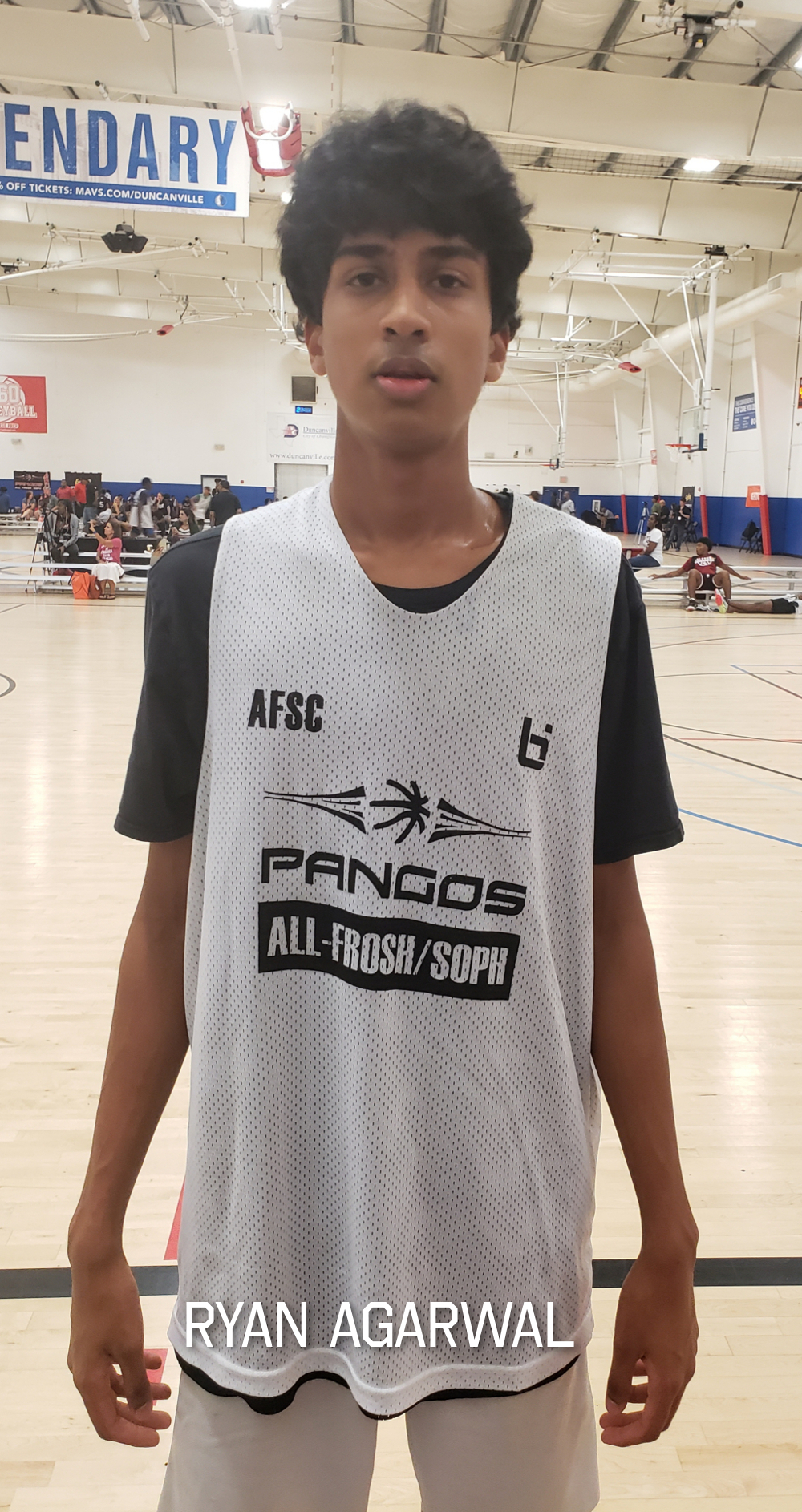 Ryan Agarwal 6'5″ 2022 Coppell (TX)
Sharp-shooting WF with terrific range and accuracy was arguably the camp's top surprise. Agarwal had a team high 18 points to lead his Black squad in the Top 30 Game. Long frame is nowhere close to peaking physically. Indian-American is an excellent student that has already drawn the attention of high-academic schools like Stanford but was largely a national sleeper prior to this camp. That will all quickly change as Ryan (one of the top long-range marksmen in the national 2022 class) was on fire all camp long. Reminds me of a young Landry Fields who played at Stanford and in NBA and is now a scout for the San Antonio Spurs. Camp highlights: https://twitter.com/BradBallisLife/status/1181406851516252161
Isaiah Barganier 6'6″ 2022 Fulshear (TX)
Athletic slasher get to the rim in a hurry and is very good in the open court. Lefty swingman finishes well around the cup and gets after it on the glass.
Francis Chukwudebelu 6'9″ 2025 NDA Academy (Richardson TX)
Extremely talented 7th grader with great length produced (4 rebounds/4 blocks) in the Top 30 Game. Is the only 7th grader that has ever been selected to a Pangos All-Frosh/Soph Camp Top 30 Game. Shot-blocker supreme showed great poise here and had no trouble competing with high school prospects. National name for the future. Sky is the limit potential.
Trae Clayton 6'4″ 2022 Faith Family Academy (Dallas TX)
Sharp-shooting combo-guard had 15 points in Faith Family Academy's Texas Class 4-A state title win as a freshman. Clayton has real 3-point range and effective drive and kick ability. Trae has early offers from Texas A&M and Texas-Arlington.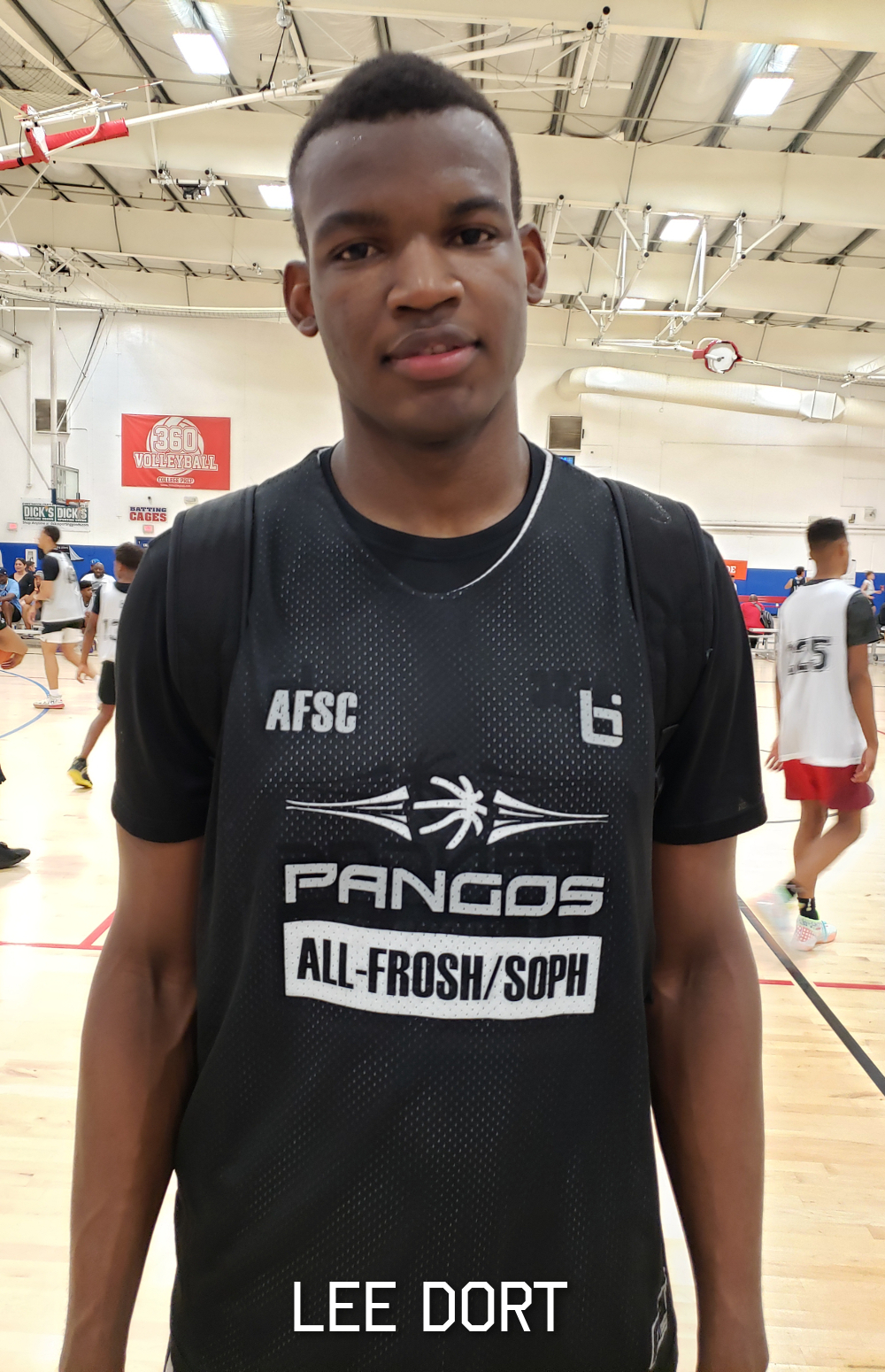 Lee Dort 6'10" 2022 North Dallas Adventist (Plano TX)
Strong, athletic and physical post-man is a load to deal with in the paint. Formidable rebounder (6 boards in Top 30 Game) and shot-blocker can score with nice footwork and consistency on the block. Currently ranked as the #9th best prospect in 2022 by 247Sports.com, Dort has early offers from the likes of Kansas, Texas, Baylor, Texas A&M, Mississippi State, Vanderbilt and Oklahoma State. Veteran scout Frank Burlison considered him the best performer at this camp. Excellent student too (3.7 GPA).
Jaxson Ford 6'7″ 2024 Rodgers MS (Prosper TX)
Very promising young forward has a great frame and is a very good rebounder. Ford has perimeter range that extends to 15 feet and is a solid defender.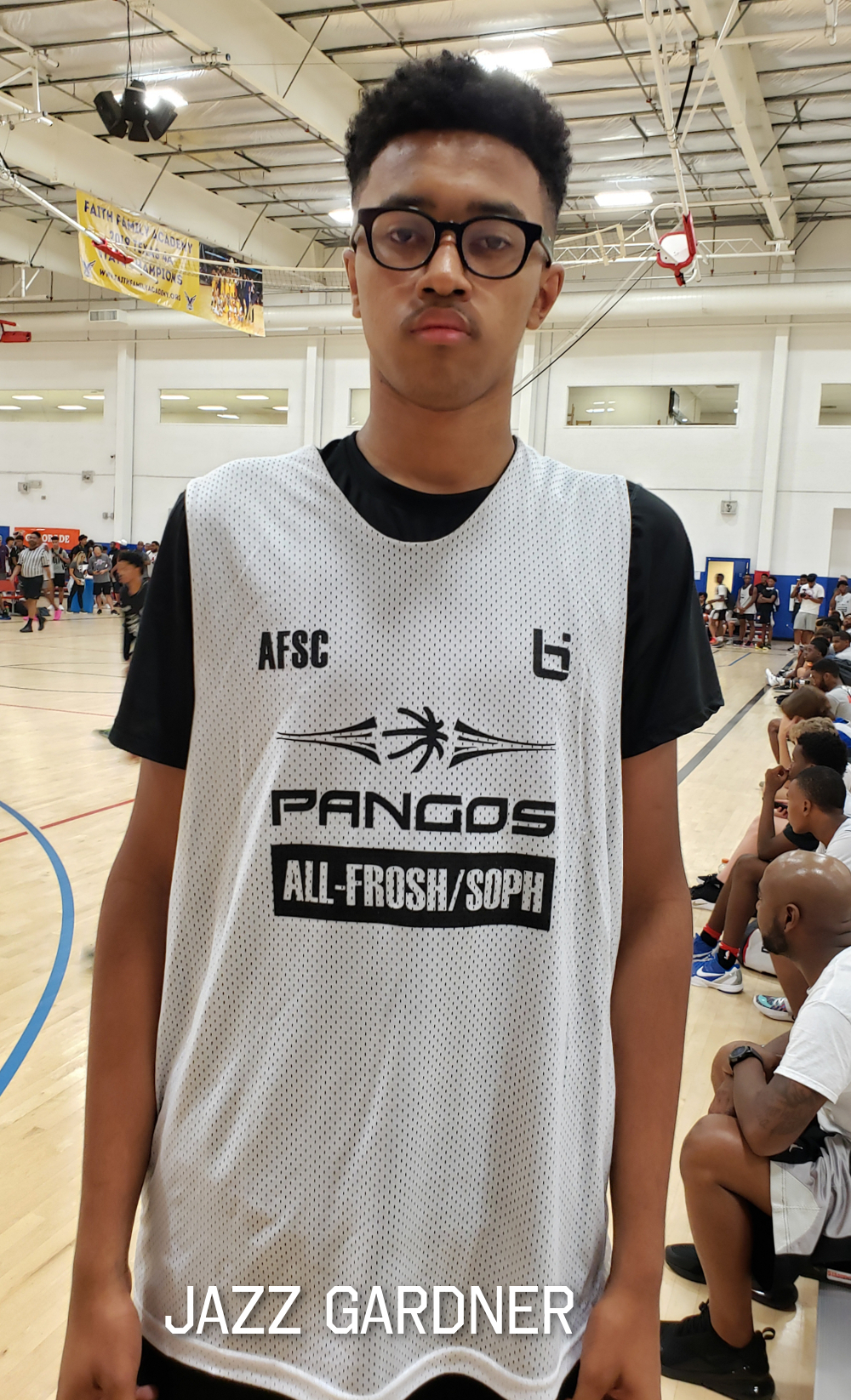 Jazz Gardner 6'10" 2023 Damien (La Verne CA)
Having missed the Pangos All-West Fr/So Camp in late September due to injury, Gardner made the journey to Dallas to demonstrate that belongs among the nation's top freshmen prospects. Mission accomplished. Skilled center with good footwork and basketball IQ, Jazz can score with his back to the basket via a nifty hook shot as well as face-up beyond the 3-point arc. Very good high and low post passer as well. Son of 1994 McDonald's All-American and former Cal/Pepperdine star Jelani Gardner.
Keyonte George 6'4″ 2022 Lewisville (TX)
Athletic lead guard has the size and shooting ability to be a sought-after nationally recruited prospect. George (the camp's overall co-MOP with Jordan Walsh) was fantastic here from start to finish as he was nearly un-guardable off the bounce and deadly from long-range. Keyonte has been coming to the camp since the 8th grade and his year to year improvement has been impressive. Presently ranked #31 by Rivals.com and #32 by 247Sports.com with early offers from Texas, Baylor, TCU and Texas A&M. Camp highlights: https://twitter.com/BradBallisLife/status/1183587139495313408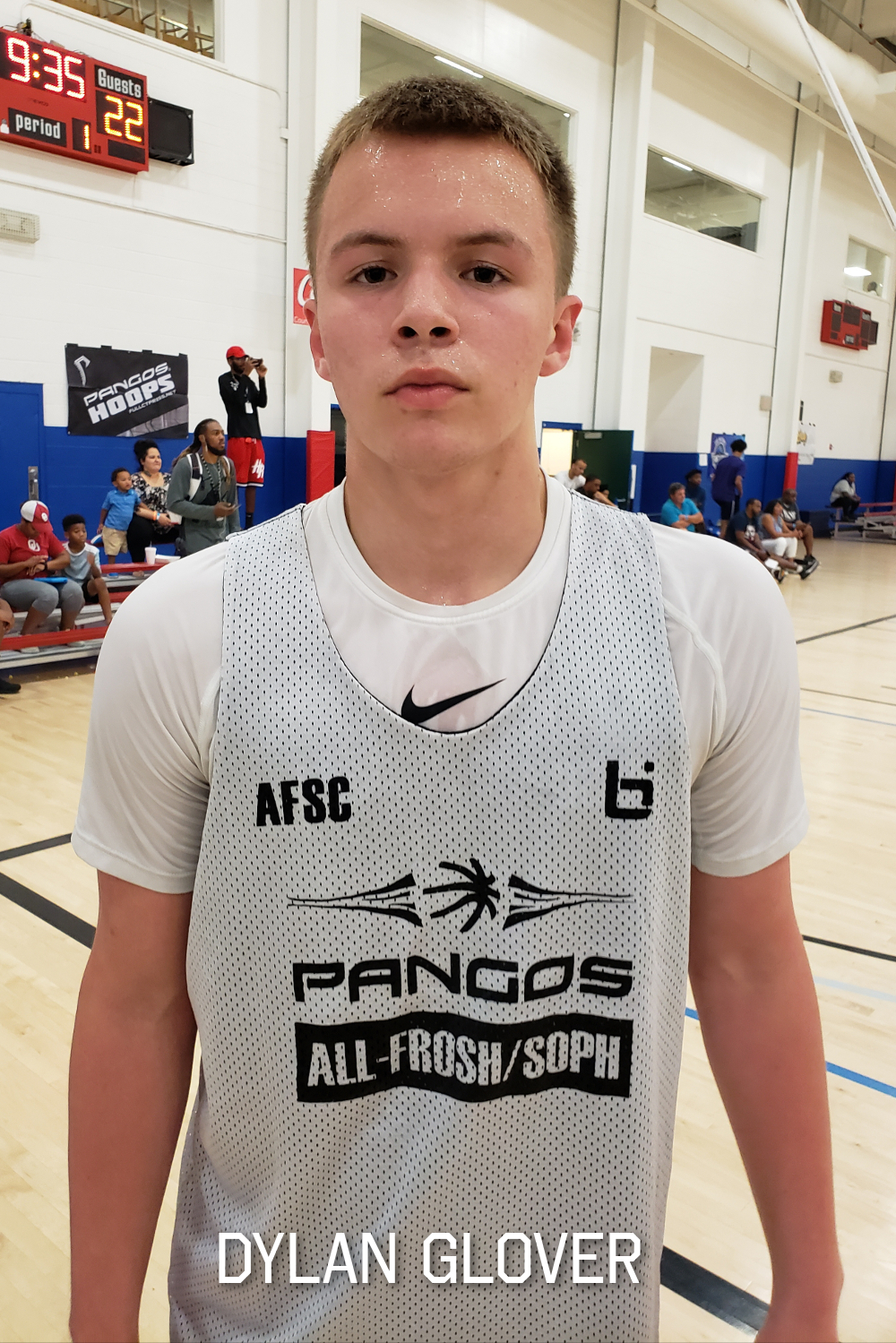 Dylan Glover 6'4″ 2022 Bryan (TX)
Tough and hard-nosed WG is a fantastic passer. Deceptively athletic, Dylan also has legitimate 3-point range on his jump shot. Glover's style of play translates into winning basketball. Very good student too.
Rylan Griffen 6'5″ 2022 Richardson (TX)
Sleek swingman with more than ample athleticism had 12 points in Top 30 Game. Good ballhandler can knock down 3-point shots (shot 3/4 from the three-point arc in one game that Van Coleman watched). Good student has high-major potential.
Zane Hicke 6'5″ 2022 Marcus (Flower Mound TX)
Good finisher is quick to the hole and handles ball well in the open court.
Elijah Hill 6'5″ 2022 Madison (Houston TX)
Versatile wing forward is agile in transition. Good rebounder had 5 boards in Top 30 Game and has respectable mid-range shot.
Dallas Hobbs 6'1″ 2022 Faith Family (Dallas TX)
Hobbs followed his fine performance as a freshman that earned him a berth in the Top 60 Game in 2018 with an impressive effort that propelled him to the Top 30 Game this year. Cat-quick PG pushes it well in transition, is a good passer and has nice rotation on his jump shot.
Ron Holland 6'7″ 2023 Duncanville (TX)
Young and skilled WF is oozing with high-major potential. Holland has excellent feel for the game, sees floor well and his jump shot presently extends to 17 feet. Big time national prospect is considered by many in Texas as the Lone Star's #1 2023 prospect. Exceptional passer reminds national scout Frank Burlison of 2020 Ziaire Williams (CA) at same age/stage.
Adante Holliman 5'10" 2022 McAlester (OK)
Sturdy point guard has the strength to keep defenders at bay and the scoring touch to put points on the board at a high clip.
Davonye Jefferson 6'3″ 2022 Berkner (Richardson TX)
Jefferson is a WG with 3-point range that can also slash to the cup off the dribble. Solid ballhandler and rebounder too.
Robert Jones Jr. 6'2″ 2023 Ray Braswell (Aubrey TX)
Athletic scoring guard with nice mid-range game can also finish at the rim. Very good rebounder and passer too. High-major potential.
Joseph Lucas 6'3″ 2022 Naaman Forest (Garland TX)
Strong and assertive lead guard pushes rock well in transition and has nice ability to attack defenders off the bounce and finish despite contact. Jump shot is a work in progress, but as that part of his game improves with hard work, so will his D-I value.
Didier Maleng 6'9″ 2022 Lawton Christian (Lawton OK)
Active shot-blocker and rebounder with real HM upside.
Joseph Manning Jr. 6'2″ 2022 Bossier (Bossier City LA)
Athletic slashing scorer can finish above the rim with authority. Manning's monster slam on Saturday of camp tore the rim off one of Court 2's baskets.
Samuel Murray 6'7″ 2022 Harrison Central (Gulfport MS)
Mobile hybrid-forward reacts to the ball well and can elevate in the paint for scoring opportunities. Murray is a solid rebounder and defender with an underrated face-up game.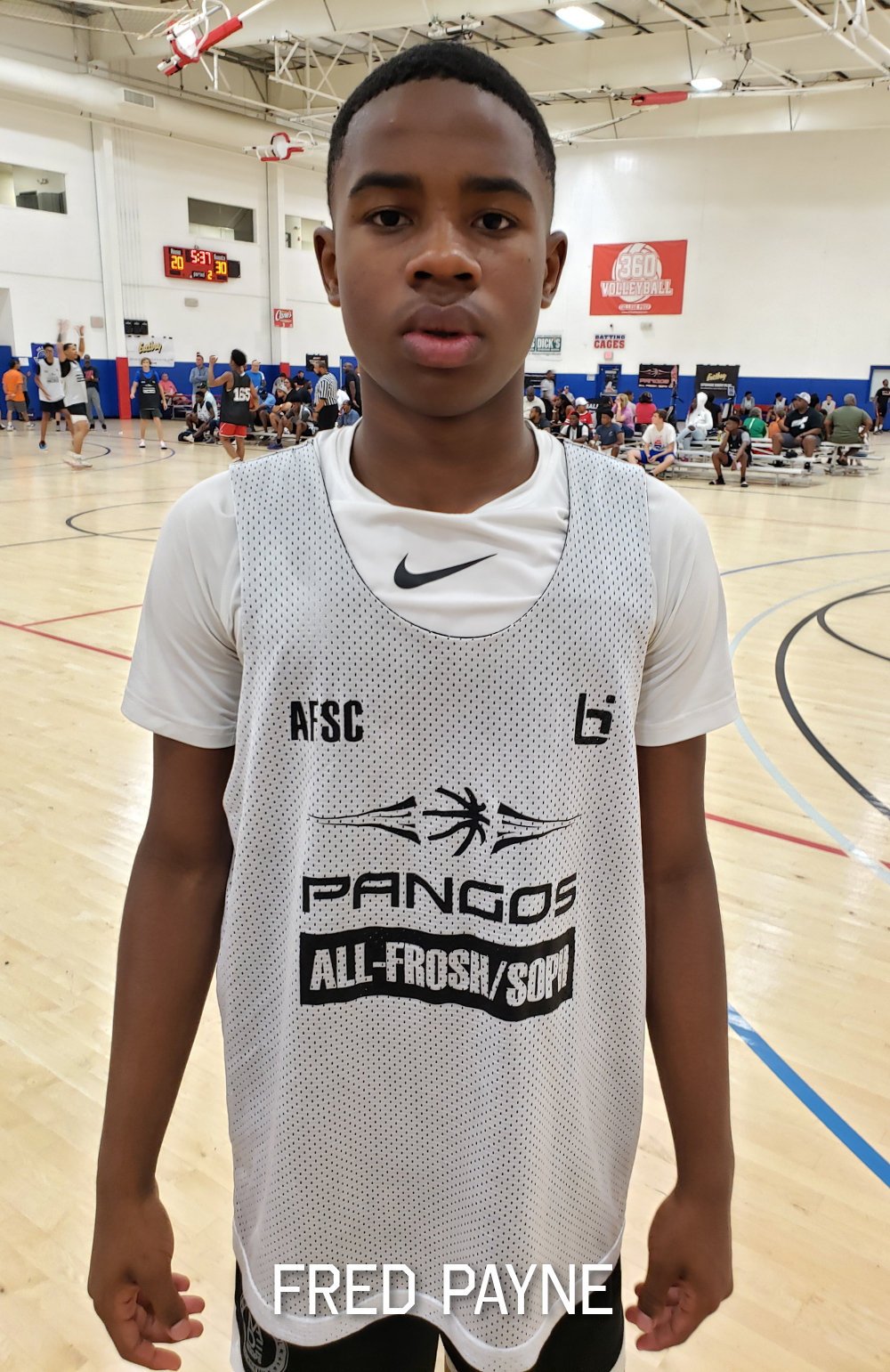 Fred Payne 6'0″ 2023 Lincoln Prep (Grambling LA)
Quick and slippery lefty point guard with excellent defensive instincts is a young prospect primed to make tons of future noise in the Bayou state.
Kyran Ratcliffe 6'8″ 2022 Booker T. Washington (Shreveport LA)
Wiry PF has good hands and is explosive in traffic. Kyran is still raw offensively in the half-court set but is an assertive rebounder and rim-protector.
Colin Smith 6'7″ 2022 St. Mark's (Dallas TX)
Well-built and rangy hybrid-F has very nice scoring ability and is strong in the post. Smith (a very good student) has good defensive instincts and is presently nationally ranked (#50 by Rivals.com and #60 by 247Sports.com) and has a bevy of impressive early offers from the likes of Kansas, Texas, Baylor, Georgetown, Oklahoma State, Texas A&M, TCU and SMU.
Drew Steffe 6'3″ 2023 Memorial (Frisco TX)
Crafty lead guard with confident scoring instincts had more than his fair share of buckets here. One of the top freshmen in the Lone Star state has early offers from Arizona State, Oklahoma State, DePaul and Western Michigan.
Devin Vincent 6'2″ 2022 McKinney (TX)
Hardnosed lefty slashing scorer is a versatile defender. Devin has a very good 1st step, can stick the 3-point shot and has a nifty cross-over with ability to hit the floater.
Cason Wallace 6'3″ 2022 Richardson (TX)
Assertive and athletic WG makes plays at both ends. Cason is a good passer in transition and nice rebounder for size. Wallace has 3-point range off the bounce and early offers from Baylor, Oklahoma State, Texas A&M, TCU and DePaul.
Jordan Walsh 6'6″ 2022 Faith Family (Cedar Hill TX)
Walsh looks like Charlie Villanueva and scores like a young Carmelo Anthony. Great off the dribble, Jordan (this camp's overall co-MOP) has legitimate shooting skills as well as the bounce to explode to the rim. Currently ranked #41 by Rivals.com and #47 by 247Sports.com with early offers from Texas, Texas Tech and Texas A&M, Walsh's dunk at the buzzer last season as a freshman gave Faith Family the win in the Texas Class 4-A state title game. Camp highlights: https://twitter.com/Ballislife/status/1182140767105687552
Wadang Wel 6'11" 2023 RLTC Prep/Eagle Point (OK)
Very long center prospect is an excellent rim-protector that runs the floor well and can finish in transition. Wel needs to add strength but there is no question that his upside is very substantial. Mid-to-High-majors should track his progress.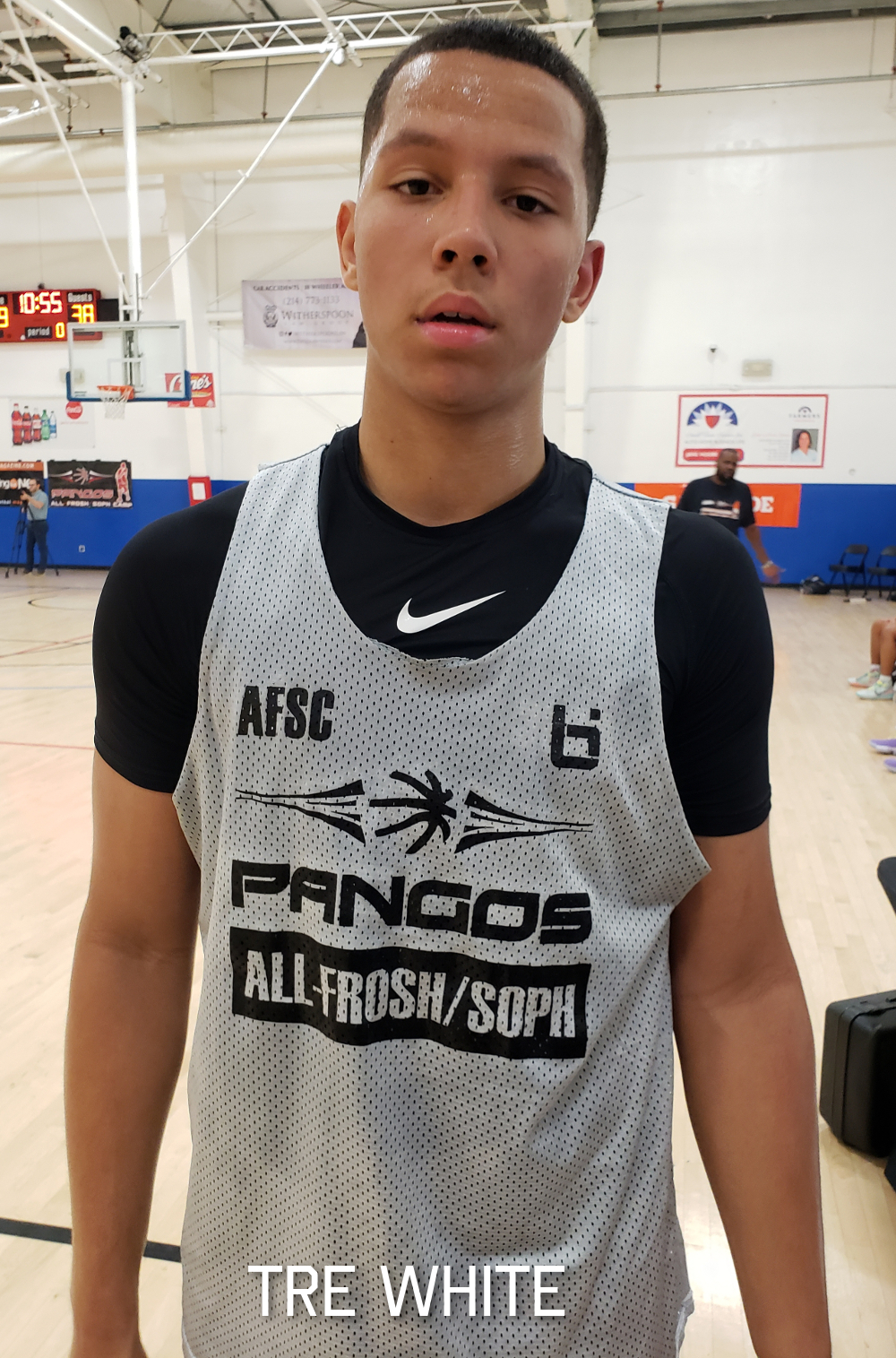 Tre' White 6'6″ 2022 Cornerstone Christian (San Antonio TX)
High-scoring swingman didn't seem to run out of clips here. White continued that scoring barrage in the Top 30 Game by nailing a game-high 20 points for the winning White squad and being named Top 30 Game co-MVP in the process. White (currently ranked #28 by 247Sports.com and #37 by Rivals.com) committed to Kansas in the Spring after receiving other early offers from LSU, Texas Tech, TCU, Auburn, Baylor, Houston, Illinois and a host of other major programs. Camp highlights: https://twitter.com/TreWhite19/status/1183126849519534102
Jace Wilson 6'5″ 2022 Guyer (Denton TX)
Strong and active swingman loves attacking the basket. Younger brother of former Denton Guyer star Jalen Wilson (now a freshman at Kansas).
Players that were selected to the "The Next 20" Game (in alphabetical order) include:
Mayen Ayuel 6'6″ 2022 Skyline (Dallas TX)
Finley Bizjack 6'3″ 2023 Byron Nelson (Trophy Club TX)
Alex Bossinakis 6'2″ 2022 Fort Worth Christian (North Richland Hills TX)
Kasai Burton 5'10" 2022 Sherman (TX)
Brian Gordon II 6'1″ 2020 St. John's School (Houston TX)
Alex Hammond 6'3″ 2022 McMain (New Orleans LA)
Pierre Hunter 6'1″ 2022 Madison (Dallas TX)
Kameron Johnson 5'9″ 2023 Shaw (New Orleans LA)
Sean Johnson 6'4″ 2022 Sandia (Albuquerque NM)
Anthony Medlock 6'4″ 2023 Arlington (TN)
Omari Murdock 6'5″ 2022 Little Rock Central (AR)
David "Cole" Reid 6'8″ 2022 Crawford (TX)
Dontae Springer 6'7″ 2022 Arlington (TN)
Joshua Thrower 6'7″ 2022 Memorial (Frisco TX)
Isaiah Torregrossa 5'10" 2023 Mansfield (TX)
Devin Vincent 6'2″ 2022 McKinney (TX)
Joshua Washington 6'5″ 2023 Jesuit (New Orleans LA)
Christopher Whitten 6'1″ 2022 Hirschi (Wichita Falls TX)
Labree Williams Jr. 6'5″ 2022 Calvary Baptist (Shreveport LA)
Ethan Wisden 7'0″ 2022 Highland Park (Amarillo TX)
Aruna Zuberu 6'9″ 2022 Prince of Peace Academy (Carrollton TX)
Players that were selected to the "The Final 20" Game (in alphabetical order) include:
Kendall Alexander 6'4" 2022 McKinney Boyd (McKinney TX)
Jailan Ardoin 6'3″ 2022 Tekoa Academy (Port Arthur TX)
Landon Brown 5'11" 2024 Huffines MS (Lewisville TX)
LeAndre Brown Jr. 5'11" 2022 Boswell (Ft. Worth TX)
Cameron Corhen 6'7″ 2022 John Paul II (Plano TX)
Joshua Dawson 6'4″ 2022 Collierville (TN)
Jacob Duran 6'2″ 2022 Bridgeland (Cypress TX)
TJ Ford Jr. 5'7″ 2023 Fort Bend Christian (TX)
Amir Green-Jones 6'3″ 2023 Home School/ Ogburn (Monroe GA)
Pimptereus Henderson 6'1″ 2022 Bryan (TX)
Mitchell Holmes 6'5″ 2023 The Oakridge School (Arlington TX)
Landen Hughlett 6'0″ 2022 The Colony (TX)
Cooper Macaulay 6'4″ 2022 Fort Worth Christian (North Richland Hills TX)
Michael Niemann 6'0″ 2022 Wakeland (Frisco TX)
Doryan Onwuchekwa 6'8″ 2024 JL Long MS (Dallas TX)
Kevin Overton 6'4″ 2022 Midwest City (OK)
Luke Oxford 6'3″ 2022 Rockwall (TX)
Cooper Pearce 6'3" 2022 Wilson (Dallas TX)
Abdul Muizz Qazi 6'2″ 2022 McMillen (Murphy TX)
Terrance Ramirez 6'0″ 2022 Grapevine High School (Grapevine TX)
David Ruff, Jr. 6'9″ 2022 Hallsville (TX)
Dylan Sanders 6'2″ 2022 Smoky Hill (Aurora CO)
Corey Washington 6'5″ 2022 Sylvan Hills (Little Rock AR)
Solomon Washington 6'6″ 2022 Carver (New Orleans LA)
Several other players played well at this camp and could have competed favorably in one of the all-star games but due to space limitations were unable to be included. These players denoted as camp "honorable mention" (in alphabetical order) include:
Everson Armstrong 6'4″ 2023 Wall (TX)
John Gavin Baker 5'10" 2023 Hebron (TX)
Cam Barnes 6'9″ 2023 Duncanville (TX)
Deontrell Barrett 5'11" 2024 Faith Family (Dallas TX)
Reid Blackmon 6'1″ 2022 Woodrow Wilson (Dallas TX)
Trey Cheatham 6'4″ 2022 Hebron (TX)
Jaylen Crocker-Johnson 6'6″ 2023 Earl Warren (San Antonio TX)
CJ Dennis 6'2″ 2023 MacArthur (Irving TX)
Joshua Escheiik 6'3″ 2023 Prestonwood Christian Academy (Plano TX)
Jayden Forrest 6'0″ 2023 Marion Jr. High (AR)
C.J. Ford 6'1″ 2022 Duncanville (TX)
Cole Franklin 6'3″ 2022 Desoto (TX)
Brian Gilmore 5'10" 2022 Arlington (TN)
Brian Gordon II 6'1″ 2021 St. John's School (Houston TX)
Jaden Guidry 6'6″ 2023 Westbrook (TX)
Aaren Hall 6'2″ 2023 Broken Arrow Fr. Academy (Broken Arrow OK)
Hampton Hall 6'2″ 2022 Watson Chapel (Pine Bluff AR)
Jamrion Harvey 6'0″ 2023 East (Memphis TN)
Jordan Hudgins 6'5″ 2022 Wylie (TX)
Shyves Johnson 6'3″ 2022 Edna Karr (New Orleans LA)
Jaden Juarez 5'10" 2023 Loyalty College Prep ( TX)
Chase Kennedy 6'4″ 2022 The Episcopal School of Dallas (Dallas TX)
Darkaun King 6'5″ 2023 O.D Wyatt (Ft. Worth TX)
Tate Laczkowski 6'4″ 2022 St Mark's (Dallas TX)
Quest Madkins 6'2″ 2023 O.D Wyatt (Ft. Worth TX)
Justin McBride 6'5″ 2023 South Garland (Garland TX)
Luke Oxford 6'3″ 2022 Rockwall (TX)
Jerrale Powers 6'6″ 2022 Duncanville (TX)
Elijah Pullen 6'0″ 2022 Waco (TX)
Levi Rutledge 6'4" 2023 Cedar Park (TX)
JV Seat 6'4″ 2022 Edmund Memorial (Edmund OK)
Jake Smotherman 5'11" 2023 Bishop Lynch (Dallas TX)
Paul Summers II 5'11" 2023 Faith Family Academy (Dallas TX)
MJ Thomas 6'5″ 2022 Hearne (TX)
Eli Valentino 6'4″ 2022 Argyle (TX)
Lance Waddles 6'2″ 2022 Loyola College Prep (Shreveport LA)
AnDre Watson 5'11" 2023 Arlington (TN)
Jaeden Whitten 6'1″ 2022 Hirschi (Wichita Falls TX)
Noah Wright 6'5″ 2022 Little Rock Catholic (Little Rock AR)
Steel Wylie 6'0″ 2023 Bishop Lynch (Dallas TX)