By Dinos Trigonis, Nothing But Net Magazine Editor-in-Chief
The 13th annual Pangos All-South Frosh/Soph Camp presented by Eastbay was held recently (October 13-14) at Drive Nation (Dallas TX). This sold-out event featured approximately 260+ top 2021 and 2022 prospects (along with a few talented 2023 players) from Texas, Oklahoma, Arkansas, Louisiana, Tennessee, Missouri, Kansas, New Mexico, Mississippi, California and Florida.  The depth and size of the talent present had media/scouts optimistic about the future of Southwest high school hoops and this platform gave talented young prospects in those classes a real opportunity to display their skills and future potential.
Baller.tv live-streamed all games at the event (they are also now available for replay).
Media/scouts on hand this year included Dinos Trigonis (Fullcourt Press, Pangos & Nothing But Net Magazine), Frank Burlison (BurlisonOnBasketball.com, McDonald's All-American Game voter & NBPA Camp selection committee), Van Coleman (The Basketball Channel, Nothing But Net Magazine National Recruiting Analyst, McDonald's All-American Game voter & NBPA Camp Selection Committee), Ronnie Flores (GrassrootsHoops.net, Mr. Basketball USA Tracker, Fab50 National HS team rankings & BallisLife.com), John Stovall (ESPN.com), Dain Ervin (Basketball Illustrated Reports), Jimmy Hicks (RCSSports.com), Brad Hensley (BallisLife.com), Alan Branch (Texas Boys Basketball), Glenn Smith (MetroPlex Hoops),  Ani Umana (5 State Hoop Report & Texas Boys Basketball), Joshua Woodson (LoneStarPrepSpotlight.com), Chad Groth (AreaCodesBasketball.com), Thom Jones (TJSports), Kellen Buffington (TheTB5Reports), Chad Gross (TakeMyTalent.com), Brandon Jenkins & Andre Powe (Prep Hoops Texas), Cam Hendrix (Beach City Hoops-Texas Division), Marcus Sloan (OTRexposure), Theo Udome (TheoVisuals) and Jabari Johnson (Heads Up Scouting).
The camp was loaded with athletic and skilled forwards/wings with size as well as big men with length (18 Players stood 6-8 or taller including two 7-footers).  The top 60 players were selected by the national media/scouts present and were showcased in the two "cream of the crop" games held at the conclusion of the event.  There were at least 100 players in this camp that are or have potential to be NCAA DI prospects. Unfortunately, there was not enough room for all of the worthy kids deserving to be in the two all-star games so I have listed those not honored as Top 30 and Top 60 selections but nonetheless impressive, as camp "honorable mention" at the end of this report.

In the Top 30 Game, the game started out as a defensive slugfest and block party as rim-protection was in full display thanks to the outstanding length that was selected to the game (8 players stood 6-7 or taller). The White squad took a 34-21 lead into half-time and pulled away in the 2nd half for a 92-67 victory over the Black unit.  The catalysts for the White contingent were camp overall MVP 6-8 2021 Arthur Kaluma (17 points/three 3's, 4 rebounds, 3 blocks & 2 steals) and Top 30 Game MVP 6-6 2021 KJ Adams (17 points, 4 boards & 2 assists).  The coaching boxes during the Top 30 Game resembled an ABD Camp game of the 1990s as legendary grassroots coaches Mitch Malone (TX Blue Chip) and John Eurey (Houston Superstars) battled.

Ronnie Flores Ball is Life Recap with video highlights of Top 30 Game: http://ballislife.com/texas-does-it-big-at-pangos-all-south-big-dunks-blocks/

Ball is Life Camp Video-Highlights: http://ballislife.com/them-boys-in-texas-were-hoopin-pangos-top-30-all-star-game/

For a full-length Baller.tv re-play of the Top 30 Game: https://www.baller.tv/streams/174210

In the Top 60 Game, it was Black squad behind the spark of 2022 point guard Dallas Hobbs (Lakeridge/Mansfield TX) who finished with 14 points (including two 3's) and 4 assists to lead the Black to a 78-54 win over the White unit who was led by 2022 Jesse Washington's 14 points (four 3's).

For a full-length Baller.tv re-play of the Top 60 Game:  https://www.baller.tv/streams/174195

Long-time national scout Van Coleman (McDonald's All-American Game & NBPA Selection Committee member) has an excellent, detailed report from the camp. The online link to that article can be found here: http://thebasketballchannel.net/pangos-all-frosh-soph-south-top-prospects/
While this is a recap of the camp, please keep in mind that this is a very early look at underclass prospects that have much room for future growth and are all "unfinished" products.
Below, we will highlight the players that were selected to the Top 30 game as well as list Top 60 Game selections and "honorable mention" camp players.
Top 30 Cream of the Crop Game Selections
(in alphabetical order)
Trey Alexander 6'4″ 2021 Heritage Hall (Midwest City OK): Active young wing is always in attack-mode and has excellent ability to break-down defenders off the bounce.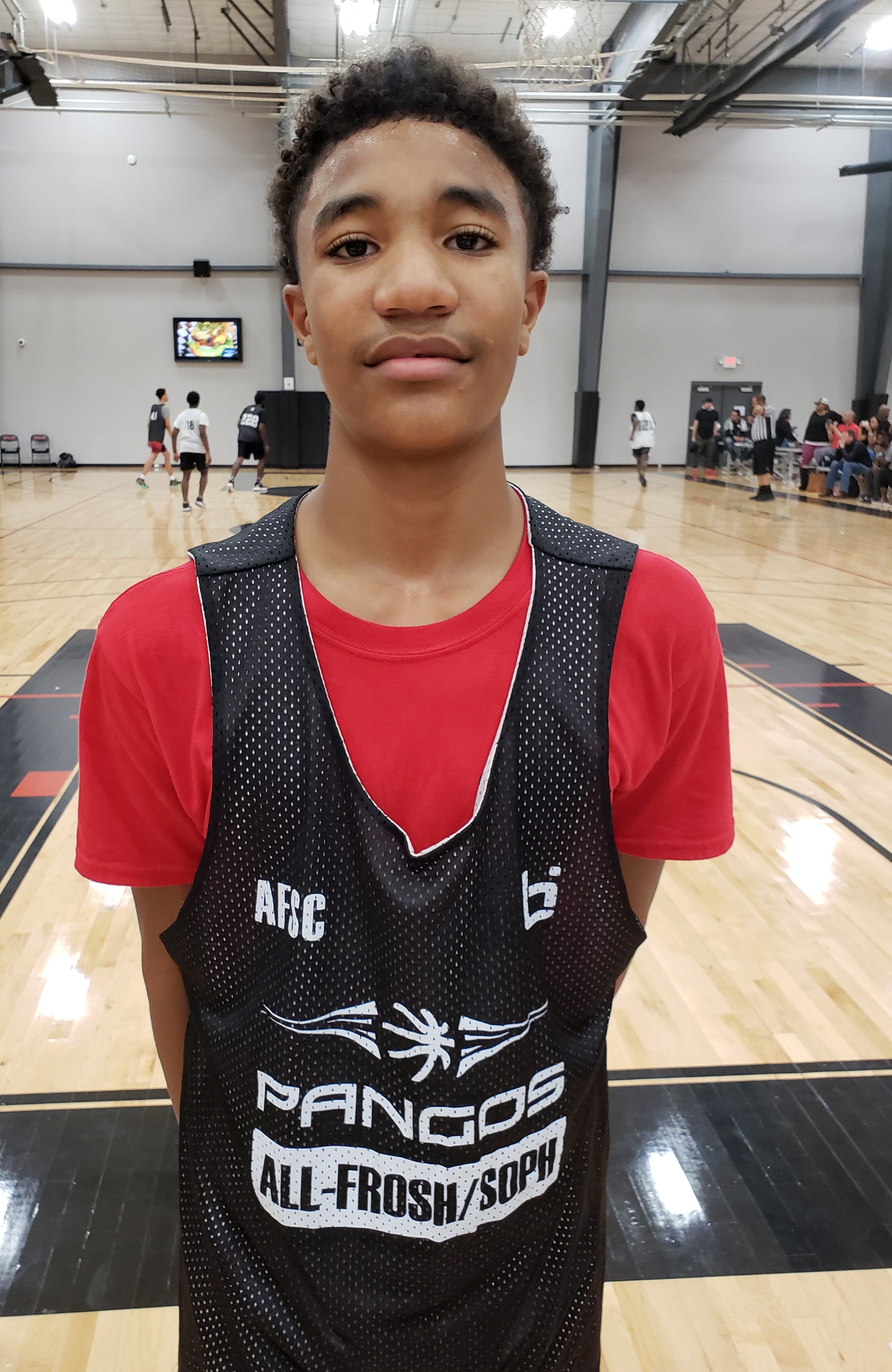 KJ Adams 6'6″ 2021 Westlake (Austin TX): Ultra-athletic and muscular swingman is a dangerous offensive weapon.  Adams was a tour de force in the Top 30 Game, sparking his Black unit to a lead they would never relinquish via an assorted variety of explosive drives to the hoop as well as "pull-up pop" jump shots.  KJ also showed impressive footwork on the block and the ability to be an offensive threat posting up defenders. Adams' sensational play here had Ronnie Flores (Ball is Life) selecting him as his #2 player in his Pangos All-South Camp Top 60 Rankings. Texas, Texas A&M, SMU, TCU and Baylor among the programs that have offered.  Rivals.com presently has Adams as its #27 prospect in 2021.
Tre Alexander 6'5″ 2021 Central (Tulsa OK): Athletic WG with dangerous "slash & score" ability loves to isolate defenders whenever possible.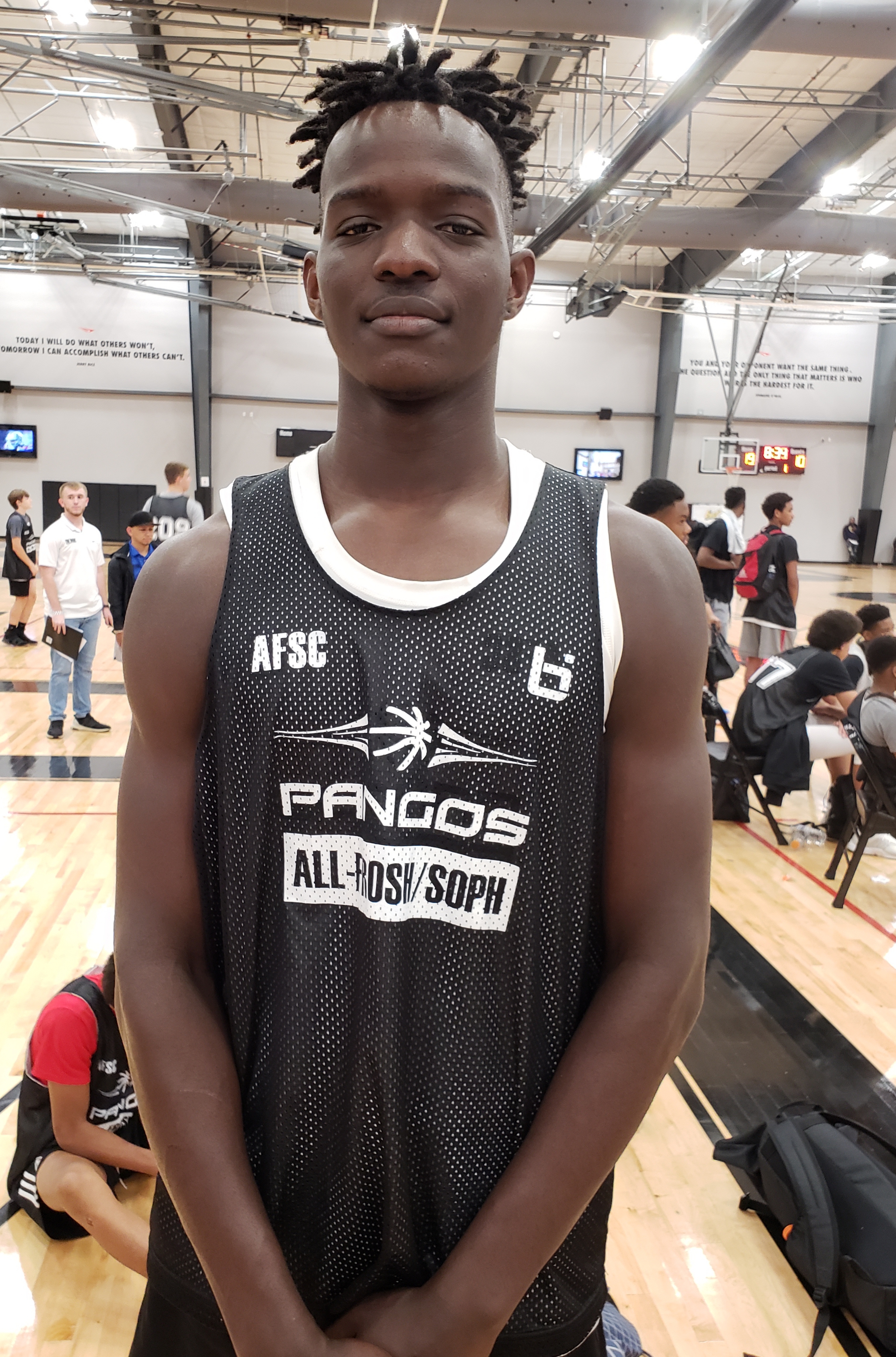 Onu Samuel Ayomide 7'0″ 2021 Texas Christian (Houston TX): Long, chiseled and springy center is very improved since the last time I saw him at the Pangos All-American Camp last June.   His offensive game is showing signs of life, displaying a nifty jump hook on multiple occasions. Onu was a factor in Top 30 Game as he contributed 6 points, 6 boards & 3 spectacular blocks.

Devon Barnes 6'1″ 2021 The Lawton Christian School (Lawton OK): Speedy lead guard pushes rock well in transition and has nice ability to create for teammates.  Solid defender too.
Jerrell Calbert 6'9″ 2021 Sam Rayburn (Pasadena TX): Calbert is a very active but still rather raw PF that showed flashes of his high-major potential here.  Very agile baseline to baseline. Terrific rim-protector and rebounder had 4 rebounds and 2 blocks in Top 30 Game,
Trae Clayton 6'4″ 2022 Faith Family (Cedar Hill TX): Very good two-way player plays excellent "D" and has nice scoring ability.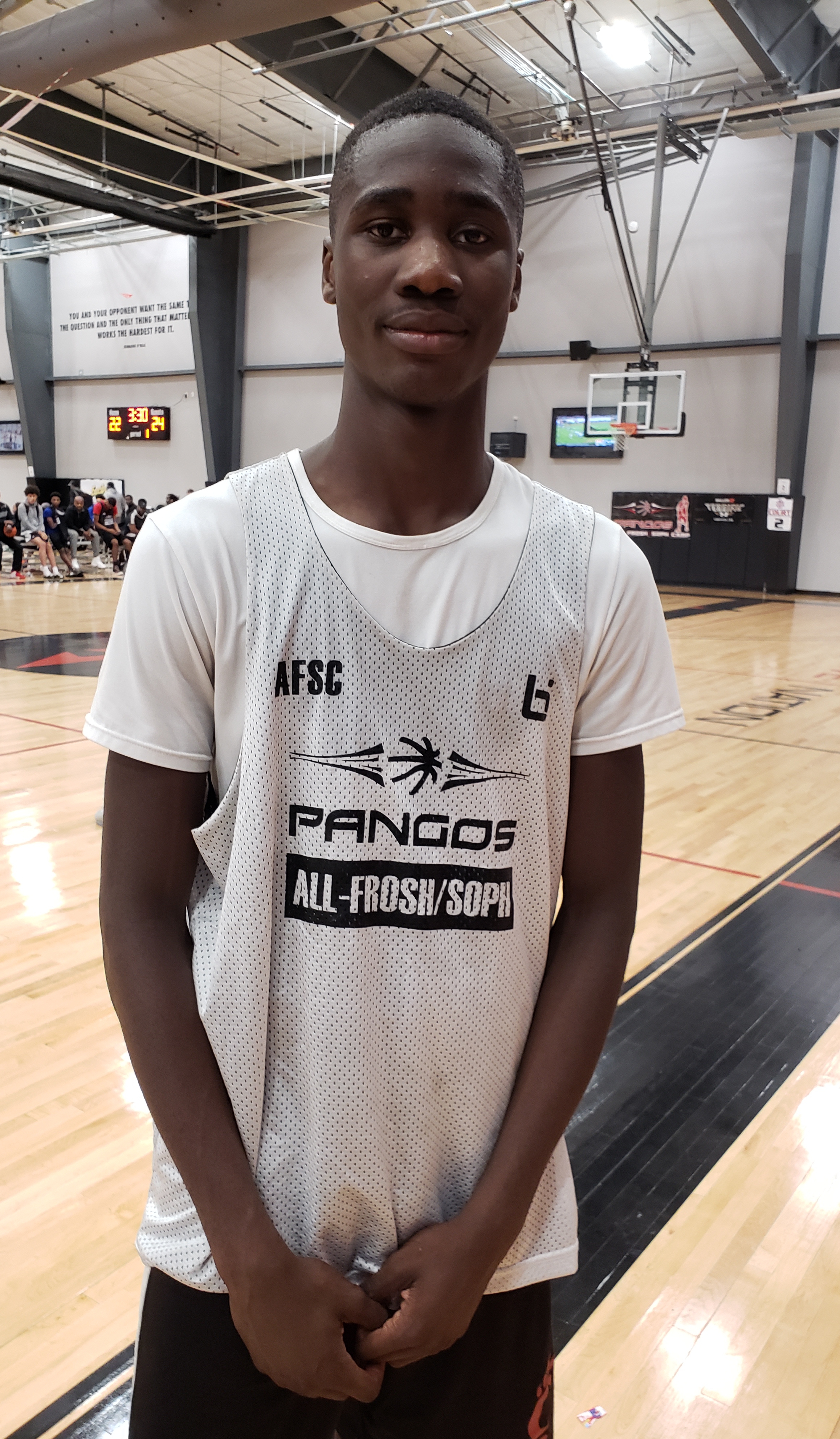 David Dixon 6'8″ 2021 Briercrest (Memphis TN): Assertive PF is a regular visitor to the glass and runs well in transition. Was just offered recently by Memphis.       
Lee Dort 6'10" 2022 Bethany Christian (Plano TX): Strong and physical post-man loves to protect the rim (3 blocks in Top 30 Game) and rebounds well outside of his area!  Plays with very good energy and competes on every play. As his ability to finish in traffic improves, he will be an interior beast!
Josh Farmer 6'8″ 2021 Sharpstown (Houston TX): Farmer was one of the big revelations of this camp as this potential point forward has the size, ballhandling ability and court vision to be a versatile player in demand by high-major programs. As his scoring skills continue to be refined (he did show range on jump shot in Top 30 Game) and learns how to play with more intensity, Farmer has real potential to develop into an elite HM recruit.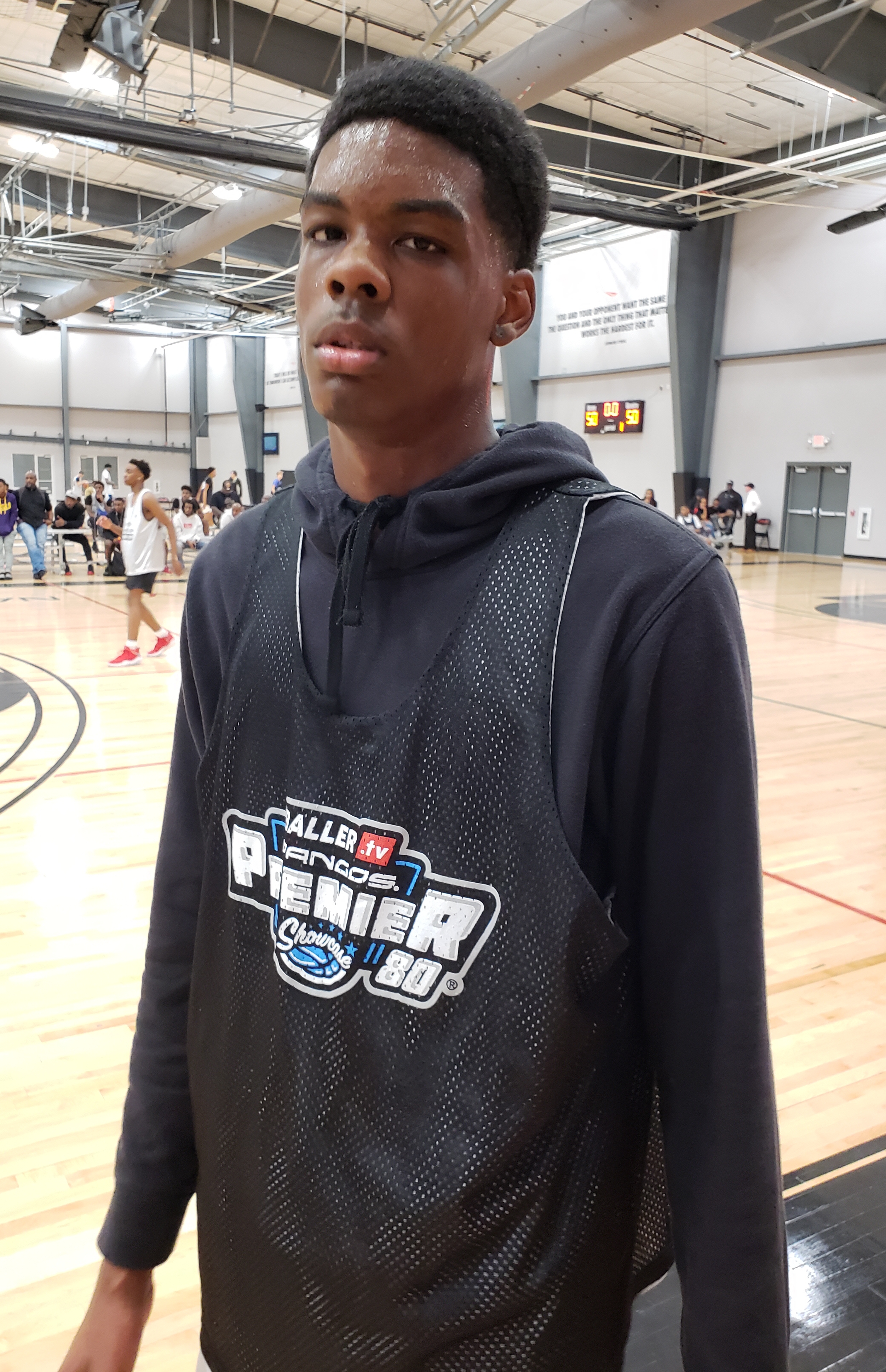 Isaiah Foster 5'10" 2022 Frisco Memorial (Frisco TX): Talented young playmaker is an excellent passer with legit 3-point range.
Keyonte George 6'3″ 2022 Lewisville (Lewisville TX): Very promising young lead guard with pogo-stick-type bounce and excellent perimeter shot.  Pesky defender too. Played very well here and DFW native and Ball is Life video maestro Brad Hensley would not stop raving about his talents.  Early offers for George include Baylor, Texas A&M and TCU. Ball is Life video highlights: https://twitter.com/Ballislife/
Christian Green 6'7″ 2021 Plano West (Plano TX): High-octane WF has excellent offensive tools as well as consistent scoring production. Plays with a high motor and is wired to score.  
Jaden Jones 6'6″ 2021 Home School (Dallas TX): Active swingman rebounds well and can finish in traffic.
Harrison Ingram 6'6″ 2021 St. Mark's School (Dallas TX): Strong and athletic WF with excellent academics (currently sports a terrific 3.83 GPA). No wonder schools like Stanford, Georgetown, Baylor, TCU, Texas A&M and Kansas (Jayhawks just offered this past week) are interested in the future services of Rivals.com's current #24 prospect in 2021.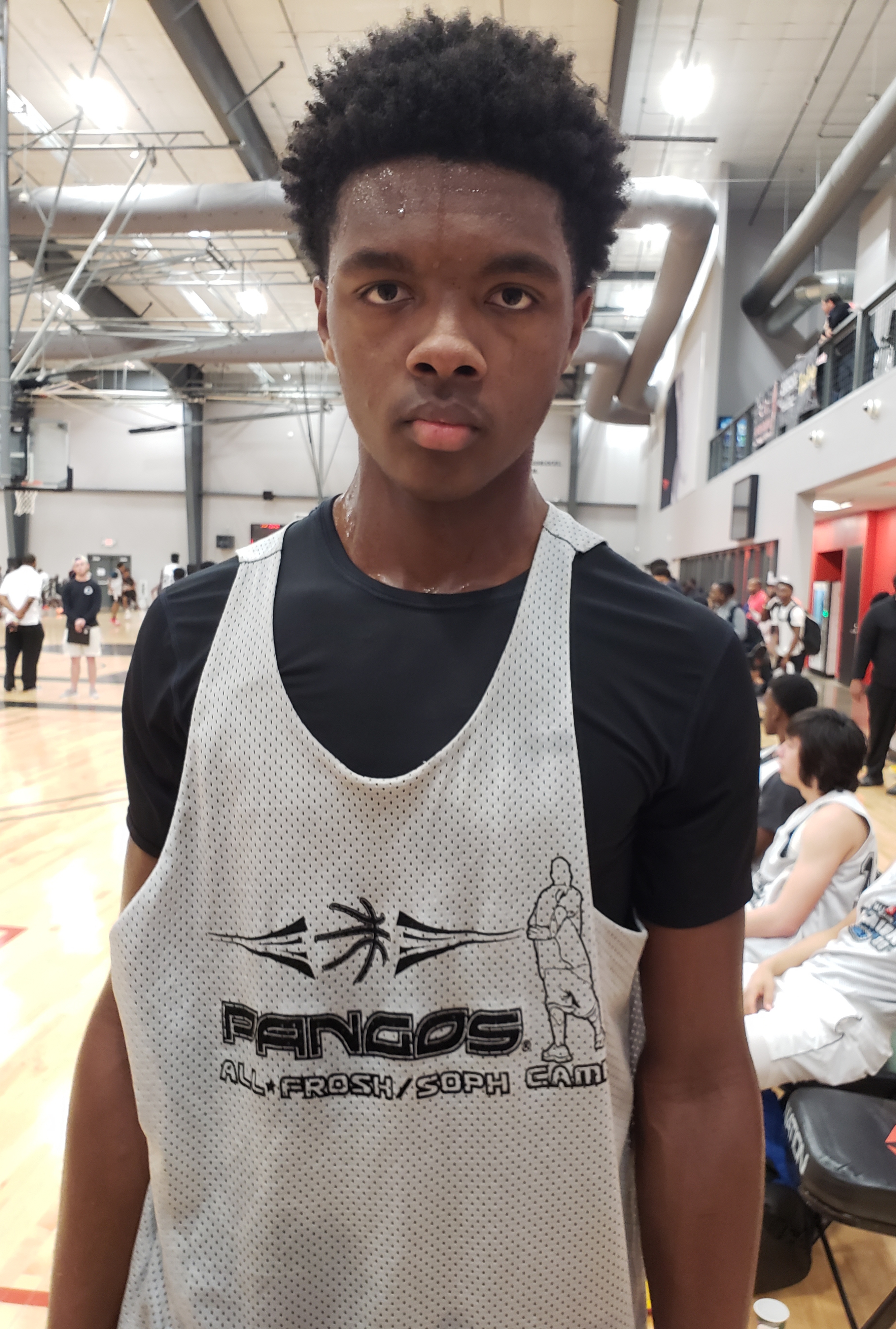 Arthur Kaluma 6'8″ 2021 Universal Academy (Coppell TX): Kaluma has been coming to this camp since he was an 8th grader and the rate of his year to year improvement since then has been outstanding!  Kaluma earned overall camp MVP honors here as national scouts present raved about his multi-dimensional scoring ability (has legitimate 3-point range on jump shot), defensive prowess (formidable shot-blocker) and consistently high motor that always seemed stuck in 5th gear!  He is also an excellent ballhandler for his size and showed flashes of being able to play the role of a "point forward." Kaluma's terrific play here had Ronnie Flores (Ball is Life) picking him as his #1 player in his Pangos All-South Camp Top 60 Rankings.  Arthur made a compelling case here that he deserves to be ranked within the top 25-30 prospects in 2021 with potential to be much higher than that.  Schools that have extended early offers to Kaluma include Texas A&M and TCU.
Chris Marshall 6'2″ 2022 Thurgood Marshall (Houston TX): Very bouncy combo-guard is a terror in transition and is a very harassing defender.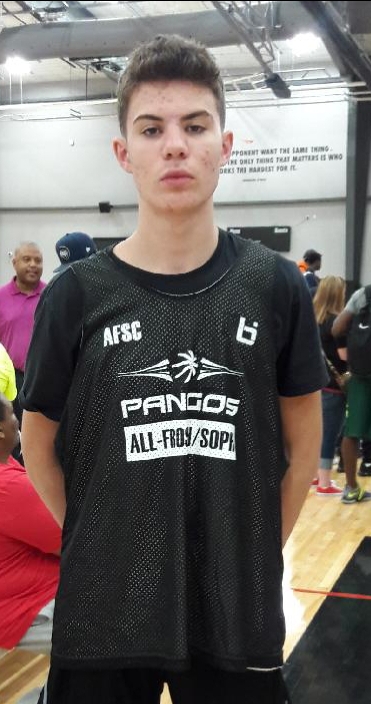 Mason Miller 6'7″ 2021 Houston (Germantown TN): Son of former NBA sharpshooter Mike Miller (now an assistant with the Memphis Tigers) is making a HM name of his own.  Lefty flame-thrower can flat out the stroke the rock and as he showed in Top 30 Game also has nice ability to score on athletic, acrobatic drives to the cup. Exhibit A: https://twitter.com/Ballislife/
Latrell Moore 6'5″ 2021 Willowridge (Houston TX): Very athletic WG has great explosion to the cup and plays extremely hard.  National scout Frank Burlison noted "no one played with more controlled aggression than Moore, who attacked – figuratively, of course – opponents off the dribble and got into a lot of grills on the defensive side of the court." Moore may have had the dunk of the camp when appeared to have jumped off a trampoline and flushed on an unsuspecting defender in the Top 30 Game.
Corvin Oprea 6'2″ 2021 Coppell (Coppell TX): Lefty SG has terrific range on jump shot and is underrated off the dribble.  Plays good defense and gives max effort too.
Jalen Ricks 6'6″ 2021 Sylvan Hills (Sherwood AR): Very long wing with improving perimeter shot is just scratching the surface of his HM potential.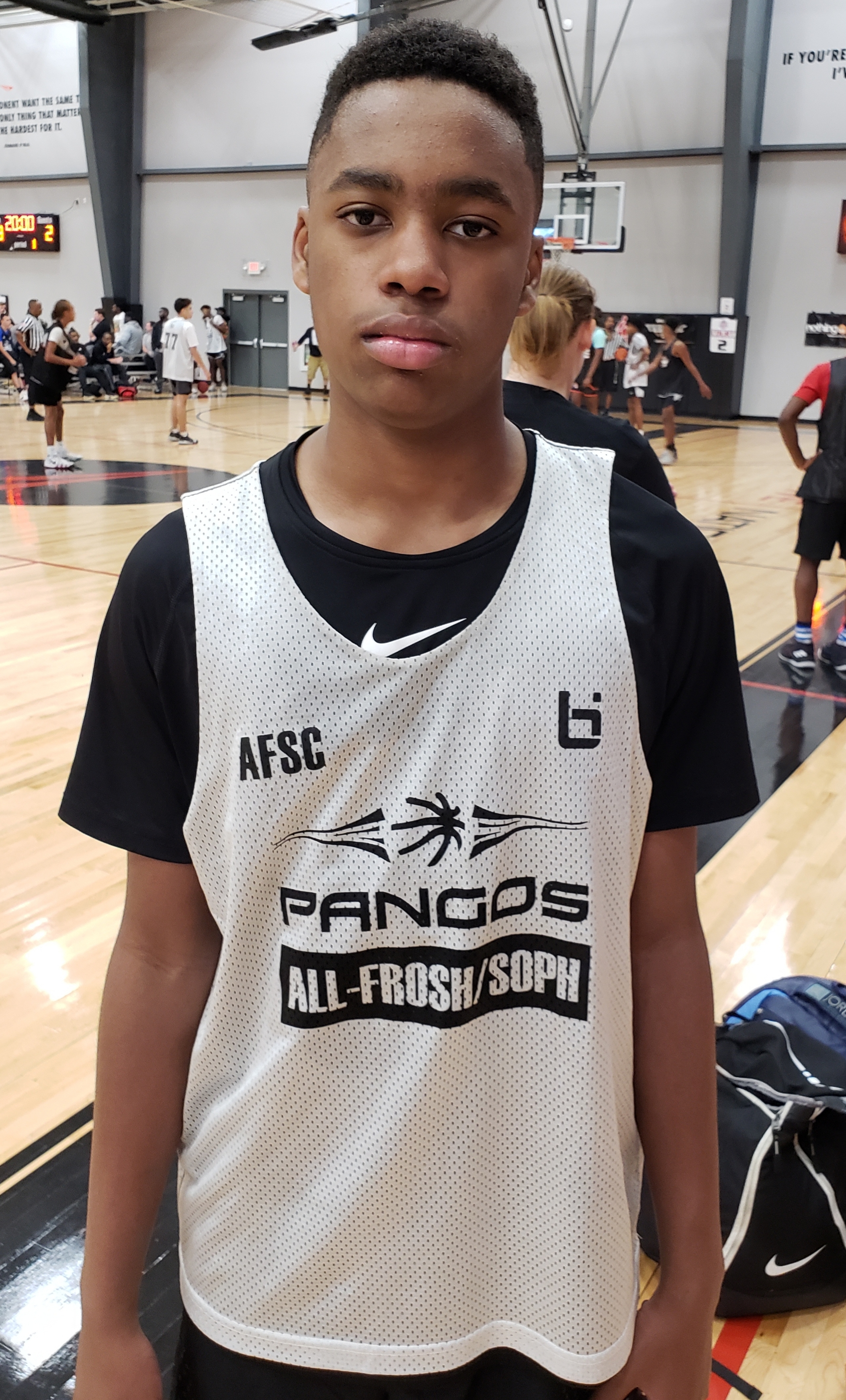 Noah Shelby 6'1″ 2022 St. Mark's School (Dallas TX): Smooth and steady combo-guard has excellent pull-up jump shot off the bounce. Excellent student was offered by TCU not long after the camp ended to go along with offers from Georgetown and Baylor.
Colin Smith 6'6″ 2022 St. Mark's School (Dallas TX): Was very impressed with this Paul Pierce-style WF that can score in traffic as well as convert open looks from the perimeter.  Very good student has early offers from Georgetown, Baylor, Texas A&M and TCU.
Nick Smith 6'3″ 2022 Sylvan Hills (Sherwood AR): One of the camp's top freshmen is a certified bucket-getter that was one of the top scorers in the entire event. Underrated defender had 11 points & 2 steals in Top 30 Game. Has made excellent improvement since I saw him for the first time at my Pangos Junior All-American Camp last February.
Joseph Venzant 6'3″ 2021 Midland Christian (Midland TX): Assertive scoring guard has very nice mid-range game and also loves to attack the rim when the opportunity presents itself.  Fared well in Top 30 Game (10 points/2 rebs). Brother Daniel plays for Cal State Fullerton.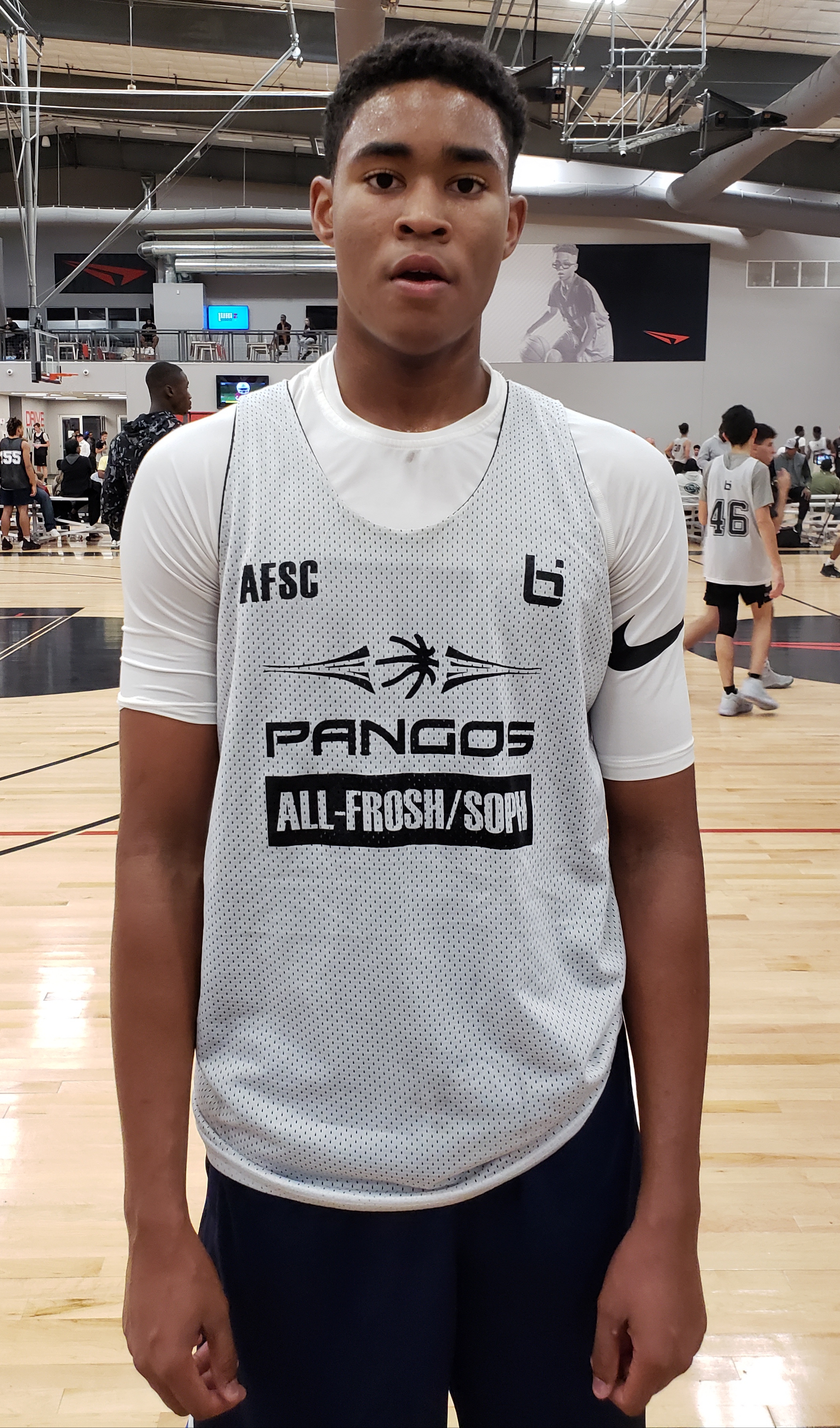 Jordan Walsh 6'6″ 2022 Faith Family (Cedar Hill TX): Confident and crafty swingman can put up big-time numbers. Long and athletic, Walsh has excellent ball skills that allow him to elude defenders and can finish high above the rim.  Jordan's game reminds me a lot of a more skilled Trevor Ariza. This future high-major priority recruit had an impressive 11 points in Top 30 Game. Walsh definitely caught the attention of Ronnie Flores (Ball is Life) who slotted him as #5 in his Pangos All-South Camp Top 60 Rankings.  Walsh has received an early offer from Texas A&M.
Christian Weddington 6'3″ 2022 Grapevine Faith Christian (Grapevine TX): Weddington's impressive scoring display during last round of Sunday morning camp games earned him an invite into the camp's top all-star game. Rangy wing guard has nice ability to connect from long distance as well as get to the cup and score.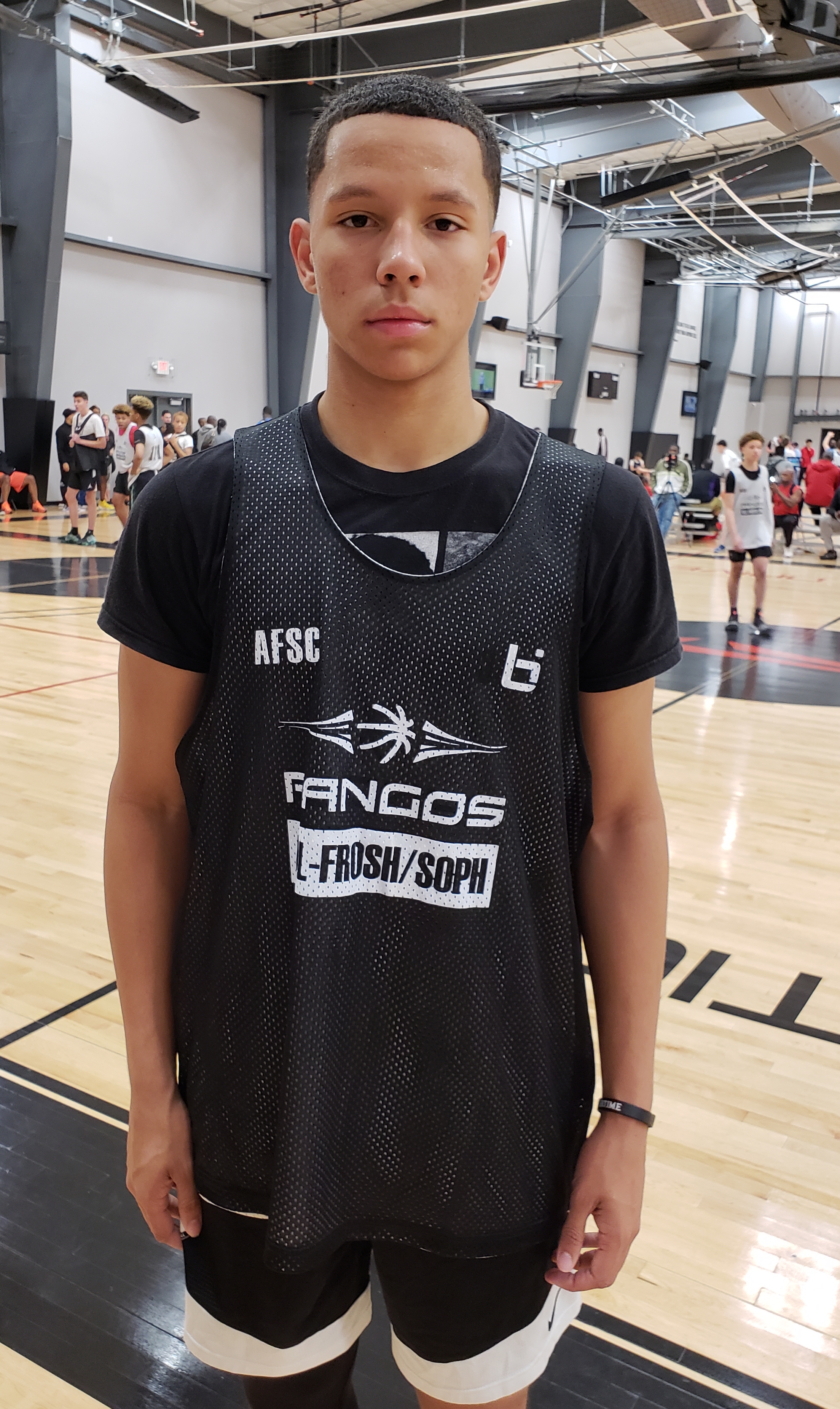 Tre White 6'5″ 2022 Little Elm (Little Elm TX): Skilled, strong, athletic and extremely savvy wing made a strong case not only for the top freshmen in attendance here but also for the top 2022 spot in Texas. White (who veteran scout and McDonald's All-American Game voter Frank Burlison chose as his top 2022 player at the camp) is already a prime HM target for Big 12 and SEC programs (has been already offered by LSU and TCU).
Terran Williams 6'5″ 2021 Barton (Marianna AR): Accurate perimeter shooter can rattle off a barrage of "threes" if left unattended. National scout Van Coleman compared him favorably at same stage to one of 2020's top WGs Moses Moody.
Jace Wilson 6'5″ 2022 Guyer (Denton TX): Skilled young wing is equally capable of knocking down perimeter shots off the bounce or off the catch.  Brother Jalen is one of the Lone Star state's top 2019 players who is set to sign with Michigan during next month's early signing period.
Alec Zambie 6'5″ 2021 Plano West (Plano TX): Deceptively athletic and tough WF has very accurate 3-point stroke and can score in a variety of ways in the half-court.  Seems to be involved in every play. Zambie, a member of Lebanese U18 national team, had 8 points/5 rebounds in Top 30 game.  Earned high-praise from Ronnie Flores (Ball is Life) who pegged him as #3 in his Pangos All-South Camp Top 60 Rankings.  Zambie is an off the charts student too (4.35 GPA/weighted).
Players that were selected to the Top 60 Game (in alphabetical order) include:

Robert Billingsley 5'11" 2021 Bowie (Arlington TX)
Finley Bizjack 6'1″ 2023 Keller Middle School (Keller TX)
Anthony Black 6'2″ 2022 Coppell (Coppell TX)
Alex Bossinakis 6'0″ 2022 Colleyville Heritage (TX)
Jonathan Box 6'1″ 2021 Heritage (Frisco TX)
Kasai Burton 5'11" 2022 Tishomingo (OK)
Justin Bussey 5'10" 2021 Brennan (San Antonio TX)
Patrick Caero 6'3″ 2021 Trinity Valley School (Ft. Worth TX)
Damion Collins 6'8″ 2021 Atlanta (Atlanta TX)
Imo Eissien 6'0″ 2021 Bishop Lynch (Dallas TX)
Toney Green 6'4″ 2021 O.D. Wyatt (Ft. Worth TX)
Dallas Hobbs 5'10" 2022 Lakeridge (Mansfield TX)
Vincent Iwuchuwn 6'10" 2022 Cole (San Antonio TX)
Sean Johnson 6'3″ 2022 Sandia (Albuquerque NM)
Garrett Levesque 6'4" 2021 Coronado (El Paso TX)
Jalen Nettles 6'4″ 2022 Sylvan Hills (Little Rock AR)
Mohamed Ngom 6'10" 2022 Texas Christian (Houston TX)
Damon Nicholas Jr. 6'4″ 2021 Duncanville (Duncanville TX)
Austin Nunez 6'0″ 2022 Randolph (San Antonio TX)
David Oyona 6'11" 2023 Covington-Douglas (Covington OK)
Madison Peaster 6'10" 2021 Little Rock Mills (Little Rock AR)
Juan Reyna 6'3″ 2021 Antonian (San Antonio TX)
Jaxson Robinson 6'5″ 2021 Ada (Ada OK)
Chase Ross 6'3″ 2021 Plano West (Plano TX)
Tracy Steele 6'2″ 2021 North Little Rock (Little Rock AR)
Adam Stewart 6'10" 2022 Waller (Waller TX)
Cameron Taylor 6'5" 2021 Timberview (Mansfield TX)
Cason Wallace 6'3″ 2022 Richardson (TX)
Kyron Walton 6'4″ 2022 Richland Hills (TX)
Jesse Washington 6'0″ 2022 Annie Camp JHS (Jonesboro AR)
Clayton White 7'0″ 2021 Keller Central (Keller TX)
Christopher Whitten 5'11" 2022 Hirschi (Wichita Falls TX)
Mike Woolridge 6'8″ 2022 Bethany (Oklahoma City OK)
Aruna Zuberu 6'9″ 2022 Prince of Peace (Plano TX)
Several other players played well at this camp and could have competed favorably in the Top 60 Game but due to space limitations were unable to be included.  These players denoted as camp "honorable mention" (in alphabetical order) include:

Abdul-Noor Beyah Jr 5'7″ 2022 South Grand Prairie (Grand Prairie TX)  
Trey Blackmore 6'2" 2022 Cole (San Antonio TX)
Caylen Goff Brown 6'0″ 2022 Central (Tulsa OK)  
Caleb Campbell 6'2″ 2021 Hot Springs (AR)
Savion Cleckley 5'11" 2021 MacArthur (Irving TX)
Mekhi Collins 6'7" 2021 Bishop Dunne (Dallas TX)
Bijan Cortez 6'2″ 2021 Kingfisher (OK)
Davon Barnes 6'4″ 2021 White Station (Memphis TN)
Cruz Davis 5'11" 2022 South Garland (TX)
Karter Dutton 6'1" 2022 Summer Creek (Humble TX)
Kendall Fair 5'11" 2021 OD Wyatt (Ft. Worth TX)
Christopher Felix 6'4" 2021 Hightower (Houston TX)
Jordan Flournoy 6'3" 2021 South Grand Prairie (TX)
Dorien Goodman 5'10" 2022 Lincoln (Dallas TX)
Toney Green 6'4″ 2021 OD Wyatt (Ft. Worth TX)
Rylan Griffen 6'4″ 2022 Richardson (TX)  
Tvondrick Henry 6'2" 2021 Pleasant Grove (Texarkana TX)
David Ruff Jr. 6'7" 2022 Hallsville (TX)
Myson Huff 6'2" 2021 Liberty (Frisco TX)
Jacob Joe 6'0″ 2021 Northside (Fort Smith AR)
Demarre Johnson 6'0" 2021 Berkner (Richardson TX)
Jeremiah Johnson 6'0" 2023 Epic Charter (Oklahoma City OK)
Marcal Johnson 5'10" 2021 Will Rogers (Tulsa OK)
Terin Johnson 6'5″ 2021 South Grand Prairie (Grand Prairie TX)
Jon Jones 6'5" 2021 McKinney North (McKinney TX)
Chase Kennedy 6'3″ 2022 The Episcopal School (Dallas TX)
CJ Luster 6'4" 2021 Guyer (Denton TX)
Chase Martin 6'0" 2022 St. Marks (Dallas TX)
David Martinez 6'1" 2022 Atascocita (TX)
Johnathan Massie 6'3" 2021 Atascocita (TX)
Jordan Maxwell 6'5" 2021 Jacksonville (AR)
David McNight 6'2″ 2022 LaVega (Waco TX)
Bryson Mitchell 6'7″ 2021 Timberview  (Arlington TX)
Ryan Moore 6'2" 2022 Cy Ranch (Cypress TX)
Colbe "CJ" Noland 6'3" 2021 Waxahachie (TX)
Cody Opoku-Darko 5'10" 2022 Reedy (Frisco TX)
AJ Phillips 5'6" 2021 MacArthur (Irving TX)
Joseph Pinion 6'5" 2022 Morrilton (AR)
Jamin Power 6'9" 2021 New Boston (TX)
Cole Reid 6'7" 2022 Crawford (TX)
Jordan Roberts 6'3" 2021 South Grand Prairie (TX)
Jerome Rogers 6'2" 2021 Madison (Dallas TX)
Tobias Roland 6'3″ 2021 Putnam City North (OK)
Labrodrick Scott 6'2" 2021 Lamar (Arlington TX)
Jack Slaughter 6'8" 2021 Cistercian Prep (Irving TX)
Drew Steffe 6'4" 2023 Memorial MS (Frisco TX)
Michael Ungu 6'9" 2021 South Grand Prairie (Grand Prairie TX)
DeJuan West II 6'2″ 2021 Fort Bend Thurgood Marshall (Missouri TX)
Jabari West 6'8" 2022 Hot Springs (AR)
Andre Williams 6'0" 2021 ILT Keller (Keller TX)
Quion Williams 6'1″ 2022 MacArthur JHS (Jonesboro AR)  
Noah Wright 6'3" 2022 Catholic (Sherwood AR)