By Dinos Trigonis, Nothing But Net Magazine Editor-in-Chief
The 14th annual Pangos All Midwest Frosh/Soph Camp presented by Eastbay was held recently (October 20-21) at The Park District (La Grange IL/near Chicago).  This event featured 220-plus top 2021 and 2022 players (along with a few talented 2023 players) from Illinois, Indiana, Michigan, Wisconsin, Iowa, Ohio, Minnesota, Missouri, Kansas, Nebraska, Colorado, Texas, Arkansas and Winnepeg, Canada.  
Baller.tv live-streamed all games at the event (they are also now available for replay).
Media/scouts on hand included Dinos Trigonis (Fullcourt Press, Pangos & Nothing But Net Magazine), Frank Burlison (BurlisonOnBasketball.com/McDonald's All-American Game & NBPA Camp selection committees), Van Coleman (The Basketball Channel, Nothing But Net Magazine National Recruiting Analyst, McDonald's All-American Game voter & NBPA Camp Selection Committee), Clark Francis (Hoop Scoop/ McDonald's All-American Game & NBPA Camp selection committees), Ronnie Flores (GrassrootsHoops.net,  BallisLife.com, "Fab 50" National HS Team Rankings & Mr. Basketball USA Tracker), John Stovall (ESPN.com), Scott Burgess (Prep Hoops Illinois), Scott Phillips (NBC Sports), Rodger Bohn (SLAM Magazine), Scott Comeau (BallisLife.com), Joe Henricksen (Chicago Sun-Times/City-Suburban Hoops Report), Larry Butler (Illinois Spotlight), Thom Jones (TJ Hoops Scouting), Brian Rogers (Eye Catchers Scouting), Derek Ellison (Illinois Scouting Report), Seth Pote (ChicagoLandPrepsHoops.com), Littel Vaughn (Checkball Magazine), Ed Sandoval (MOSHoops.com) and Richard Barron (Hoopsville).
 Ronnie Flores (Ball is Life) Recap: http://ballislife.com/ahamed-bynum-cooks-at-pangos-all-midwest-patrick-baldwin-2x-mop/   
Frank Burlison Recap: http://www.burlisononbasketball.com/  
Scott Burgess (Prep Hoops Illinois Recaps): https://www.prephoops.com/illinois/
For a full-length Baller.tv re-play of the Top 25 Game: https://www.baller.tv/streams/top-25-white-vs-top-25-black
The camp's top 60 players were selected by the national media present and were showcased in the two "cream of the crop" games held at the conclusion of the event.  Unfortunately, there was not enough room for all of the worthy kids deserving to be in the two all-star games so I have listed those not honored as Top 30 and Top 60 selections but nonetheless impressive, as camp "honorable mention" at the end of this report.  While this is a recap of the camp, please keep in mind that this is a very early look at underclass prospects that have much room for future growth and are all "unfinished" products.

In the Top 30 Game, 6-2 2021 scoring combo Ahamad Bynum (Simeon/Chicago IL) was on fire, pouring in a game-high 30 points (on 10/17 FG; 6/8 3FG) to lead his White squad to a 85-79 victory of their Black counterparts.  That scoring outburst earned Bynum Top 30 Game MVP honors. Helping the White unit's cause was Bynum's Simeon teammate 6-2 2022 Jaylen Drane (17 points, 5 assists and 5 steals), 6-9 2021 Chase Courbat (Cedar Falls/IA) with 17 points/9 rebounds and 6-2 2021 Anton Brookshire (Kickapoo/Springfield MO) who chipped in with 12 points, 6 boards, 5 assists and 2 steals as well as a buzzer-beating 3-point daggar to end the 1st half that gave the White squad a 46-35 lead at intermission.  Leading the Black team was camp overall MVP and the growing consensus of most media/scouts as the nation's top soph 6-9 Patrick Baldwin who finished with 11 points (including two "3"s), 5 rebounds, 4 assists and 3 steals.  Baldwin was fabulous all week-end long and is arguably the most talented and skilled player/prospect in the history of the Pangos All-Midwest Fr/So Camp.

In the Top 60 "Cream of the Crop Game" it was the White team coming from behind and beating the Black squad 73-69.  6-0 2021 PG Isaac Haney (Dora/MO) led the winners with 10 points, 4 boards, 3 assists and 2 steals and was named Top 60 Game MVP.

I highlight those players selected for the Top 30 Cream of the Crop Game below

Top 30 Cream of the Crop Game Selections
(in alphabetical order)
Ola Ajiboye 6'4″ 2021 Von Steuben (Chicago IL): Quick slashing scorer is a solid defender and has decent touch that extends to 17 feet.
Patrick Baldwin 6'9″ 2021 Hamilton (Sussex WI): Sensational soph keeps getting better and better every time I see him.  Special talent has amazing blend of pro shooting ability, outstanding court vision and pin-point passing, terrific ballhandling for size and magnificent basketball IQ.  Reminds me of a Ben Simmons-type player with a better jump-shot at same stage.  Loves to compete and work at getting better at every opportunity.  Has come to this camp for 3 straight years (named camp MVP last 2 years).  Have not seen a more overall talented player than Baldwin in 2021 yet. Excellent student, leader and person too!  Duke, UCLA, Florida, Iowa, Wisconsin, Marquette, LSU, Minnesota, USC, Arizona State, Missouri, Northwestern, Kansas State, Wake Forest and DePaul among the many schools that have offered.  Father Patrick Sr. is the head coach of Wisconsin-Milwaukee.
Anton Brookshire 6'2″ 2021 Kickapoo (Springfield MO): Savvy lead guard has a versatile skill set and real impact on the game. Confident playmaker has a winning mentality.  Played well in Top 30 Game: 12 points, 6 rebounds, 5 assists and 2 steals. Ball is Life scout Ronnie Flores selected Brookshire as his #6 ranked player at the camp. Brookshire has offers from UNLV, Missouri State and Wisconsin-Milwaukee.
Jason Brower 6'8″ 2021 Wayland Union (Wayland MI): Physical rebounder was a regular visitor on the glass and can finish on the block.
Kobe Bufkin 6'3 2021 Grand Rapids Christian (Grand Rapids MI): Talented, athletic and smooth lefty lead guard is a potential national soph sleeper.  National scout Frank Burlison thought Bufkin was as "complete" a guard as was on display at the camp.
Ahamed Bynum 6'2″ 2021 Simeon (Chicago IL): Ultra-confident combo-guard is a scorer-supreme.  Was cooking like a Benihana chef in Top 30 Game as he exploded for 30 points (6/8 3FG) and was unstoppable from all areas on the floor.  When Bynum learns to be as adept at creating for teammates as he does for himself, he will become an even more dangerous offensive weapon.  DePaul and Illinois-Chicago has offered Bynum and I expect that list to get much longer before it gets shorter. Uncle Will Bynum played at Georgia Tech and in NBA.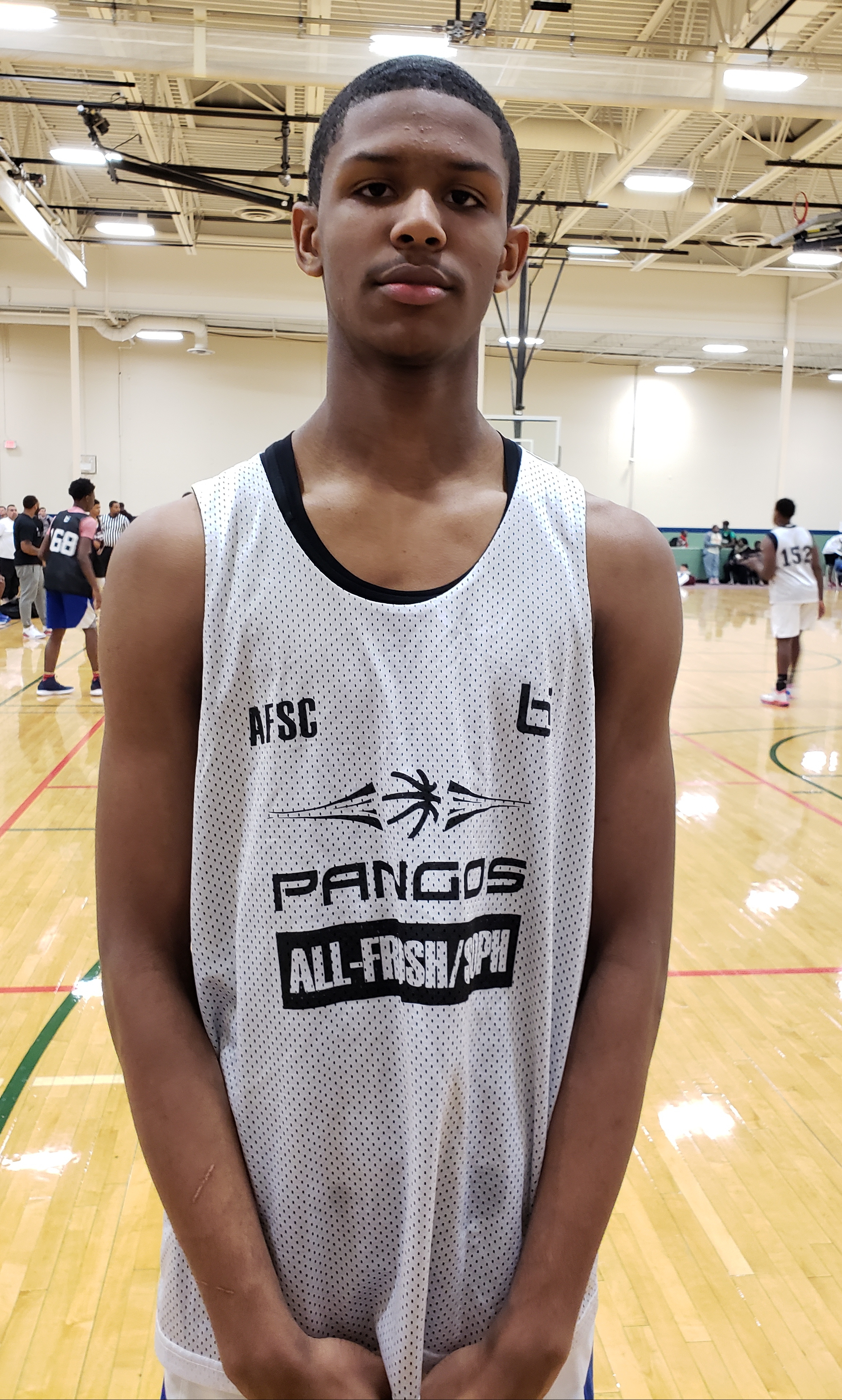 Andre "AJ" Casey 6'8″ 2022 Simeon (Chicago IL): Young, athletic forward is oozing with elite high-major potential!  Reminds me a lot of a young Ed O'Bannon (UCLA/NBA). DePaul and Tulane have already extended offers. Very good student too.
Chrishawn Christmas 6'4″ 2021 Westside (Gary IN): Athletic swingman is quick to the rim and finishes well in transition.
Chase Courbat 6'9″ 2021 Cedar Falls (Cedar Falls IA): Active and agile PF with size was a force to be reckoned with in Top 30 Game. Hoop Scoop's Clark Francis on Courbat: "has excellent post moves and a great nose for the ball, gets more than his share of rebounds, and is an excellent shot blocker."  Terrific student (3.95 GPA) had an impressive 17 points/9 rebs in Top 30 Game. Ball is Life scout Ronnie Flores pegged Courbat as his #2 ranked player at the camp.
Jaylen Drane 6'2″ 2022 Simeon (Chicago IL): Very talented point guard with elite HM potential.  Smooth ballhandler can create off the bounce for himself or teammates and utilizes his long arms well on the defensive end for steals and deflections.  Drane has good range on his jump shot as well. Left his mark on Top 30 Game with an impressive stat line: 17 points, 3 assists and 4 steals. Ball is Life scout Ronnie Flores chose Drane as his #3 ranked player at the camp.  The Simeon backout for the next few years of Drane and Ahamad Bynum is going to be a big problem for Wolverine opponents.
Michael Duax 6'5″ 2021 Hempstead (Dubuque IA): Active and assertive wing is athletic and excels attacking the hoop. Very good rebounder too (had 5 boards in Top 30 Game). Duax is also a fantastic student (4.0 GPA)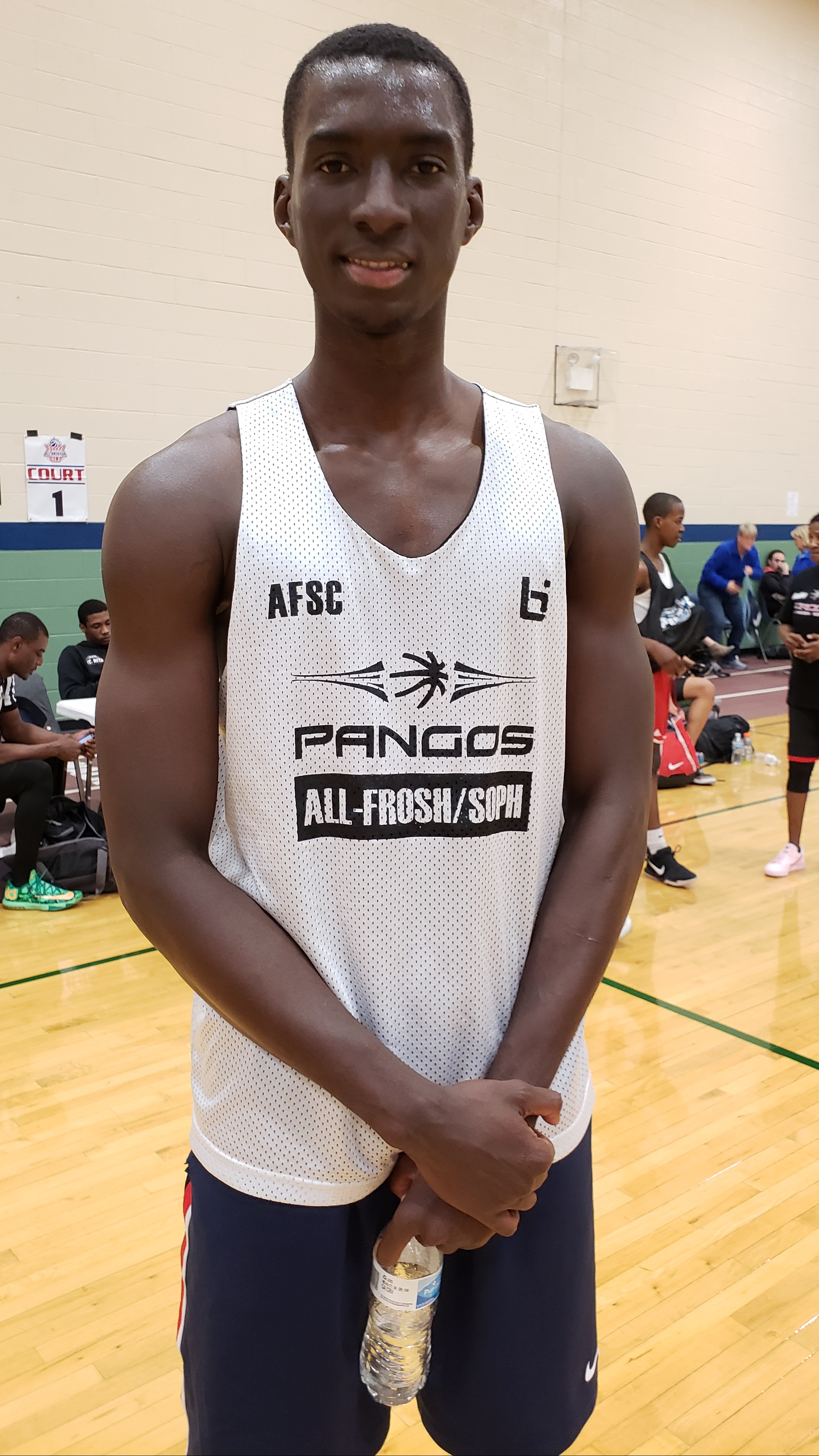 Sekou Gassama 6'10" 2021 Desmet Jesuit (St. Louis MO): Long and very improved athletic post more than held his own with camp MVP Patrick Baldwin in an opening round camp game: http://ballislife.com/meet-sekou-gassama-brings-out-best-in-21-no-1-patrick-baldwin-hes-a-pro/  Mali native has excellent high-major upside and received a recent offer from LSU.
Langdon Hatton 6'9″ 2021 North Harrison (Ramsey IN): Hardworking PF rebounds at a high clip and is a crafty scorer around the cup.
Keon Henderson 5'11" 2021 Renaissance (Detroit MI): Quick point guard is elusive off the bounce and has nice "drive & kick" ability.
Curt Hopf 6'7″ 2021 Forest Park (Ferdinand IN): Excellent student (3.9 GPA) is a physical rebounder and competes on every play,
Jadin Johnson 6'4″ 2021 Lincoln (Council Bluffs IA): Athletic wing guard with nice scoring ability.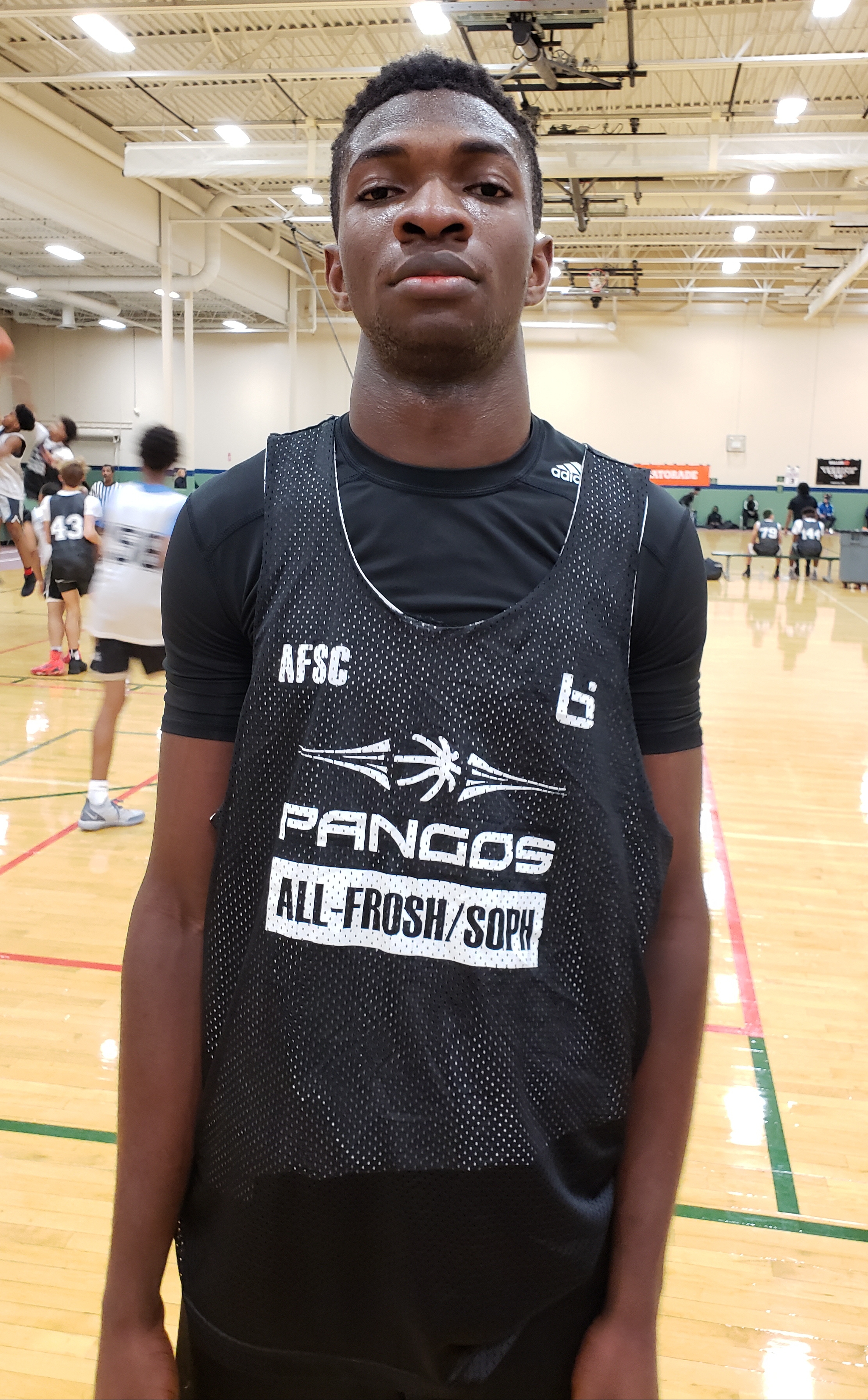 Sekou Kalle 6'10" 2021 Aspire Academy (Louisville KY): Impressive shot-blocker & rebounder is making progress on the offensive end of the floor. Finishes with authority inside. Ball is Life scout Ronnie Flores went with Kalle as his #8 ranked player at the camp. Mali native has reported offers from Western Kentucky, UCLA and Rutgers.
JR Konieczny 6'6″ 2021 St. Joseph (South Bend IN): Versatile and skilled swingman with great feel is triple-threat every time he steps on the floor.  Dangerous perimeter shooter with range is also a very good student (3.5 GPA). Did a little bit of everything (6 points, 5 rebs, 3 assists and 4 steals) in Top 30 Game.  Ball is Life scout Ronnie Flores slotted Konieczny as his #7 ranked player at the camp. Valpo (offer) among the growing number of programs recognizing his talents.
Khamari Lands 6'6″ 2022 La Lumiere (Laporte IN): Very promising young swingman is dangerous to contain when he attacks the cup in transition. High-major prospect was one of the best defenders in camp.  Lands had a respectable 7 points in Top 30 Game.
Rocco Muratori 6'11" 2021 West Lafayette (IN): Center with nice size competed well here.  Rocco has good agility and ability to finish his drives to the cup.  Solid defender and rim-protector. With additional strength, has Big-10 potential (Purdue already showing interest).  Good student too (3.3 GPA).
Grant Newell 6'6" 2021 Whitney Young (Chicago IL): Good-looking and very versatile WF is an excellent scorer as well as student (3.8 GPA). High-major prospect has an early DePaul offer.  Looks to be a priority Big 10 recruit.
Caleb Schlaak 6'6" 2021 Kennedy (Cedar Rapids IA): Very good student (3.7 GPA) is a hybrid-forward with a nice skill set.
Calvin Schmeling 6'4″ 2021 University School of Milwaukee (WI): Wing with solid size is an outstanding 3-point shooter.
Trey Shearer 5'11" 2021 Montezuma (IA): Gritty point guard knows how to run a squad and is an underrated defender.  Top-notch student too (3.96 GPA).
Tevin Smith 6'3″ 2021 Danville (IL): Athletic wing has real "slash & score" ability and is an underrated scorer from mid-range as well.  Outstanding student too (3.76 GPA).
Kaden Stork 6'4″ 2022 University (Bloomington IL): Assertive scorer with range on his jump shot.
Najashi Tolefree 6'3″ 2022 West Allis Central (West Allis WI): Wing guard has nice ball and passing skills and can get to the cup off bounce.
Leland Walker 5'10" 2022 North Central (Indianapolis IN): Athletic lead guard with very nice speed in transition that can also finish at the hoop.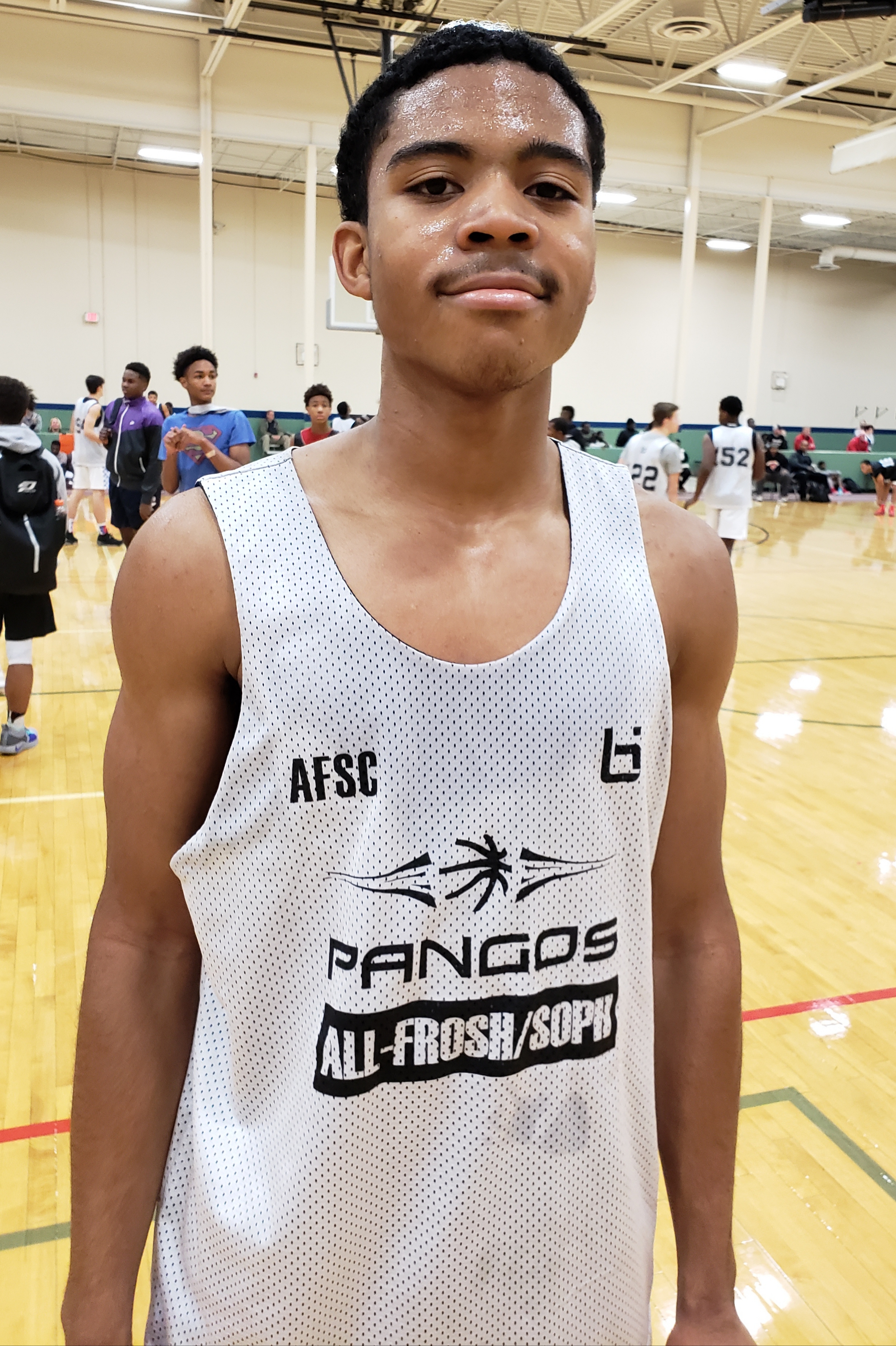 Reggie Ward 6'4″ 2021 St. Rita (Chicago IL): Impressive wing scorer looks to be a focal point for coach Gary DeCesare's Mustang offense this upcoming season.  Good student too ("B" average).
Jalen Washington 6'7″ 2022 Westside (Gary IN): Very promising hybrid-forward is athletic in transition and has emerging HM offensive skills.   Reminds me a lot of Milwaukee native Kevon Looney (UCLA/Golden State Warriors). Ball is Life scout Ronnie Flores picked Washington as his #5 ranked player at the camp.  Scored 9 points (including 1 "three") in Top 30 Game.
Brandon Weston 6'6″ 2021 Lake Forest Academy (Lake Forest IL): Powerful, explosive and strong WG can finish through contact as well as score from all areas on  the perimeter. 2nd straight year as a Top 30 Game selection.  Weston, originally from Brooklyn NY, has a UMass offer.
Players that were selected to the Top 60 Game (in alphabetical order) include:
Xavier Amos 6'4″ 2022 Whitney Young (Chicago IL)
Dylan Arnett 6'6″ 2022 DePaul College Prep (Chicago IL )
Tyane Barnes 5'9″ 2021 Grandville (MI)
Rasheed Bello 5'9″ 2021 DePaul College Prep (Chicago IL)
Cassius Brooks 5'10" 2021 Currie (Chicago IL)
Jaylen Bryson 6'8″ 2021 Centennial (Champaign IL)
Jalen Butler 6'6″ 2021 Niles North (Skokie IL)
Sterling Chapman 6'5″ 2021 Campus (Wichita KS)
Steven Clay 6'5″ 2022 Menomonee Falls (WI)
Kenyon Coates 6'2" 2021 Oak Park River Forest (Oak Park IL)
Michael Davis 5'11" 2023 Morgan Park (Chicago IL)
Kai Evans 6'2″ 2021 Montini Catholic (Lombard IL)
Jaylin Gibson 6'3″ 2021 Evanston (IL)
Jermel Grigsby 6'5″ 2021 Currie (Chicago IL)   
Sean Jones 5'9″ 2022 Lincoln (Gahanna OH)
Isaac Haney 6'0″ 2021 Dora (Dora MO)
Ashton Henderson 6'0″ 2022 University Prep (Detroit MI)
Byron Hobbs Jr. 6'3″ 2022 Hyde Park Academy (Chicago IL)  
Phillip Holmes 6'7″ 2021 Simeon (Chicago IL)
Tyrese Hunter 5'11" 2021 St. Catherine's (Racine WI)
Jadin Johnson 6'4″ 2021 Lincoln (Council Bluffs IA)
Henry Krzyzewski 6'8″ 2021 Metea Valley (Aurora IL)
Antonio Lisenbee 6'5″ 2022 Cathedral (Indianapolis IN)
Trevon Love 6'1″ 2021 Jennings (St. Louis MO)
Ben Loverude 6'4″ 2021 Des Moines Christian (Des Moines IA)
Sincere Malone 6'4″ 2021 Simeon (Chicago IL)
Brian Mathews 6'8″ 2021 DePaul College Prep (Chicago IL)
Avyion Morris 5'7″ 2022 Simeon (Chicago IL)                                                          Quinton Murrell 6'2″ 2021 Rufus King (Milwaukee WI)
Logan Phillips 6'5″ 2022 Lafayette (St. Louis MO)
Frederick Poole 6'1″ 2021 Simeon (Chicago IL)
John Poulakidas 6'5″ 2021 Neuqua Valley (Naperville IL)
Jack Pronger 6'6″ 2021 MICDS (St. Louis MO)
Landon Regnerus 6'5″ 2021 Grandville (MI)
Kanye Smith 6'5″ 2022 Whitney Young (Chicago IL)
Keon Thompson 6'0″ 2021 Merrillville (IN)
Brock Wakefield 6'2″ 2021 South Iron R-1 (Annapolis MO)
Daren Watts 6'4" 2021 Miles MacDonell Collegiate (Winnepeg CAN)
Kimahri Wilson 6'0″ 2021 Carmel Catholic (Mundelein IL)
Delon Zollicoffer-White 6'2″ 2021 Rufus King (Milwaukee WI)
There were several other players that were talented enough to play in the all-star games but not selected due to space limitations.  They also deserve recognition and are thus, denoted as "honorable mention" (in alphabetical order):

Gabe Burkle 6'6″ 2022 Prairie (Cedar Rapids IA)
Antoine Butler 5'11″ 2021 Lawrence Central (Indianapolis IN)                                      Malik Bell 6'0 2021 Oak Hill Academy (Mouth of Wilson VA)                                  Tayshawn Comer 5'10" 2022 Cathedral (Indianapolis IN)
Caleb Corro 5'11" 2021 St. Patrick (Chicago IL)
Dalen Davis 5'10" 2023 Ogden International (Chicago IL )
Terrance Donta Dawson 6'3″ 2021 Harrison (Colorado Springs CO)
Desmond Dunn 5'10" 2021 Kenwood (Chicago IL)
Matthew Enright 5'10" 2022 Webster Groves (St. Louis MO)
Gary Ford 5'10" 2021 Webster Groves (St. Louis MO)  
Rodney Fuller 6'0″ 2022 Bourbonnais (Bradley IL)
Devante Hall 5'11" 2022 Orr (Chicago IL)  
Spencer Hixson 6'5″ 2021 Des Moines Christian (Des Moines IL)
Christian Henry 6'1″ 2021 St. Rita (Chicago IL)
Caleb Horton 5'10" 2021 Kenwood Academy (Chicago IL)
Nathanael Hoskins 6'3″ 2021 Danville (Danville IL)
Dylan Ingram 6'6″ 2021 Simeon (Chicago IL)
Dylan Johnson 6'6″ 2021 Western Dubuque (Dubuque IA)
Tyler Johnson 6'0″ 2021 DePaul (Chicago IL)
Cam Lawin 5'11" 2022 Orr (Chicago IL)  
Leonte Lilly 5'9″ 2022 Orr (Chicago IL)  
James Lloyd 6'6″ 2022 Notre Dame of Niles (Niles IL)
Johnathan Massie 6'3" 2021 Atascocita (Humble TX)
Alexander Mileski 6'6" 2021 Swan Valley (Saginaw MI)
Justin Mullins 5'11 2022 St. Patrick (Chicago IL)
Aidan Shaw 6'6″ 2022 Overland Park (KS)
Donovan Sparks 6'1″ 2022 Nicolet (Glendale WI)
Parker St. Pierre 5'11" 2022 Valley View (Jonesboro AR)
Jarrett Strate-Lutzow 6'6″ 2021 Hononegah (Rockton IL)
Trayton Trice 6'5″ 2021 Romeoville (IL)