A number of the East's top prospects in the rising sophomore (2022) and freshman (2023) classes were on display recently (October 26-27) in Thorofare, NJ at the Riverwinds Center, across the Delaware River from the Philadelphia International Airport. Camp Director Dinos Trigonis hosted over 230 players from twenty-one states plus the District of Columbia at this competitive weekend event.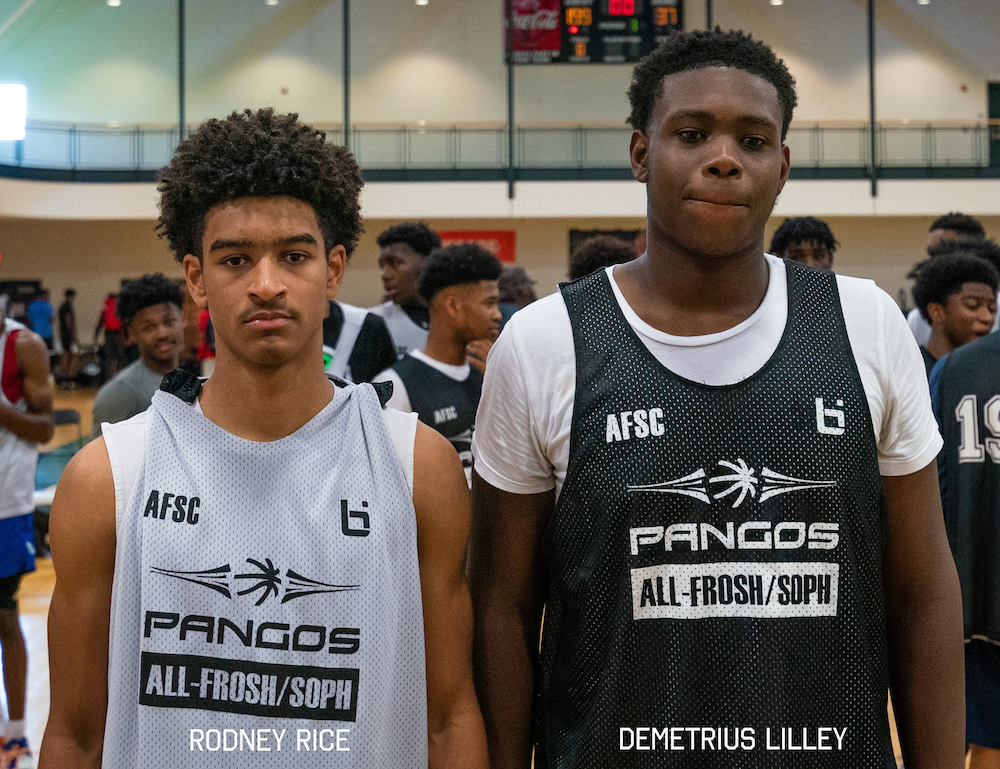 Several of the East's top young talent headed by Camp Co-MOP's 6'7" 2022 Khalif Crowley and 6'4" 2022 Roddy Gayle along with Top 30 game Co-MVP's 6'10" 2022 Demetrius Lilley and 6'4" 2022 Rodney Rice stood out over the weekend and dominated a very competitive Top 30 finale that saw the Black squad break away with a late 13-5 run to win a hard fought 94-84 victory over the White team.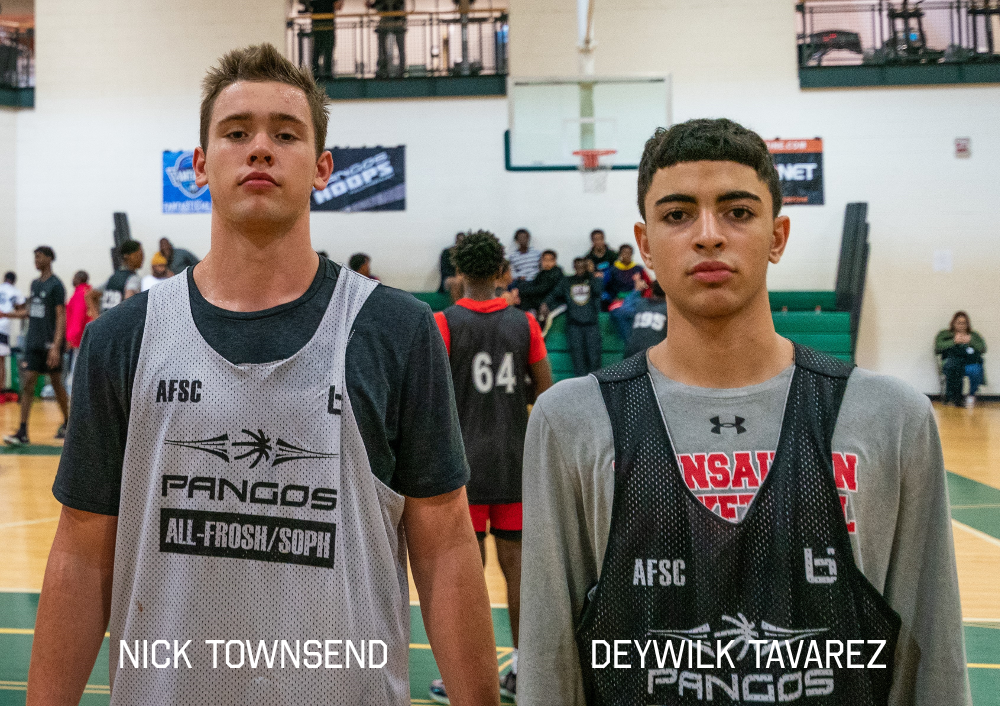 In the Top 60 game the White squad ran away in the second half to win a 117-97 victory over the Black team. 6'7" 2022 Nick Townsend and 6'0" 2022 Deywilk Tavarez were named Co-MVPs for the game as they scored 20 and 11 points for their respective squads.
As is usual out East, the wings and guards headed by Gayle Rice, 6'2 Mark Armstrong, 6'5 Shawn Simmons, 6-0 Kyle Cuffe, 6'5 Chance Westry and 6'3 Elmarko Jackson dominated the top spots in Thorofare, but some promising bigs headed by Crowley, Lilley, 6'9 Perry Smith, 6'8 Kwame Evans, 6'10 Lual Manyang and 6'8 Isaiah Earl made driving the lane tough at the All-East camp.
So, with that in mind here's a quick look at the top talent and others to watch that emerged at the 2019 Pangos All-Frosh/Soph East Camp:
VAN COLEMAN'S TOP TWENTY:
1. Roddy Gayle 6'4" 2022 Youngstown, NY (Lewiston-Porter)
He capped the weekend with an impressive 15-point performance in Top 30 game to garner Co-Camp MOP honors! He's an athletic wing that hits open jumpers from the "three" off the dribble or from the "catch and shoot." He is a good passer in transition and is willing to get on the glass and battle for boards. He also posted people up and scored with good footwork and use of the rim. He will see lots of high major coaches stopping to take a look at him this upcoming season.
2. Rodney Rice 6'4" 2022 Clinton, MD (Bullis School)
He came on strong as the weekend went on and finished it strong with a 16-point effort in the Top 30 game to share game MVP honors! He is an athletic combo-guard with good size and quickness, sees the court well and makes the right pass in transition or to the post in the half-court. He has a good jumper out to the arc, is willing to get after it on the defensive end and works on the glass from the guard spot too! Since he has improved his range and consistency over the past year, look for high majors to come calling this season.
3. Khalif Crawley 6'7" 2022 Philadelphia, PA (Imhotep Charter)
This talented and athletic forward has the tools to take it end to end, knock down jumpers from the arc or off the dribble on the drive. He showed he can rise and throw it down versus traffic in the lane too! He didn't have a huge Top 30 game scoring 5 points and grabbing 4 boards, but he dominated play on Saturday and Sunday at the Riverwinds Center! Look for him to see lots of high major interest on the circuit this coming spring.
4. Mark Armstrong 6'2" 2022 Jersey City, NJ (St. Peter's Prep)
This sneaky quick, but skilled scoring guard can knock down the three, create drives to go left or right and is a good passer who sees court well when doubled and is willing to get the ball to teammates! He can rise and throw it down too! He capped week with 12 points in the Top 30 game! He will see high majors in gym this spring!
5. Shawn Simmons 6'5" 2023 Wynnewood, PA (Friends Central)
This athletic young wing can knock down jumpers from around the arc on the "catch and shoot" or attack off the dribble and stick the mid-range jumper. He did a good job rebounding the rock out of his zone coming from the wing. He had 9 points in Top 30 game and was our top rated freshman. One that high majors need to add to their "must-see" list.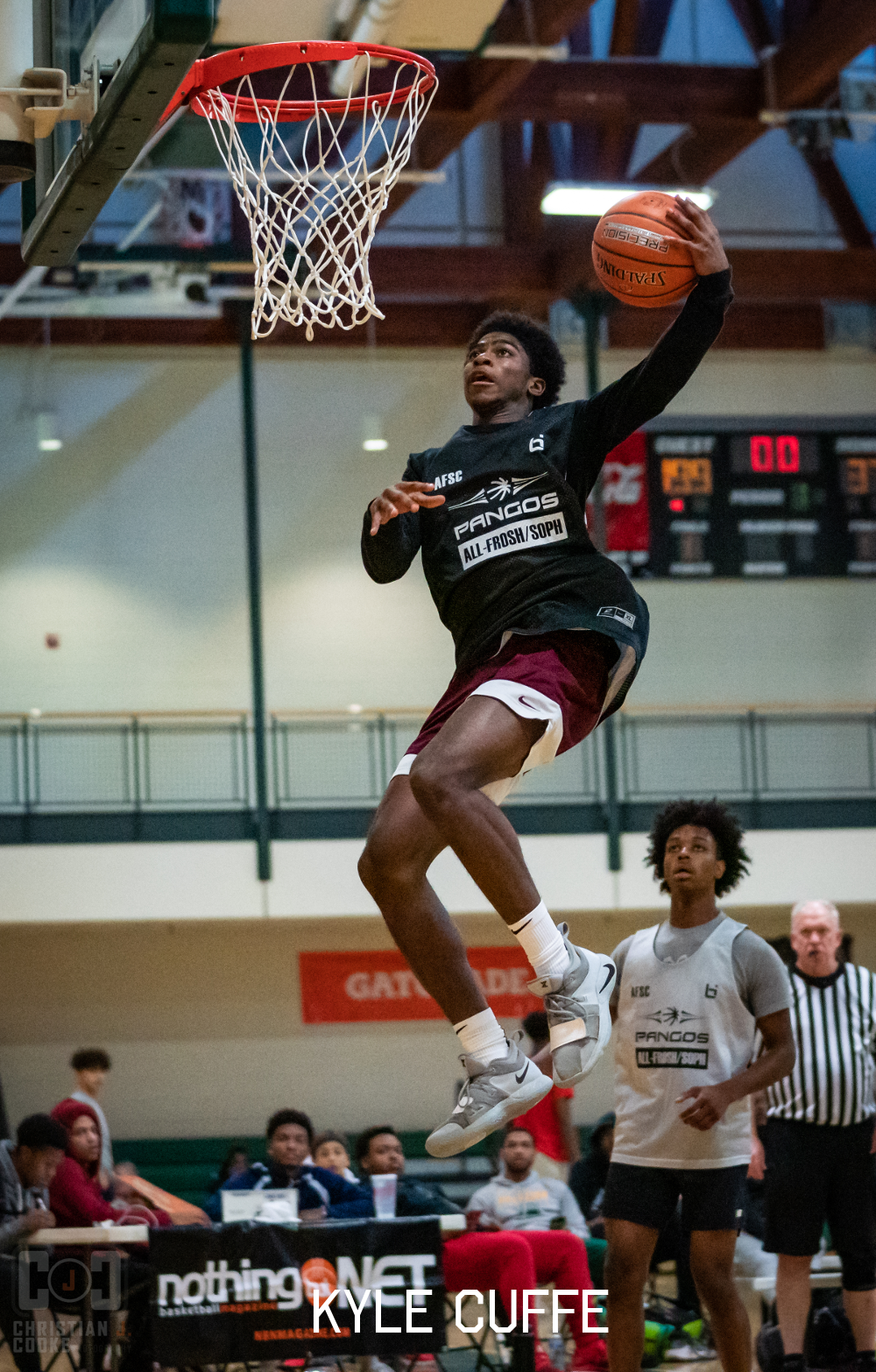 6. Kyle Cuffe 6'1" 2022 Blairstown, NJ (Blair Academy)
Athletic young combo-guard can flat out attack the hoop off the dribble and throw it down over bigs at the rim. He rebounds well and showed a solid jumper from 15-feet on the move. Finished with 10 points in Top 30 game! This two-time Top 30 game performer has the tools that will draw high-major interest.
7. Perry Smith 6'9" 2022 Greenville, SC (Legacy College)
Smith was tough on the glass in the Top 30 game scoring 9 points and grabbing 6 boards. Mobile big has excellent hands, catches in traffic and finishes through contact. He has good touch, can pop to the elbow and hit the jumper or kiss it off the glass on the turnaround. He dominated the glass with his length and nose for ball. Perry runs floor well and will be a high major target this coming spring on the circuit.
8. Chance Westry 6'5" 2022 Camp Hill, PA (Trinity)
Solid wing athlete and scorer who can knock down jumpers from beyond the arc or off dribble to set up his drive and finish. Westry has solid ball skills and is willing to get on the glass and start break too! Chance capped his weekend with a 10-point performance in the Top 30 game. He will see mid-plus to high major interest this spring!
9. Demetrius Lilley 6'10" 2022 Wynnewood, PA (Lower Merion)
Athletic big with length and bounce who can face on the elbow and attack the rim and finish with the dunk or kiss. Lilley is a solid rebounder both in and out of his zone and turns and starts break with outlet pass well. He just missed a double-double in Top 30 game, going for 8 points and 8 boards in just half a game. He will see lots of mid to high major interest. Named co-MVP of Top 30 Game.
10. Kwame Evans 6'8" 2023 Baltimore, MD (Polytechnic)
Bouncy young wing who hit jumpers off the dribble from arc on in or attacked rim and finished in traffic. Kwame has solid handle and is a good passer off the move. He has improved his range over the past year and become a more aggressive rebounder in and out of his zone! Made his second Top 30 game in a row and high majors need to note his name for the future!
11. Elmarko Jackson 6'3" 2022 Richland, NJ (St. Augustine)
Athletic and quick back court talent with combo skills who showed he can score with the jumper off the dribble from the arc or finish drives at the rim with strength. He is a good passer in transition and hits the glass to start the break. He will see mid to high major interest on the circuit!
12. Lual Manyang 6'10" 2022 Blairstown, NJ (Blair Academy)
Long and mobile big man is aggressive in the paint on both ends of the floor. Lual is a solid rebounder and shot blocker who can finish in traffic. Manyang ended his weekend with 8 points and 5 boards in the Top 30 game. He will see future mid to high major interest!
13. Tobe Awaka 6'7" 2022 Bronx, NY (Cardinal Hayes)
This active rebounder has a good nose for the ball off the glass, finishes versus contact in the paint and uses his strength to grab boards out of his zone. Tobe had a solid Top 30 game scoring 4 points and grabbing 6 rebounds.
14. Tyrell Ward 6'6" 2022 Hyattsville, MD (DeMatha)
Active and aggressive forward gets on the glass, can start the break or take it end to end and finish with the flush! Ward hit pull-up jumpers from the elbow, knocked down a couple threes and can finish drives versus contact!
15. Isaiah Earl 6'8" 2022 Lee, ME (Lee Academy)
Athletic forward is really mobile, has a real nose for the ball and can finish around the hoop with his length and bounce. Earl has the tools to "pop and face" too but needs to work on the consistency of his shot facing hoop. Look for mid to high majors to monitor his development!
16. Javoy Thompson 6'5" 2023 Bronx, NY Mt. (St. Michael's)
Athletic young wing athlete really came on as the weekend progressed, knocking down jumpers from the three-point arc and off the dribble in the mid-range. Thompson did an OK job on the glass too! Javoy finished his weekend with 4 points and 4 rebounds in the Top 30 game.
17. Elijah Duval 6'0" 2024 Newark, DE (Sue-Madill)
Young point showed an extra gear that allows him to go by opponents! Duval has range on his jumper to the 3-point arc that he uses to set up his dribble drive and is a good passer who sees the open man on penetration. One for mid-ups to monitor as he develops!
18. Judah Mintz 6'4" 2022 Washington, DC (Gonzaga)
Skilled wing with range to the arc has solid handle with good quicks that can get to rim and finish in traffic or grab rebounds and push it end to end. Mintz lit it up in Top 30 game scoring 17 points.
19. Deywilk Tavarez 6'0" 2022 Blackwood, NJ (Highland Regional)
This quick floor leader showed that he can score from the three or off the dribble drive, but he was at his best when he balanced that with the pass to teammates. He finished weekend with Co-MVP performance in the Top 60 game, finishing with 11 points in the game.
20. Corey Chesley 6'2" 2023 Olney, MD (Our Lady Good Counsel)
Solid combo-guard has ability to change speeds off the dribble, finish at the rim or "stop and pop" the 17-footer with regularity. He is a good passer in transition and will play some "D" too! Look for Mids-up to monitor his progress!
Next Ten Who Just Missed the Top Twenty: (Listed by Height)
Silas Sunday 7'0" 2022 Bronx, NY (Our Savior Lutheran)
Elijah Jones 6'8" 2022 Pleasantville, NJ (HS)
Chisolm Okpara 6'7" 2022 Saxton River, VT (Vermont Academy)
Nick Townsend 6'7" 2022 Chappaqua, NY (Horace Greeley) (Co-MVP Top 60 game)
Akil Watson 6'7" 2023 Ramsey, NJ (Don Bosco)
Sadiku Ayo 6'6" 2022 Bronx, NY (Our Savior Lutheran)
Owen Moreira 6'5" 2023 Pomfret Center, CT (Rectory School)
Dasonte Bowen 6'2″ 2022 Worcester, MA (Worcester Academy)
Dionte Johnson 6'0" 2022 Elizabeth, NJ (The Patrick School)
Jayden Epps 6'0" 2022 Suffolk, NJ (Kings Corner)
Ali Brown 5'10" 2022 Philadelphia, PA (School of the Future)
Diaper Dandies: (A couple middle schoolers to remember)
Badara Diakite 6'10" 2024 Bronx, NY (Our Savior Lutheran)
T.J. Robinson 5'9" 2024 Elizabeth, NJ (The Patrick School)
That concludes our look at the top talent at the 2019 Pangos All-Frosh/Soph East Camp. Unfortunately, we didn't list everyone that we thought had a chance to play at the scholarship level as we had just over 100 players in total with that potential based on their play while we watched them over the weekend in Thorofare, NJ.
This also concludes our Fall look at the top young players across America with over 1,400 players attending the six events we were present at since last July. We will take a quick look at our NBN Magazine 2022 rankings and make any changes we see fit as well as look at a list of the top 2023 talents we have seen that are entering high school this fall so stay tuned right here at NBNMagazine.com!