The 12th annual Pangos All-East Frosh/Soph Camp presented by Eastbay was held last month (October 26-27) at RiverWinds Center (West Deptford NJ/just across the Delaware River from Philadelphia). This event featured approximately 230 top 2022 and 2023 players (along with a few talented 2023 players) from New Jersey, Pennsylvania, New York, Delaware, Washington DC, Maryland, Virginia, Connecticut, Massachusetts, Rhode Island, New Hampshire, Ohio, West Virginia, North Carolina, South Carolina, Florida, Georgia, California, Colorado, Tennessee and Alabama.
Media/scouts on hand included Dinos Trigonis (Fullcourt Press, Pangos & Nothing But Net Magazine), Van Coleman (The Basketball Channel, Nothing But Net Magazine, McDonald's All-American Game & NBPA Camp selection committees), Frank Burlison (BurlisonOnBasketball.com, McDonald's All-American Game & NBPA selection committees), Ronnie Flores (GrassrootsHoops.net, BallisLife.com, "Fab 50" National HS Team Rankings & Mr. Basketball USA Tracker), John Stovall (ESPN.com), Andrew Slater (247Sports.com), Norm Eavenson (Middle Atlantic Recruiting Service), Chick Gillespie (Phenom Hoop Report), Chad Babel & Rob Noonan (MADE Hoops), Ron Bailey (HoyaReport.com & I95ballerz.com), Littel Vaughn (Checkball Magazine), Alexander Lorenzo (Ball is Life), Bilal Benjamin (ILuvBBall.com), Jacob Schwartz (Voice of Reason), Terrance Williams (The Miller Report), Shea Dawson & Jonathan Clark (Overtime), Ari Rosenfield (Delaware Valley Hoops Report), Calvin Griffin (All Things Hoops), Joseph Esquivel-Murphy (Prep Hoops New Jersey), Martin Soaries (Basketball Society) and Christian Cooke (CJCookePhotos.com).
BallerTV.com live-streamed all games at the event (they are also now available for replay).
The camp's top 60 players were selected by the national media present and were showcased in the two "cream of the crop" games held at the conclusion of the event. Unfortunately, there was not enough room for all of the worthy kids deserving to be in the two all-star games so I have listed those not honored as Top 30 and Top 60 selections but nonetheless impressive, as camp "honorable mention" at the end of this report. While this is a recap of the camp, please keep in mind that this is a very early look at underclass prospects that have much room for future growth and are all "unfinished" products.
Frank Burlison Recap: http://www.burlisononbasketball.com/2019/10/gayle-and-crawley-share-top-honors-at-pangos-all-east-frosh-soph-camp/
Ronnie Flores Player Rankings: http://www.grassrootshoops.net/2019/10/pangos-all-east-frosh-soph-top-60-rankings/
Van Coleman Recap: https://nbnmagazine.com/van-coleman-2019-pangos-all-east-frosh-soph-top-20-plus-prospects/
In the Top 30 Game, it was the Black team, with a 13-5 run late in 2nd half, outlasting the White squad 94-74. Overall camp co-MOP 6-5 2022 Roddy Gayle had 16 points and 6-4 2022 Judah Mintz had 17 points for the Black while teammate and Top 30 Game co-MVP 6-10 2022 Demetrius Lilley had 8 points/8 boards. The White squad was led by Top 30 Game co-MVP 6-4 2022 Rodney Rice with 16 points and 6-9 2022 Perry Smith who tied Judah Mintz with a game-high 17 points.
6-7 2022 Nick Townsend (Horace Greeley/Chappaqua NY) had a game-high 20 points to lead the White unit over the Black crew in the Top 60 Game 117-97, grabbing a share of game co-MVP honors. 6'0 2022 Deywilk Tavarez (Highland Regional/Blackwood NJ) led the Black with 11 points and excellent guard play and was also named game co-MVP.
We highlight those players selected for the Top 30 Cream of the Crop Game below.
Top 30 Cream of the Crop Game
(in alphabetical order)
Mark Armstrong 6'2" 2022 St. Peter's Prep (Jersey City NJ)
Quick lead guard can score in a wide variety of ways. Armstrong is hard to contain off the bounce and has a fast release on his jump shot. Mark has good court vision and makes wise decisions with the ball. Armstrong had 12 points in the Top 30 Game and has offers already from the likes of Seton Hall, Rutgers, Marist, Fairleigh Dickinson and Rider. Ball is Life's Ronnie Flores pegged him as his 3rd best player at the camp.
Tobe Awaka 6'7″ 2022 Cardinal Hayes (Bronx NY)
Aggressive PF rebounds well outside his area (had 6 boards in Top 30 Game) and can finish through contact. Awaka has good hands and nice ability to follow-up shots. National scout Van Coleman had him as his #13 best player at the event.
Dasonte Bowen 6'2″ 2022 Worcester Academy (MA)
Quick and shifty lead guard has plenty of scoring punch. Dasonte utilizes a nice floater in the lane, penetrates defenses well and gets after it on the defensive end. HM prospect has early offers from Georgetown, Iowa, Rutgers, UMass, Rhode Island and South Dakota.
Corey Chesley 6'2" 2023 Our Lady of Good Counsel (Olney MD)
Talented young combo-guard is crafty off the bounce and has a nice pull-up mid-range jump shot. Corey makes good decisions with the ball in transition and is a solid defender. Mid-to-high major prospect impressed Ronnie Flores (Ball is Life) enough to make his Top 10 camp list (came in at the #9 spot).
Aaron Clark 6'4″ 2022 Easton Area HS (Easton PA)
Lefty wing is an excellent slashing scorer that has a knack of drawing fouls that gets him frequent trips to the FT line. Excellent man-to-man defender and rebounder for size. Good 3-point shooter is also a fine passer.
Khalif Crawley Jr. 6'7″ 2022 Imhotep Charter (Philadelphia PA)
Well-built (250 lbs.) and very skilled PF imposed his will on defenders all camp long which earned him a share of the overall camp MOP award as voted by national scouts in attendance. Crowley is excellent finishing through contact, carves out space on the block to score and is a very good perimeter shooter with legit 3-point range. National scout Frank Burlison considers him to be a Top 20 national caliber prospect in 2022.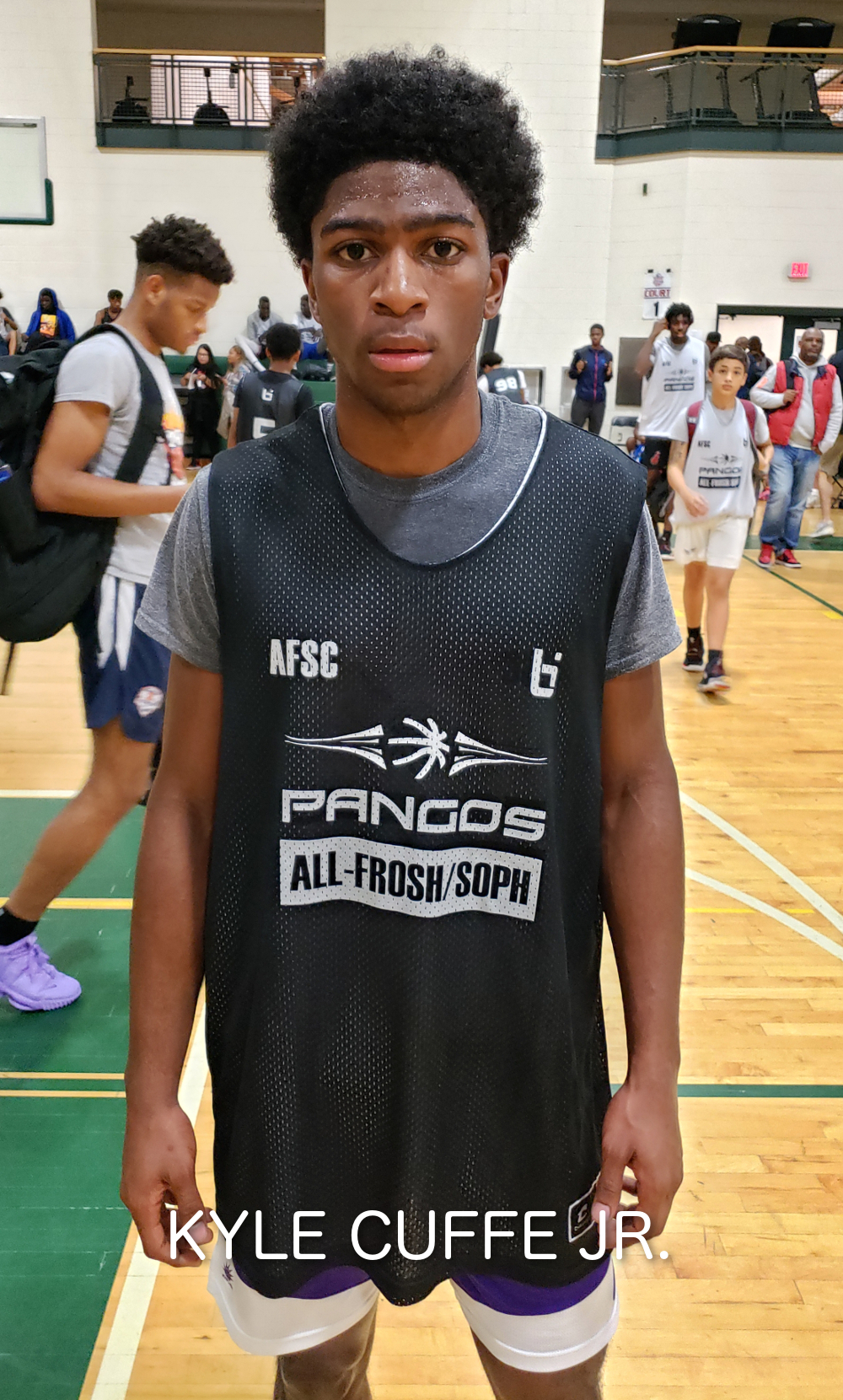 Kyle Cuffe Jr. 6'2" 2022 Blair Academy (Blairstown NJ)
Extremely bouncy lefty combo-guard with hard to stop slash and score ability. Kyle has the quickness to stay ahead of speedy ballhandlers, showed solid range on his jump shot and his HM athleticism allows him to be a very good rebounder for his size. Cuffe had 10 points in Top 30 Game and has early offers from Manhattan, Holy Cross and Stony Brook as well as interest from Syracuse. Ball is Life's Ronnie Flores ranked him as his 5th best player at the camp. Dad (6-9 Kyle Sr.) played his college ball at St. John's.
Elijah Duval 6'0" 2024 Shue-Medill (Newark DE)
Younger brother of Trevon Duval (Duke/Milwaukee Bucks) has nice ability to change gears with the ball as well as 3-point range on his perimeter shot. Very good passer has excellent upside!
Isaiah Earl 6'8″ 2022 Lee Academy (Lee ME)
Explosive PF runs floor well and is active on the glass. Isaiah has HM athletic ability, protects the rim with energy and has emerging perimeter range on his jump shot. Earl has early offers from UMass, Siena, Bryant and Quinnipiac. Camp video-highlights: https://www.youtube.com/watch?v=YbPsxfBNCV0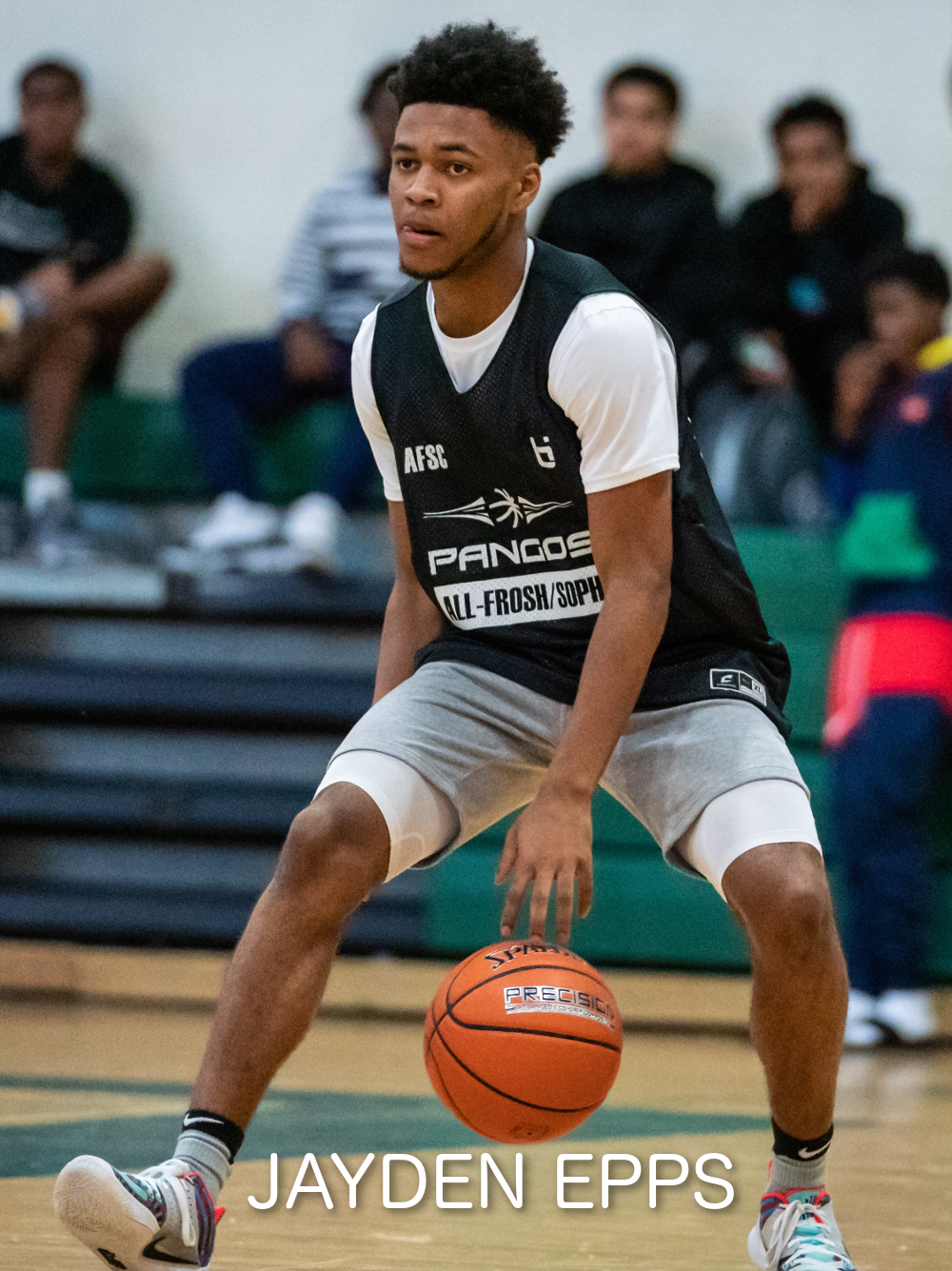 Jayden Epps 6'0" 2022 Kings Fork (Suffolk VA)
Strong lead guard with excellent scoring instincts and quickness with the ball. Epps has pesky hands on defense and offers from Texas A&M, Virginia Tech, VCU, Old Dominion, Florida, Providence and St. Louis. Plays for the legendary Boo Williams AAU program.
Kwame Evans 6'8″ 2023 Baltimore Polytechnic Institute (Baltimore MD)
Long and skilled young WF is overflowing with elite high-major potential. Evans' 3-point range was on display in Top 30 Game (had two "3s"). Kwame has early offers from Auburn, DePaul and George Washington (dad Kwame Sr. played at GW) and interest from college programs including Duke, Kentucky, Washington, Texas, North Carolina, Oregon and USC. National scout Van Coleman considered him as his #10 best player at the event.
Roddy Gayle 6'4″ 2022 Lewiston Porter (Youngstown NY)
Strong and confident WG with nice size and excellent perimeter stroke had 15 points in Top 30 Game. Gayle passes rock well in transition and displayed a very effective ability to post up smaller guards. Roddy's impressive play here resulted in well-deserved overall camp co-MVP honors. Upstate New York native is currently nationally ranked by Rivals.com (#38) and 247Sports.com (#46). Has offers from Alabama, Syracuse, Tennessee, Georgia, Oklahoma, Rutgers, Wake Forest, Buffalo, Niagara and Canisius. Both national scout Van Coleman and Ball is Life's Ronnie Flores ranked him as their #1 player at the camp.
Elmarko Jackson 6'3″ 2022 St Augustine Prep (Richland NJ)
Very athletic combo-guard has excellent penetrate and dish skills Jackson's Top 30 Game highlights include a deep 3 from the corner as well as an impressive driving dunk through the lane. Ball is Life's Ronnie Flores noted him as his 8th best player at the camp.
Dionte Johnson 6'0″ 2022 The Patrick School (Elizabeth NJ)
Very strong PG can beat defenders off the dribble with regularity and finishes with consistency in transition as well as in traffic. Johnson was recently offered by St. Peter's.
Elijah Jones 6'8″ 2022 Pleasantville (NJ)
Athletic forward with length and upside had 8 points in the Top 30 Game. Jones runs the floor extremely well and is a regular visitor on the glass. Elijah has offers from Rider, Bryant and Mississippi Valley State.
Bol Kuir 7'3″ 2022 South Charleston (WV)
Very raw center is far from a finished product but is active as a shot-blocker and rebounder and runs floor well. Kuir has impressive length which makes him a must-track prospect in soph class by mid-to-high majors.
Demetrius Lilley 6'10" 2022 Lower Merion (Wynnewood PA)
Big and burly post-man scores easy versus contact down low and is a physical force on the glass. Philly-area prospect has impressive footwork in the paint, displayed a very nifty jump hook and is an underrated perimeter shooter as well as passer out of the post. Lilley nearly had a double-double (8 points/8 rebs) in the Top 30 Game and was named game co-MVP (along with Rodney Rice). Demetrius has an early offer from Texas A&M and interest from Maryland.
Lual Manyang 6'10" 2022 Blair Academy (Blairstown NJ)
Very long center plays hard on both ends and is a formidable rim-protector and rebounder. Manyang had 8 points/5 rebounds in Top 30 Game.
Mackenzie Mgbako 6'7″ 2023 Gill St.Bernard's (Gladstone NY)
Long and agile young PF shoots with range and does a good job finding open man with the pass. Excellent defender has an early offer from Bryant.
Judah Mintz 6'4″ 2022 Gonzaga College HS (Washington DC)
High-scoring wing had a game-high 17 points in Top 30 Game for winning squad. Underrated defender made key stops here and was very explosive to the rim. Looks to be a key contributor for Steve Turner at Gonzaga HS this season. Mintz has a recent offer from Georgetown to add to his previous Wake Forest and George Mason offers.
Owen Moreira 6'5″ 2023 Rectory School (Pomfret Center CT)
Skilled guard with size, impressive handle and quick 1st step off the bounce. Expressions Elite player has a bright future.
Preston Murphy Jr. 6'0" 2022 St. Andrews (Barrington RI)
Talented PG is a great passer that pushes rock very well in transition and is a solid defender. Preston is currently ranked #67 nationally by 247Sports.com and has offers from UNLV, Buffalo, UMass and Rhode Island and interest from Iowa and Penn State.
Chisom Okpara 6'7″ 2022 Vermont Academy (Saxtons River VT)
Rugged forward is active on the glass and can score on slashing drives to the hoop despite physical contact. Okpara also has a nice shooting touch from the perimeter. NYC native is a very good student (3.6 GPA) with an early offer from Yale.
Rodney Rice 6'4" 2022 Bullis School (Clinton MD)
Smooth and athletic SG with accurate 3-point stroke was on fire in Top 30 Game, connecting for a team-high 16 points. This impressive shooting display earned him Top 30 Game co-MVP honors. Rodney's several offers include Georgetown, Providence, Seton Hall, Illinois, Virginia Tech, Penn State, Rhode Island Wyoming, Howard and IUPUI. National scout Van Coleman considered him as the #2 best player at the event.
Shawn Simmons 6'5″ 2023 Friends Central (Wynnewood PA)
Silky smooth young swingman has the potential to play at the highest D1 level. Simmons is capable of scoring at a high clip either off the slash to the cup as well as facing up from the perimeter. Rangy defender is also a solid rebounder. Top 25 caliber national 2023 prospect has early offers from Villanova, Temple and La Salle and is drawing attention from Syracuse and Maryland. Ball is Life's Ronnie Flores pegged him as his 2nd best player at the camp.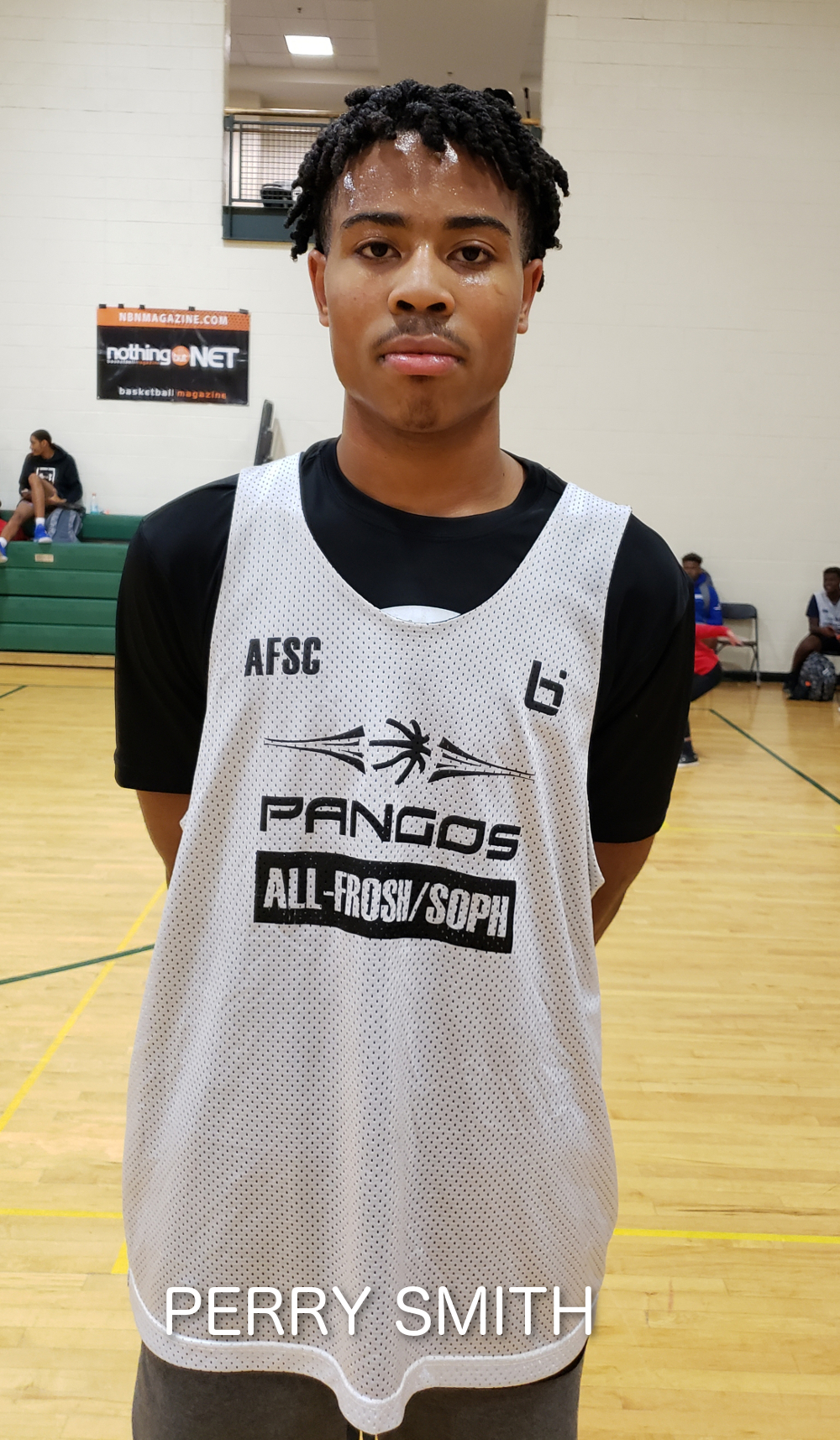 Perry Smith Jr. 6'9″ 2022 Legacy Early College (Greenville SC)
Mobile and assertive PF is active on the glass and a consistent scorer on the block. Perry also has a very nice touch on his perimeter shot. Smith had an impressive 17 points in Top 30 Game and has offers from TCU, LSU, Nebraska and DePaul. Top 50 caliber national 2022 prospect. Ball is Life's Ronnie Flores slotted him as his 7th best player at the camp.
Javoy Thompson 6'5″ 2023 Mount Saint Michael (Bronx NY)
Very athletic young swingman is a legit HM prospect with ability to get to the cup and finish off the bounce as well as knock down opportunity 3-point shots. Javoy has the physical tools to develop into an excellent defender as well as rebounder. Projects to be a future top Big East/ACC target.
Joseph Udoh 6'10" 2022 Sissonville (WV)
Long but raw shot-blocker and rebounder is just scratching the surface of his immense potential. Moves well in transition and can finish around the cup with authority. One for Mids-on-up to track. Reminds national scout Frank Burlison of a young Mady Sissoko (Wasatch Academy UT/Michigan State signee).
Tyrell Ward 6'6″ 2022 DeMatha Catholic (Hyattsville MD)
Agile WF plays with confidence and thrives in transition where he has great ability to finish with a bang. Smooth perimeter shooter with range/accuracy and solid defender has an early offer from Providence. Ball is Life's Ronnie Flores pegged him as his 10th best player at the camp.
Akil Watson 6'7″ 2023 Don Bosco (Ramsey NJ)
Thin young post is a good rebounder with nice offensive footwork in the paint and a decent jump shot. National scout Frank Burlison had him in his Top 10 freshmen at the camp.
Chance Westry 6'5″ 2022 Trinity (Camp Hill PA)
Talented WG with innate scoring skills is already well regarded nationally by Rivals.com (#27) and 247Sports.com (#35). Chance has deep range on his jump shot, drives smoothly to the rim and is a rangy defender. Had 10 points in the Top 30 Game. As a HS freshman, Westry poured in 40 points (13/26 FG; 4/6 3FG) in the PIAA Class 3A Championship game against Lincoln Park (Midland PA). Chance's plethora of offers includes Michigan, Florida, Georgetown, Syracuse, Georgia, Maryland, Penn State, Virginia Tech, Temple, VCU and DePaul. National scout Frank Burlison had him in his overall Top 10 at this camp.
Simeon Wilcher 6'3″ 2023 Roselle Catholic (Roselle NJ)
Smooth lead guard is a nice passer that utilizes a great cross-over dribble in the open court and can finish with his left (off) hand. Simeon has early offers from Auburn, Xavier and St. John's. National scout Frank Burlison had in his Top 10 freshmen at the camp.
Vindell Witherspoon 6'7″ 2022 Carolina Basketball Academy (Elizabeth City NC)
Bronx NY native has nice 3-point range and high-major athleticism. Solid defender and rebounder too.
Players that were selected to the Top 60 Game (in alphabetical order) include:
Aidan Anderson 6'2" 2022 Lenape (Medford NJ)
Ja'Mari Arnold 5'10" 2023 Columbia (Huntsville AL)
Sadiku Ayo 6'6″ 2022 Our Savior Lutheran (Bronx NY)
Jeremiah Bembry 6'6″ 2022 Point Pleasant Beach (NJ)
Gabriel Beny-Till 6'10" 2022 South Charleston (WV)
Noah Best 6'4″ 2022 Mt. Saint Michael (Bronx NY)
Taylor Bowen 6'7″ 2023 St George's School (Middletown RI)
Ali Brown 5'10 2022 School Of The Future (Philadelphia PA)
Julian Brown 6'1″ 2022 Bergen Catholic (Oradell NJ)
Caleb Bryant 6'7" 2023 LaSalle College HS (Philadelphia PA)
Precise Clarke 6'7″ 2023 South Shore (Brooklyn NY)
Badara Diakite 6'10" 2024 Redemption Christian (Troy NY)
Jarrett Dingle 6'1″ 2023 The Academy (Hempstead NY)
Tarique Foster 6'8″ 2022 Cardinal Hayes (Bronx NY)
Daniel Gospodinov 6'10" 2022 West Catholic Prep (Philadelphia PA)
Jonathan Guerrier 6'3″ 2023 Cushing Academy (Ashburnham MA)
Christian Jones 6'4″ 2023 St Thomas More (Oakdale CT)
Kyle Jones Jr. 6'2" 2023 Creekside (Jonesboro GA)
Alex Ings 6'0″ 2023 Conwell Egan (Philadelphia PA)
Donovan Long 6'6″ 2022 Marist (Bayonne NJ)
Carson Mastin 6'3″ 2023 The Haverford School (PA)
Jonathan Medley 6'1″" 2022 St. Francis Prep (New York NY)
Justin Monden 5'9″ 2022 Heritage (Wake Forest NC)
Ahmir Moore 5'11" 2023 St. Raymond (Bronx NY)
James Moore 6'7" 2023 John Harris (Harrisburg PA)
Will Norman 6'6″ 2023 Roman Catholic (Philadelphia PA)
Jah'Kim Payne 6'3″ 2022 Creekside (Fairburn GA)
Jayden Pierre 6'1″ 2022 Elizabeth (NJ)
Ethan Pires 6'4″ 2022 The Pennington School (Pennington NJ)
Saivon Pressley 6'1 2022 Wardlaw Hartridge (Edison NJ)
Tra'shawn Reynolds 6'1″ 2022 Acad for Scholarship & Entrepreneurship (Bronx NY)
TJ Robinson 5'8″ 2024 The Patrick School (Elizabeth NJ)
Kalik Sharpe 6'3″ 2023 Archbishop Molloy (Briarwood NY)
Tajuan Simpkins 6'3″ 2022 Benjamin Banneker Academy (Brooklyn NY)
Takai Simpkins 6'3″ 2022 Benjamin Banneker Academy (Brooklyn NY)
Daniel Skillings 6'5″ 2022 St Joseph (Hammonton NJ)
Dominic Strother 6'9″ 2022 Central (Woodstock VA)
Silas Sunday 7'0" 2022 Our Savior Lutheran (Bronx NY)
Deywilk Tavarez 6'0" 2022 Highland Regional (Blackwood NJ)
Justin Taylor 6'5″ 2022 St. Anne's Belfield School (Charlottesville VA)
Nick Townsend 6'7″ 2022 Horace Greeley (Chappaqua NY)
Joel Turay 6'7″ 2022 John Carroll School (Bel Air MD)
Daniel Vessey 6'2" 2022 Hun School of Princeton (Princeton NJ)
There were several other players that were talented enough to play in the all-star games but not selected due to space limitations. They also deserve recognition and are thus, denoted as "honorable mention" (in alphabetical order): 5'10" 2022 Carlos Alexander (St. Frances Academy/Baltimore MD), 6'0" 2025 Markell Alston (Growing Up Green MS/New York NY), 6'8" 2023 Ryder Andersen (The Rectory/Pomfrey CT), 5'11" 2022 Dan Anderson (Christian Brothers Academy/Syracuse NY), 5'9" 2022 Jaden Arline (Paul VI/Haddonfield NJ), 6'8" 2022 Reed Bailey (Lawrence Academy/Groton MA), 6'3" 2022 Jacob Beccles (Constitution/Philadelphia PA), 5'11" 2022 Cam'Ron Brown (Archbishop Bishop Carroll/Washington DC), 6'3" 2023 Izaah Cannon (McKinley Technology/Washington DC), 6'1" 2023 Sean Clark (Mount Saint Joseph/Baltimore MD), 6'4" 2022 Desmond Claude (St Thomas More/Oakdale CT), 6'5" 2023 Jireej Cole (St. Raymond's/Bronx NY), 6'4" 2022 Justin Covington (St Luke's/New Canaan CT), 6'6" 2023 Nasir Cunningham (St. Benedict/Newark NJ), 6'2" 2022 Silas Demary Jr. (Millbrook/Raleigh NC), 6'8" 2023 Raijon Dispensa (The Haverford School/Haverford PA), 6'0" 2022 Matthew Dome (Lansdale Catholic/Lansdale PA), 6'2" 2022 Calvin Fowler (Life Center Academy/Burlington NJ), 6'6" 2022 William Franks (The Collegiate School/New York NY), 6'2" 2022 Sean Hargrow (Doane Academy/Burlington NJ), 6'2" 2022 Jaxon Hartman (Wilson Memorial/Fishersville VA), 6'7" 2022 Justin Hawkins (Life Center Academy/Burlington NJ), 5'10" 2022 Jonathan Inozil (New Heights Charter/Brockton MA), 6'5" 2022 Cortez Johnson Jr. (Loch Raven/Towson MD), 5'9" 2022 Matthew Johnson (Germantown Friends School/Philadelphia PA), 6'6" 2022 Christian Kirkland (Roman Catholic (Philadelphia PA), 6'3" 2023 Jahnathan Lamothe (St. Frances Academy/Baltimore MD), 6'4" 2022 Aleem Lee (High School of the Future/Philadelphia PA), 6'2" 2023 Andrew Mayock (Greens Farm Academy/Westport CT), 6'1" 2022 Trent Middleton Jr. (Bishop McDevitt/Wyncote PA), 5'11" 2023 Amani Ndegwa-Brown (Haverford School/Haverford PA), 6'6" 2022 Emmanuel Obiora (Archbishop Molloy/Briarwood NY), 6'1" 2022 Kanye Paxton (Cherry Hill West (Cherry Hill NJ), 6'4" 2023 Terrell Pitts (Bishop McDevitt/Wyncote PA), 5'10" 2022 CJ Riley (Wings Academy/Bronx NY), 6'3" 2023 Desmond Roberts (Virginia Episcopal School/Lynchburg VA), 6'3" 2022 Jaquan Sanders (Our Savior Lutheran/Bronx NY), 5'10" 2022 Jacob Santiago (Pine Bush/NY), 6'2" 2022 Byron Smith (Glen Burnie/MD), 6'0" 2023 Jaaden Simpkins (Thayer Academy/Braintree MA), 6'7" 2022 David Solomon (Lake Braddock Secondary/Burke VA), 6'6" 2022 Garvin Sween (Glenelg Country School/Ellicott City MD), 6'2" 2023 Archer Vansickle (Regis Jesuit/Aurora CO), 6'2" 2023 Misha Vedishchev (The Patrick School/Elizabeth NJ), 6'2" 2023 Chris Venturoso (Point Pleasant Beach/NJ), 5'7" 2022 Darrell Victory (Cardinal Hayes/Bronx NY), 6'7" 2024 Tarik Watson (Westbrook MS/Paramus NJ), 5'10" 2023 Chris White Jr. (IMG Academy/Bradenton FL), 6'5" 2023 Brandon Williams (Christ The King/Middle Village NY), 6'7" 2022 Maliek Williams (St. Edward/Lakewood OH), 6'3" 2023 Michael Williams III (Calvert Hall High School/Towson MD) and 6'5" 2023 Bryson Wilson (Maret School/Washington DC)