By Dinos Trigonis, Nothing But Net Magazine Publisher & Editor-in-Chief
The 15th annual Pangos All-American Camp was successfully held earlier this summer, back on June 2-4, 2017 at Cerritos College in Norwalk (CA), and Dave Miller (former NBA and NCAA assistant) was again on hand to conduct the camp skills sessions and agility, also explosiveness expert Sid Sharma (Explosive Athletes Institute) led campers through physical conditioning drills.
A large contingent of national/regional media and scouts, as well college team web sites from across the country, attended the event, including national outlets like 247Sports/CBS Sports (Jerry Meyer and Andrew Slater), Rivals/Yahoo Sports (Corey Evans), Fox Sports (Doug Gottlieb and Aaron Torres) and Scout.com (Josh Gershon).
Also on hand were veteran scouts/media such as Van Coleman (The Basketball Channel, Nothing But Net Magazine, McDonald's All-American Game voter), Brick Oettinger (ACC Journal, McDonald's All-American Game voter), Clark Francis (Hoop Scoop, McDonald's All-American Game voter), Frank Burlison (BurlisonOnBasketball.com, McDonald's All-American Game voter), Ronnie Flores (GrassrootsHoops.net, Ball is Life), Chris Lawlor (Blue Star Media, McDonald's All-American Game voter), Dain Ervin (BIL Reports), Jonathan Givony & Mike Schmitz (DraftExpress.com), Dave Keefer (California Preps), Etop Udo-Ema (Fullcourt Press, The Dunk News), Matt Rodriguez and Arek Kissoyan (BallisLife.com), Chris Poopola & Jerina Madayag (Premier Ball), Chad Groth (AreaCodesBasketball.com), Devin Ugland (HoopsbyUgland.com), Sean Moran (Inside Carolina), Ryan Currie (Home Team Hoops), Littel Vaughn (Check Ball Magazine), Steven Barnhart (HardwoodHoopsCentral.com), Aaron Burgin (Full-time Hoops), Ladell Hill (Mid-Major Hoops Report), Gregg Rosenberg (Arizona Rivals) and many, many others.
Photographers present included Nick Koza (SportsAmp.com), Scott Kurtz (Kurtz Photo), Cassy Athena (cassyathena.com) and Brian Rothmuller (ICON Sports Media). Ball Is Life, Courtside Films, Home Town Hoops, Qwik11 Scholar Sports, BallerVisions, Overtime and Hoop Diamonds were also present shooting tons of video highlights. Baller.tv live-streamed every camp game in its entirety (all are still available for re-play) and Ball Is Life broadcast the Cream of the Crop Top 30 Game live on Facebook Live.
Additionally, Pac-12 officials Bruce Hicks and Frank Harvey held their annual Hicks/Harvey Officials Clinic in conjunction with the camp which resulted in a first-class effort by the three-person crews that worked the games.
Elite 2019 prospects Charles Bassey and Cole Anthony were deemed by the media/scouts in attendance as the most impressive players at this year's camp and were name camp co-MOPs, joining Cliff Alexander (Kansas/NBA) as the only underclassmen to be named MOPs in the 15-year history of the camp.
In the Cream of the Crop Top 30 Game, it was Team Westbrook beating Team Harden 103-91 as Anthony (15 points), Bassey (12 points on 6/7 FG and 9 boards) and game co-MVP Reggie Perry (9 points, 4 steals and countless defensive stops) proved to be too much for Team Harden. Team Harden was led by game co-MVP Moses Brown's game-high 17 points and 10 points a piece from Jules Bernard and Kofi Cockburn. Full-length game footage was broadcast by Ball Is Life (click on link).
In the Cream of the Crop Top 60 Game, it was P.J. Fuller going 8/8 from the field en route to 20 points and Tre Mann adding 20 points of his own to lead Team Jennings to a 121-92 win over Team DeRozan. Great video highlights were provided by Highlight Sports Productions (click on link).
In this report we will highlight the players that were chosen to the Cream of the Crop Top 30 Game as well as list those selected by the media/scouts to the Cream of the Crop Top 60 Game. Unfortunately, there was not enough room for all of the worthy kids deserving to be in the two all-star games so I have listed those not honored as Top 30 and Top 60 selections but nonetheless impressive, as camp All-American Camp Honorable Mention at the end of this report.
CREAM OF THE CROP TOP 30 GAME SELECTIONS (alphabetical order)
Precious Achiuwa, 6'7", 2019, Our Savior of Lutheran (Bronx, NY): Utra-athletic WF with great length has a Trevor Ariza-type game. Early list for Precious includes Kansas, St. John's, Minnesota, Miss State, Pittsburgh and Ohio State. Monster flush over 7-2 Bol Bol was one of the highlights of this year's camp (click on link).
Cole Anthony, 6'2", 2019, Archbishop Molloy (Briarwood, NY): Anthony has quickly established himself as the premier PG in the 2019 class. Cole has the complete package of basketball IQ & instincts, scoring and passing ability, athleticism, confidence, competitive fire and the burning desire to be great. No matter where he laces them up – Pangos AA Camp, Nike EYBL, NBPA Camp or Adidas Nations – Cole plays to win and does it in an impactful way on both ends of the court. Son of UNLV great and NBA guard Greg Anthony will be a top priority for programs like Kansas, Duke, Kentucky, Georgetown, UCLA, Oregon and Villanova.
Eric Ayala, 6'4", 2018, Putnam Science Academy (Putnam, CT): Crafty high-octane scorer can put points on the board in a hurry. Eric has the strength to finish through contact and is a tough competitor. Ayala has offers from Ohio State, UConn, Pittsburgh, Illinois, LSU, Indiana, UNLV and Oregon.
Charles Bassey, 6'10", 2019, St. Anthony (San Antonio, TX): Bassey doesn't engage in much talking while he is on the floor. He just lets his play do all the talking. I love his blue-collar approach and he is a dependable force on both ends of the court. Bassey finishes with authority in the paint and is also a beast on the boards as well as a formidable rim-protector. Bassey not only led his camp team to a perfect 4-0 record, his impressive play was rewarded by media/scouts present naming him co-MOP (along with Cole Anthony) of the event. Schools reported in play for NBN's #1 2019 prospect include Kentucky, Kansas, Texas, UCLA, LSU, Baylor, Texas A&M and Oklahoma.
Riley Battin, 6'8", 2018, Oak Park (Oak Park, CA): Battin is one of the nation's most underrated prospects by national scouts. Not very athletic or quick, Riley does have excellent footwork and scoring instincts on the block as well as nice face-up mid-range ability. Dependable rebounder is drawing tons of MM-HM recruiting attention with Utah, Colorado, Ohio State, Vanderbilt, Davidson, Northwestern and Clemson among his many offers. Excellent student.
Darius Bazley, 6'8", 2018, Princeton (Cincinnati, OH): Unique and very versatile scoring forward, Bazley is a real problem for opposing defenses. Syracuse-bound WF causes match-up headaches everywhere in the half-court and is adept at using his length and skill to produce buckets. One of the most intriguing long-term NBA prospects in his class.
Jules Bernard, 6'7", 2018, Windward (Los Angeles, CA): Swiss-Army knife swingman is an assertive offensive player that competes on every play. Excellent student is a dangerous slashing scorer with a nice mid-range pull-up jump shot. Bernard was terrific here and his impressive and consistent play had him in contention for overall camp MOP honors. Bernard just released a Top 10 list that includes UCLA, Stanford, Oklahoma, Kansas, Oregon, USC, Arizona State, Georgetown, Miami FL and UNLV.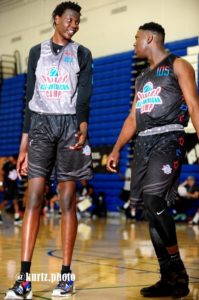 Bol Bol, 7'2", 2018, Mater Dei (Santa Ana, CA): Son of the late great Manute Bol is much more than just a long shot-blocker and rim-protector. Bol Bol has exceptional shooting touch and range for his size and is just a consistent motor and few pounds of muscle away from being a special player on the HM and NBA levels. Was fantastic in the Nike EYBL in the spring – earning league MVP honors. Arizona, UCLA, Kentucky, Kansas, Oregon, USC and Auburn among the serious contenders here.
Moses Brown, 7'1", 2018, Archbishop Molloy (Briarwood, NY): Like Bol Bol, Moses is one of the premier skyscrapers in the 2018 class that is evolving into a potential dominant player on the NCAA D-I level. While still a work in progress on the offensive end, Brown was assertive and effective in the Top 30 Game – scoring a game-high 17 points. Huge herd of schools eager to get his signature on a letter of intent next November include Kentucky, Arizona, Kansas, UConn, UCLA, USC, Florida, St. John's, Michigan, Maryland, Louisville and Minnesota.
Jalen Carey, 6'3", 2018, Immaculate Conception (Montclair, NJ): Jalen is a crafty and confident WG that can get buckets and is a very underrated athlete that can finish at the rim in traffic. Carey just recently narrowed his list of schools to six: Villanova, Kansas, UConn, Rutgers, Miami FL and Syracuse.
Kofi Cockburn, 6'10", 2019, Christ the King (Queens, NY): Massive rising junior post-man plays with great physicality and force as Top 10 2018 Bol Bol found out during their matchup at this camp. Kofi has real scoring ability on the block and played well in the Top 30 Game (10 points/5 rebounds). UCLA, Auburn, Cal, Indiana, Georgetown, Oregon, Miami FL, Pittsburth and Illinois are among his recent offers.
Darius Days, 6'7", 2018, The Rock School (Gainesville, FL): Strong and physical PF can score on the block and is a factor on the glass. North Carolina, Indiana, Florida State, Louisville, Ohio State, LSU and Kansas are among his recent offers.
Samba Diallo, 6'7", 2018, Pope John XIII (Sparta, NJ): National sleeper played well here and followed up with a strong July. Rivals.com's Eric Bossi calls Diallo "a long and athletic wing who is fluid with the ball." Rutgers, Seton Hall, UMass, St. Bonaventure, West Virginia, Virginia Tech and Cal State Northridge among those showing interest for this Senegal native.
Ayo Dosunmu, 6'4", 2018, Morgan Park (Chicago, IL): High-scoring combo-guard can put up numbers in a wide-variety of ways. Illinois' top 2018 prospect has Illinois, Kansas, USC, UConn, Ohio State, Butler, Cincinnati, Memphis, Wake Forest and Boston College in full pursuit.
Devon Dotson, 6'2", 2018, Providence Day (Charlotte, NC): Smooth PG with a terrific feel for the game has excellent ability to score as well as facilitate for teammates. Just recently took an official visit to Arizona with others like Kansas, Maryland, Florida, Miami FL and Ohio State heavy in the mix.
Antwann Jones, 6'5", 2018, Oak Ridge (Orlando, FL): Big WG has excellent slashing scoring ability and uses his size/strength to also be a factor on the glass. LSU, Rutgers, South Carolina, Georgia and Memphis are some of the schools very interested in his future services.
Tevian Jones, 6'6", 2018, Chandler (Chandler, AZ): Slithering swingman is quick in transition and attacks the basket with authority. As his jump shot continues to become consistent, his HM value will continue to increase. Cal, San Diego State, UC-Santa Barbara, Nevada, UNLV and Grand Canyon among those involved.
Donatas Kupsas, 6'9", 2018, Long Island Lutheran (Brookville, NY): Crafty stretch PF can score both in the paint as well as out on the perimeter. Proved he could consistently score against HM athletic defenders here. Strong play here earned him a spot in Top 30 Game. Richmond, UC-Santa Barbara, Ole Miss, Iona, Seton Hall and Hofstra among those recognizing his D1 value.
Vincent Lee, 6'8", 2018, Midlothian (Midlothian, TX): Lee was an "under the radar" national prospect coming into this camp and did not waste this opportunity to make a HM statement as an energy rebounder and opportunistic low-post scorer. This camp and a strong July catapulted him into garnering serious interest from the likes of Iowa State, Virginia Tech, Georgetown, San Diego State, Oklahoma, TCU, Nevada, Old Dominion and BYU.
Luther Muhammad, 6'3", 2018, Hudson Catholic (Hudson, NJ): Strong and confident guard makes plays on both ends and has the toughness and motor to a valuable addition to any high-major program. Luther was outstanding all camp long and topped off his play here with a very nice effort of 10 points/4 assists/3 rebs in the Top 30 Game. Final five schools for Luther include Xavier, St. John's Virginia, Ohio State and West Virginia.
Miles Norris, 6'9", 2018, Helix (San Diego, CA): Human pogo-stick with very underrated perimeter jump shot has tremendous potential to be a force at the next level (has committed to Oregon) and beyond.
Bryan Penn-Johnson, 6'11", 2018, Coronado (Henderson, NV): Very long center/power-forward used this camp as the stage to display his immense potential. Bryan's strong camp performance prompted Rivals.com's Corey Evans to proclaim that Penn-Johnson "might be the nation's top sleeper heading into his senior summer," he said. Washington and Utah have been on BPJ for a long time and since this camp others jumping into the fray include Kansas, Arizona, UCLA, Wichita State and Kentucky. Planning to attend Wasatch Academy (Mt. Pleasant UT) for his senior season.
Will Richardson, 6'4", 2018, Liberty County (Hinesville, GA): Jalen Rose-type lead guard has great ability to drive into the paint and kick to open teammates. Will was also outstanding at the Las Vegas Fab 48 in July. Alabama, Georgia, Auburn, Arizona State and Georgia Tech among those that have offered.
Anferne Simons, 6'4", 2018, Edgewater (Orlando, FL): Louisville-bound lead guard is a very talented player that has excellent ball skills and ability to score anywhere in the half-court. Excellent size, good court vision and terrific off the bounce skills make him a valuable future asset to Rick Pitino's Cardinals program.
Charles Smith IV, 6'5", 2019, La Lumiere (La Porte, IN): Houston TX native is an emerging name in 2019. Built strong, Charles can finish through contact as well as hurt defenses with his accurate perimeter range. Will attend La Lumiere for his upcoming junior season. Schools looking to secure his future NLI include Cal, Texas, Florida, USC, DePaul, Oklahoma, UNLV, Georgia Tech and Baylor.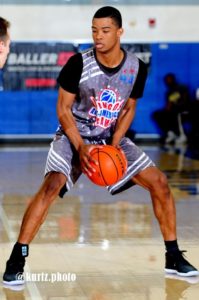 Cassius Stanley, 6'5", 2019, Sierra Canyon (Chatsworth, CA): Float like a butterfly, sting like a bee, Cassius is a spectacular lead guard with an impressive array of NBA-caliber athleticism with a very improved and smooth perimeter shot. Schools making Stanley a priority include USC, UCLA, Arizona, Kansas, Oregon, Maryland, Alabama, Gonzaga and UC-Santa Barbara.
Reggie Perry, 6'9", 2018, Thomasville (Thomasville, GA): Strong and assertive PF with nice face-up game made a big-time statement at this camp as well as in the Top 30 Game (earning co-MVP honors). Does all the small things that help a team win. Ferocious rebounder and tenacious defender recently committed to Ben Howland's Miss State Bulldogs shortly after he de-committed from Arkansas. Strong play this year has catapulted him up most national rankings (currently sits in the #15 position in NBN 2018 National Rankings).
Frankie Policelli, 6'8", 2018, New Hartford (Utica, NY): Lefty hybrid-forward was one the camp's pleasant surprises. Agile in transition and a threat to score in the half-court, Policelli was immediately offered by Washington at the conclusion of camp. Rutgers, George Washington, Tulane and UMass are others involved.
Trendon Watford, 6'8", 2019, Mountain Brook (Birmingham, AL): Very versatile wing forward with size is already a top national 2019 recruit (checks in at #11 in the current NBN National 2019 Rankings). Older brother Christian Watford played at Indiana and the Hoosiers are a factor in Trendon's recruitment along with Alabama, Auburn, Miss State, Kentucky, Iowa, Memphis, LSU, Tennessee, Ole Miss and Wake Forest.
Elijah Weaver, 6'5", 2018, Oldsmar Christian (Oldsmar, FL): Big, strong lead guard plays with confidence. Florida, Villanova, Ohio State, USC, Florida State, Arizona, UCLA, Louisville, Virginia, Butler and Oklahoma State are competing for his November NLI.
Emmitt Williams, 6'8", 2018, IMG (Bradenton, FL): Sunshine State power-forward is a warrior in the paint that finishes through contact and is a monster on the boards. Kansas, Duke, Alabama, Florida State, USC, LSU and Baylor among the many suitors for his future services.
PANGOS CREAM OF THE CROP TOP 60 GAME SELECTIONS (alphabetical order)
Kaden Archie, 6'6", 2018, Midlothian (Midlothian, TX): Talented SF has a versatile skill set that has attracted offers from schools such as Texas, Kansas, Arkansas, Illinois, LSU and Oklahoma State.
Jamal Bey, 6'6", 2018, Bishop Gorman (Las Vegas, NV): Agile and athletic swingman with a smooth perimeter stroke is being pursued by the likes of Washington and UNLV.
J'Raan Brooks, 6'8", 2018, Garfield (Seattle, WA): Active rebounder and interior scorer has committed to Andy Enfield's USC Trojans.
Harrison Butler, 6'5", 2018, Mater Dei (Santa Ana, CA): Sturdy WF has hops and a very improved perimeter shot. West Coast sleeper.
Trey Doomes, 6'3", 2018, Allatoona (Acworth, GA): Shifty high-scoring combo-guard is hard to contain off the bounce. Doomes had 13 points in the Top 60 Game. Auburn, Ole Miss, UTEP and UAB among those interested.
Maka Ellis, 6'5", 2018, Sierra Vista (Las Vegas, NV): Terrific 3-point shooter can really score with best in the West in his class. Nevada, Santa Clara and a host of Ivy and Patriot League schools are in heavy pursuit for this terrific student.
P.J. Fuller, 6'4", 2019, Nathan Hale (Seattle, WA): Ultra-athletic WG is a terror in transition. One of the nation's best in 2019, Fuller was fantastic in Top 60 Game scoring 20 points on 8/8 FG.
Jacobi Gordon, 6'7", 2018, Global Leadership Village (Houston, TX): Cal-bound athletic WF has improved perimeter range on jump shot and will be reunited next year with former AAU coach Chris Walker, now an assistant with the Golden Bears.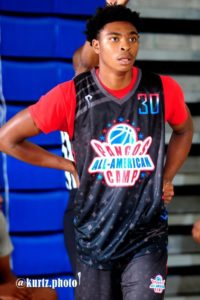 Bryce Hamilton, 6'4", 2018, Pasadena (Pasadena, CA): Suffering a severe ankle injury in late-April, Bryce was still not 100% here (or at the subsequent NBPA Camp in in mid-June) but nonetheless showed flashes of his immense potential, considering he will not turn 17 until November of his upcoming senior season. Bounced back with a very strong July and now has offers from UNLV, Ohio State, Utah, Colorado, Arizona State, Washington, UC-Santa Barbara, Washington State, Santa Clara, Nevada, Boise State and Utah State.
Tyler Harris, 5'10", 2018, Cordova (Memphis, TN): Quick, dynamic but small point guard makes big plays for himself and teammates. Would go on to have a spectacular July – leading Team Thad to Las Vegas Fab 48 17u Invite title. Iowa State, Memphis, Tennessee, Ole Miss, Cincinnati and Wichita State among those interested in Harris.
Ethan Henderson, 6'8", 2018, Parkview (Little Rock, AR): Active Arkansas-bound PF had team high 14 points (on perfect 7/7 FG) in Top 60 Game.
Gianni Hunt, 6'2", 2019, Bishop Montgomery (Torrance, CA): National sleeper 2019 PG is a pesky defender and a blur with the rock in transition. Top 100 national-caliber junior prospect is starting to receive Pac-12 interest including an early offer from USC.
Isaiah Joe, 6'1", 2018, Northside (Ft. Smith, AR): Very good shooter committed to Arkansas shot rock well as usual: 12 points on 5/8 /FG; 2/4 3FG in the Top 60 Game.
Logan Johnson, 6'2", 2018, St. Francis (Mountain View, CA): Fast-rising athletic combo-guard was extremely impressive here, just missed making the Top 30 Game. Younger brother of Miami Heat guard Tyler Johnson capped off an excellent camp effort with 16 points (7/11 FG) In Top 60 Game. Colorado, Oregon State, St. Mary's, Cincinnati, Fresno State, UC-Santa Barbara, Utah State, San Francisco and San Diego among those currently involved.
Elias King, 6'8", 2019, Christian Bros (Sacramento, CA): "Jack of all trades" hybrid forward is crafty in the paint and a very underrated rebounder.
Maxwell Lorca-Lloyd, 6'9", 2019, Northfield Mt Hermon (Gill, MA): Skilled forward with size is only scratching the surface of his huge potential. Penn State, Seton Hall, BYU, St. Louis, Wake Forest, VCU and Columbia among the growing number of schools interested.
Jarod Lucas, 6'3", 2019, Los Altos (Hacienda Heights, CA): Bryce Alford-type scoring guard was one this year's leading scorers at the camp. Silky jump shot with ability to score at the rim, Lucas can stroke the 3-point shot with the best in his 2019 class.
Tre Mann, 6'3", 2019, Villages School (The Villages, FL): Fluid and savvy young combo-guard has very good accuracy from beyond 3-point arc. Connected on 3/4 threes en route to 20 points in Top 60 Game. Already offered by Florida, Florida State, Tennessee, Georgia Tech, Memphis and Texas A&M.
Jordan McCabe, 6'0", 2018, Kaukauna (Kaukauna, WI): West Virginia-bound playmaker is a dazzling ballhandler and passer with a flair for the big play.
Joel Mensah, 6'10", 2018, JSerra (San Juan Capistrano, CA): Very improved athletic post-player runs the floor like a deer and can finish in traffic. Impressive shot-blocker and rim-protector. Scored well in Top 60 Game: 12 points (8/8 FG). Schools in the mix here include San Diego State, Oregon State, Nevada, Georgetown, Syracuse, Washington State, Santa Clara and Rhode Island.
Eric "Isaiah" Mobley, 6'9", 2019, Rancho Christian (Temecula, CA): Very skilled forward can play both inside and out on the perimeter. Pac-12 priority recruit.
Moses Moody, 6'5", 2020, Parkview (Little Rock, AR): Talented WG is one of the top prospects in 2020. Smooth jump shot along with a very nice ability to get to cup off dribble make him a dangerous offensive weapon. Unofficially visited UCLA after the conclusion of camp.
Isaiah Mucius, 6'8", 2018, St. James (Hagerstown, MD): Versatile forward with nice upside has Wake Forest, Xavier, UConn, LSU and UMass in play here.
Arashma Parks, 6'9", 2018, Commonwealth Academy (Springfield, MA): Solid rebounder and defender has committed to Temple.
Omar Payne, 6'9", 2019, Osceola (Kissimmee, FL): Long and athletic PF is very improved and oozing with HM potential. Florida, Auburn, Georgia, USC, Miami FL, South Florida, Pittsburgh and Wichita State have offered since the camp.
Kevin Porter, 6'5", 2018, Rainier Beach (Seattle, WA): Strong and bouncy wing-forward played well here. Committed to USC shortly after camp.
Race Thompson, 6'8", 2018, Robinsdale Armstrong (Minneapolis, MN): Indiana-bound PF has wide-shoulders and is an offensive force in the paint. Race was perfect from the field (4/4 FG) en route to 9 points in Top 60 Game.
Joe Toussaint, 5'11", 2019, Cardinal Hayes (Bronx, NY): Quick PG is hard to contain off the bounce and has pin-point passing skills (had a game-high 6 assists in Top 60 Game). Early offers include UNLV, St. Louis, UMass, Fordham and Drexel.
Michael Wang, 6'9", 2018, Mater Dei (Santa Ana, CA): Skilled PF with deep range on his perimeter shot is also deceptively athletic. Schools showing interest include UC-Santa Barbara, Santa Clara, Lehigh, Princeton and Penn.
Kyree Walker, 6'5", 2020, Hillcrest Prep (Phoenix, AZ): Oakland CA native is strong and athletic WF than can score on all three levels. Walker has relocated to Hillcrest for upcoming soph season.
Justin Winston, 6'6", 2018, Immaculate Conception (Montclair, NJ): Wiry combo-forward is an effective slashing scorer and good defender. East Coast sleeper drawing HM attention from the likes of UConn, Rutgers, DePaul, Minnesota and UMass.
Bryce Wills, 6'5", 2019, Iona Prep (New Rochelle, NY): Smooth young SG with 3-point range on jump shot. Looks to be a Big East and ACC priority target. Scored 12 points (3/4 from 3-point arc) in Top 60 Game.
Hameir Wright, 6'7", 2018, Brewster Academy (Wolfeboro, NH): Strong and rugged rebounder can finish on the block. Committed to Washington.
PANGOS ALL-AMERICAN CAMP HONORABLE MENTION (alphabetical order)
Niko Bossinakis, 6'3", 2019, Colleyville Heritage (Colleyville, TX)
KJ Buffen, 6'7", 2018, Gainesville (Gainesville, FL)
Reggie Chaney, 6'8", 2018, Findlay Prep (Henderson, NV)
Jalen Clark, 6'4", 2020, Centennial (Corona, CA)
Charles Coleman, 6'11", 2019, Dexter School (Boston, MA)
Jaylen Cross, 6'4", 2018, Melbourne (Australia)
Riley Demps, 6'2", 2018, Newman (New Orleans, LA)
Souleymane Doumbia, 6'10", 2018, St. Anthony (San Antonio, TX)
Tony Goodwin, 6'5", 2018, Findlay Prep (Henderson, NV)
Nick Honor, 5'10", 2018, Lake Highland Prep (Orlando, FL)
Jerry Iliya, 6'6", 2020, Our Savior Lutheran (Bronx, NY)
Trayce Jackson-Davis, 6'8", 2019, Center Grove (Greenwood, IN)
Johnny Juzang, 6'6", 2020, Harvard-Westlake (North Hollywood, CA)
Makur Maker, 6'11", 2020, Tech Academy (Canada)
Robert McRae, 6'4", 2019, Fairfax (Los Angeles, CA)
Ousmane Ndim, 7'0", 2018, St. Anthony (San Antonio, TX)
Josh Phillips, 6'8", 2018, Edison (Huntington Beach, CA)
Silas Slaughter, 5'10", 2019, Redondo Union (Redondo Beach, CA)
Walter Talley, 6'7", 2019, Tri-Cities Christian (Chandler, AZ)
Fletcher Tynen, 6'6", 2018, Bishop Montgomery (Torrance, CA)
Charley Wadler, 5'10", 2018, Brentwood (Los Angeles, CA)
Spencer Washington, 6'6", 2018, Findlay Prep (Henderson, NV)
Justin Webster, 6'3", 2019, Prestonwood Christian (Plano, TX)
Hunter Woods, 6'6", 2018, Muir (Pasadena, CA)
(Photo credit: Scott Kurtz)