By Dinos Trigonis, Nothing But Net Magazine Editor-in-Chief
The 2nd annual Pangos Best of West Shootout was recently (March 30-31, 2019) at the beautiful 8 court Ladera Sports Center (Ladera Ranch CA).  100+ teams from California, Nevada and Arizona participated. A sizeable contingent of national/regional media/scouts and video outlets attended including Frank Burlison (BurlisonOnBasketball.com/McDonald's All-American Game & NBPA Top 100 Camp selection committees), Ronnie Flores (BallisLife.com & Grassroothoops.net), Dinos Trigonis (Fullcourt Press, Pangos & Nothing But Net Magazine), Devin Ugland (Hoops by Ugland & PrepHoopsSoCal), Matt Rodriguez & Arek Kossyan (Ball is Life), Peter Walsh & Steven Barron (Bleacher Report), Arthur Puu (Overtime), Gregg Rosenberg (PrepHoopsAZ), Patrick Stanwood (Nothing But Net Magazine), Bryan LaRussa & Xavier Mejia (SLAM Magazine), Matthew Kovach, Jason O'Neill & Aubrey Gray (HoopsFactoryTV), David Chisholm (Dreamers), Richard Whiteside & Omar James (Hustle2k), Marcel Chappell (BallerVisions), Tanee Tanespolnsuk (Qwik11hoops), Clutch Clip Hoops and Lew Roberts (Big City Hoops).  

All 160 games were live-streamed (and are now available for replay) by BallerTV.com

The talent on-hand including 2020 #1 Evan Mobley made it "hands down" the most loaded event on the West Coast to tip-off the 2019 grassroots season.  This Recap is Part II of a two part report on this event. The previous report can be accessed here: https://nbnmagazine.com/2019-pangos-best-of-west-shootout-recap-part-i/

Andre Harris 6'6" 2020 Hillcrest (Phoenix AZ)
Dre is a strong and burly PF that is active in the paint and plays with high energy.  Harris finishes well through contact and is a regular visitor on the glass. Undersized but very effective.

De'Vontes Cobbs 6'3" 2022 Shadow Mountain (Phoenix AZ)
Quick and athletic slashing scorer competes on every play.  Milwaukee WI native is a swarming defender that was a 2018 USA Junior National Fall Mini-Camp invitee.

Isaiah Johnson 6'6" 2020 Bishop Montgomery (Torrance CA)
Active and athletic forward makes plays on both ends. Excellent defender and underrated passer.

Boubacar Coulibaly 6'10" 2020 San Gabriel Academy (San Gabriel CA)
Coulibaly is a long and athletic rim-protector with nice agility.  Very good long-term potential.

Christian James 6'2" 2019 St. John Bosco (Bellflower CA)
2019 MVP of the Trinity League, James is one of SoCal's top unsigned seniors.  Crafty combo-guard scores well from the perimeter and is a solid defender.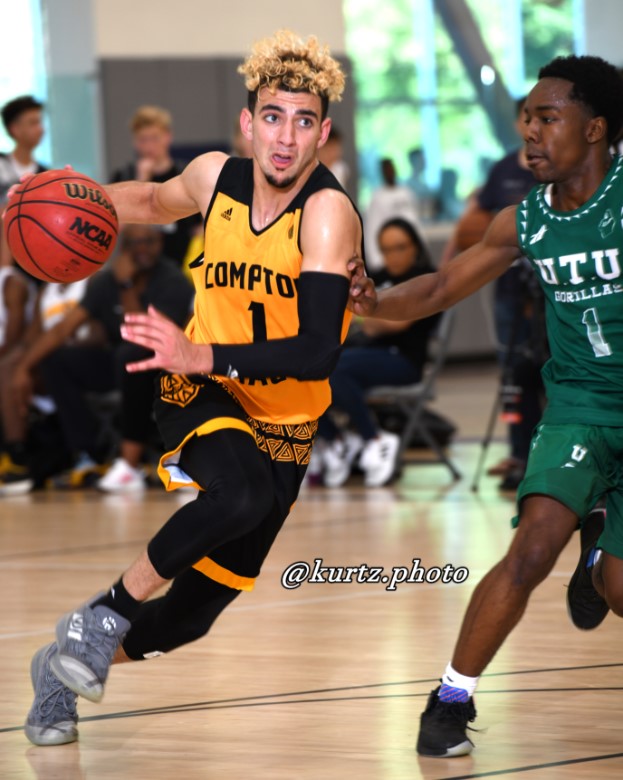 Yassine Gharram 6'2" 2020 Foothills Christian (El Cajon CA): One of California's top pure point guards, Yassine knows how to run a team, make plays for teammates and knock down opportunity jump shots.

Obinna Anyanwu 6'7" 2021 Cathedral (San Diego CA): Strong and skilled forward is garnering high-major interest and offers from the likes of Texas and Oklahoma.
Ignacio Camacho 6'8" 2020 Ribet Academy (Los Angeles CA): Sleeper junior PF is a tremendous competitor and can score in traffic.  Good student is a Guatemalan import.

Beon Riley 6'5" 2020 Cathedral (San Diego CA)
Ultra-active and assertive swingman with strength makes plays at both ends.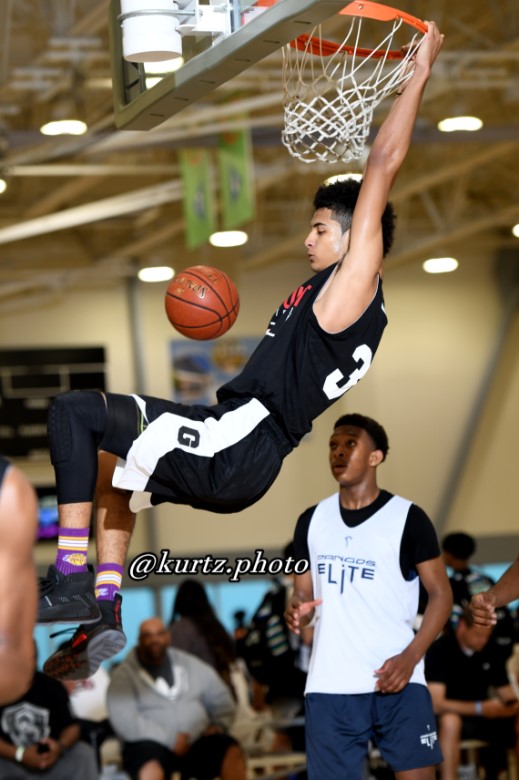 Deshaun Cooper 6'7" 2020 Balboa (San Diego CA)
Active forward is a regular visitor on the glass.
Brandon Angel 6'7" 2020 Torrey Pines (San Diego CA)
Versatile big wing that can play inside out and guard multiple positions.

Malik Thomas 6'3" 2021 Damien (La Verne CA)
Power combo-guard is a defensive hawk and has the athleticism and strength to get into the paint to score at the rim or drive and kick.

Coleman Hawkins 6'9" 2020 Prolific Prep (Napa CA)
Skilled hybrid-forward with scoring ability is drawing diverse interest coast to coast including Rutgers.

Daniel Esparza 6'0" 2021 Sonora (La Habra CA)
Esparza was impressive for Team Veritas here as his diverse scoring skills were clearly on display. Had 22 points in a win over Compton Magic Premier.  Daniel broke a 19 year-old Sonora school single game record this past season by scoring 45 points versus Troy.

Luke Turner 6'6" 2021 Rancho Christian (Temecula CA)
Sharp-shooting young WF with length is also a terrific student.  Nice potential to be an excellent floor-spacer for right HM program.


Ramel Lloyd Jr. 6'5" 2022 Calabasas (CA)
Strong wing guard can get buckets. Dad Rock Lloyd is a NYC native that played at Syracuse and Long Beach State.

Otis Frazier III 6'5" 2019 Buckeye Union (Buckeye AZ)
Athletic swingman has recent Eastern Michigan offer.

Dylan Andrews 6'2" 2022 Windward (Los Angeles CA)
Talented young combo-guard can score in a variety of ways and plays with great poise.  High-major potential.

Gary Harris 6'6 2019 Middlebrooks Academy (Los Angeles CA)
Sleek and athletic wing excels in finishing in transition.  At one time, a San Jose State commit.

Isaiah Pope 6'5" 2019 Orange Lutheran (Orange CA)
Smooth shooting guard with range on jump shot.

Garrison Phelps 6'4" 2022 St. Mary's (Phoenix AZ)
Athletic wing with bounce and a nice looking jump shot.  One to track.
Daylen Williams 6'8" 2019 Fairfax (Los Angeles CA)                                            Very improved forward had an impressive senior season for LA-City CIF champs Fairfax.  Son of LA hoops legend John Williams (Crenshaw HS/LSU/NBA) is a very good student.

Deiman Reyes 6-9 2021 Veritas Prep (Santa Fe Springs CA)
Columbian import is a very strong and physical PF that is a rugged rebounder and can score despite contact.

Kadar Waller 5'11" 2019 Bakersfield Christian (Bakersfield CA)
High-scoring point with impressive change of speed ability.

Fidelis Okereke 6'7" 2020 King Drew (Los Angeles CA)
Ferocious rebounder and formidable rim-protector.
Austin Sacks 6'6" 2020 Campbell Hall (North Hollywood CA)
Very good 3-point shooter is the son of NBA front-office guy Gary Sacks (formerly with the LA Clippers and now with Charlotte Bobcats).

Bryson Stephens 6'0" 2020 Rancho Christian (Temecula CA)
Athletic PG that can get to the rim.  Lockdown defender.
Evan Oliver 5'11" 2020 Poly (Riverside CA)
Cerebral floor leader has legit 3-point range.  Very good student too.

Duke Gipson 6'8" 2022 Dorsey (Los Angeles CA)
Young big is oozing with potential.
Roland (RJ) Banks II 6'2" 2020 Cathedral (Los Angeles CA)
Strong lead guard can finish in the paint and is a solid passer.

Adam Hamilton 6'8" 2019 Buckeye Union (Buckeye AZ)
Sturdy PF is a force on the glass.
Snooky Wigington 5'8" 2020 Ribet Academy (Los Angeles CA)
Quick jitter bug point guard is hard to contain off the dribble, has underrated jump shot and is a very good on-ball defender.  Very good student too.

Legend Stamps 6'9" 2019 Etiwanda (Etiwanda CA)
Aggressive PF has nice perimeter shooting range.

Caleb Koski 6'7" 2020 Intermountain Christian (Holladay UT)
WF with deep perimeter range.  Very good student too.

Benny Gealer 5'11" 2022 Rolling Hills Prep (Palos Verdes CA)
High-scoring young combo-guard plays with plenty of moxey.  

Dennis Evans 6'10" 2023 San Bernardino CA                                                      Young post man with length is an intriguing prospect. Played for Kool-Aid Perry and Inland here.
Trey Anderson 5'10" 2019 Orange Lutheran (Orange CA)
Crafty point guard with confident 3-point stroke is the son of former Angels OF Garret Anderson.

Oakland Fort 5'8" 2022 Sunnyslope (Phoenix AZ)
Very quick PG has nice ability to penetrate and set table for teammates.
Langston Redfield 6'3" 2021 Capistrano Valley (Mission Viejo CA)
Long and athletic point guard with high basketball IQ and the size to guard all 3 perimeter spots.

Luke Bower 6'8" 2020 Skyridge (Lehi UT)
Stretch PF has legitimate 3-point range.  Good student too.

Paul Hayden 6'5" 2020 Sunnyslope (Phoenix AZ)                                                    Big wing handles rock well and is a solid defender.
TJ Tittelfitz 6'6" 2022 Orange Lutheran (Orange CA)
Strong PF has a nice skill set.